Looking for a highly reliable precious metals company? Panda America is one of the oldest coin dealers in the industry. Read our Panda America review and find out if you should invest with them.
What Is Panda America?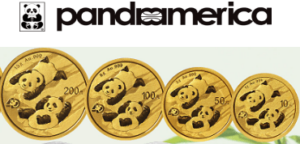 Based in Torrance, California, Panda America is one of the leading distributors of modern issue coins in the country. Initially, Panda America was to become the official distributor of Chinese-issued Panda Gold coins in the United States. However, the business has expanded rapidly and is now distributing other high-quality numismatic and bullion products from around the globe. Panda America is widely regarded as the industry champion in the distribution of modern issue coins.
Are Precious Metals IRAs Offered?
There is no mention of IRAs on the official website of Panda America. Thus, the company does not deal with IRAs for precious metals. Here you can view our recommended Gold and Silver IRA provider.
Panda America Review Summary
Location:
Torrance, California
Address:
3400 Torrance Blvd #101, Torrance, CA 90503, United States
Year Founded:
1982
Management:
Marty Weiss (Founder)
Website:
www.pandaamerica.com
Rating:
[usr 3]
Learn About the #1 Rated Precious Metals IRA Firm Now>
Panda America Products
Panda America offers an extensive selection of bullion coins, collectibles, and jewelry from around the globe. Their extensive catalog allows you to search for items by country. American Gold Eagle, Canadian Maple Leaf, China Gold Panda, and American Gold Buffalo are among their IRA-eligible coins.
How to Get Started
Before making a purchase from Panda America, you should contact their knowledgeable sales representatives with any queries or concerns. Regardless of whether you are a first-time buyer or a returning customer, they promise to make your transaction as easy as possible.
There are two options for submitting an order with Panda America: over the phone or via their website. Since market prices fluctuate throughout the day, the company recommends contacting them immediately for a quote. After negotiating a price over the phone, the company will fax or email you an invoice.
The acceptable payment methods include bank wire transfer, cashier's check, credit card, personal check, and money order.
Can I Sell To Panda America?
Yes, Panda America pays top dollar for your coins, jewelry, and scrap. If you wish to sell to the company, you may do so in person or via mail. After evaluating your coinage, Panda America will mail you a check.
Panda America Pricing & Fees
The prices of precious metals are determined by market conditions. Since these prices continue to fluctuate, you must contact the company to secure a price. After the spot price has been sealed in, your invoice will not change despite fluctuations in the spot price.
Pros of Panda America
Broad Selection of Products
The company offers a vast assortment of bullion coins, collectibles, and jewelry from all over the globe.
They have Been In Business for 4 Decades
Since Panda America has been in operation since 1982, you can feel confident and secure while purchasing coins on their platform.
They offer multiple payment methods for a more flexible and smooth transaction.
Their website contains a wealth of useful information to guide new investors in the proper direction. Such as a comprehensive FAQ page and real-time precious metals price charts.
The company offers great prices for your coins, jewelry, and scrap when you sell back to them.
Cons of Panda America
Lacks Substantial Online Reviews and Ratings
They have very few online reviews despite nearly 40 years in business.
Panda America Reviews, Ratings & Complaints
Panda America is not accredited by the Better Business Bureau and has no reviews or ratings on the BBB's website. The company has a BCA rating of AAA and no reviews. In addition, the company's Yelp rating is 3.5 stars out of five based on seven reviews. Both Trustlink and Trustpilot lack reviews for the company.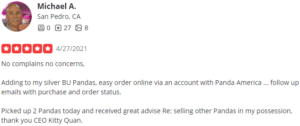 BBB: No Reviews or Rating
BCA: AAA Rating, No Reviews (View Details)
Yelp: 3.5/5 Rating ( View Details)
Trustlink: No Rating
Trustpilot: No Rating
Is Panda America Legit?
Our exhaustive investigation has determined that Panda America is a legitimate coin dealer and not a scam. The business has a verifiable address and has been in operation for nearly fifty years. Their sole shortcoming is the absence of consumer reviews and ratings.
Panda America Alternatives
Conclusion
Panda America is a coin dealer based in Torrance, California. Founded in 1982, the firm offers a wide selection of bullion, rare coins, and collectibles. They have an informative website that also serves as a platform for placing orders.
Despite offering excellent products and services, Panda America scores poorly in online reviews and ratings. For example, they lack reviews on BBB, Trustlink, Trustpilot, and other review sites.
.