Looking for a highly reliable precious metals company? Panda America is one of the oldest coin dealers in the industry. Read our Panda America review and find out if you should invest with them.
What Is Panda America?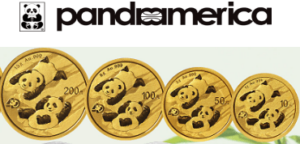 Based in Torrance, California, Panda America is one of the leading distributors of modern issue coins in the country. Initially, Panda America was to become the United States official distributor of Chinese issued Panda Gold coins. However the company has expanded rapidly and is currently distributing other quality numismatic and bullion issues from sources around the world. Panda America is regarded as a leader in distribution of modern issue coins.
Are Precious Metals IRAs Offered?
There's no mention of IRAs on Panda America's official website. Thus, the company is definitely not dealing with precious metals IRAs. You can check out our top rated Gold and Silver IRA provider here.
Panda America Review Summary
Location:
Torrance, California
Address:
3400 Torrance Blvd #101, Torrance, CA 90503, United States
Year Founded:
1982
Management:
Marty Weiss (Founder)
Website:
www.pandaamerica.com
Rating:
[usr 3]
Learn About the #1 Rated Precious Metals Firm Here>>
Panda America Products
Panda America offers a wide range of bullion coins, collectibles and jewelry from sources around the world. Their massive catalog allows you to browse for products by country. Some of their IRA-eligible coins include the American Gold Eagle, Canadian Maple Leaf, China Gold Panda and American Gold Buffalo.
How to Get Started
Before purchasing from Panda America, you should first contact their expert sales executives and have your questions and concerns addressed. They promise to make your transaction as smooth as possible irrespective of whether you are a first time buyer or a repeat customer.
Regarding placing your order with Panda America, there are two ways you can do this; by phone or online through their official website. Since market prices fluctuate throughout the day, the company recommends you call them for an instant price quote. Upon locking in a price over the phone, the company will fax you or email you a copy of your invoice.
Acceptable payment methods include cashier's check, credit card, personal check, money order and bank wire.
Can I Sell To Panda America?
Yes, Panda America offers high prices for your coins, jewelry and scrap. If you are interested in selling to the company, you can do so in person or by mail. Once your coins are appraised, Panda America will pay you by check.
Panda America Pricing & Fees
Costs of precious metals depend on prevailing market prices. Since these prices keep fluctuating, you need to call the company to lock a price. After the spot price is locked in, there will be no changes to your invoice in relation to spot price despite fluctuation.
Pros of Panda America
Broad Selection of Products
The company boasts a mammoth selection of bullion coins, collectibles and jewelry sourced from around the world.
They have Been In Business for Nearly 4 Decades
Panda America has been in business since 1982, hence enough experience to make you feel confident and secure while purchasing coins on their platform.
They offer multiple payment methods for a more flexible and smooth transaction.
Their website is full of important information to guide new investors in the right direction. For instance, they have a detailed FAQ page and live precious metals price charts.
The company offers great prices for your coins, jewelry and scrap when you sell back to them.
Cons of Panda America
Few Online Reviews and Ratings
They have very few online reviews despite nearly 40 years in business.
Click Here To Check Out Our Top-rated Precious Metals Company
Panda America Reviews & Ratings
Panda America is not accredited with the BBB and has no reviews or ratings on the platform. The company has 0 reviews and an AAA rating on the BCA. And on Yelp, the firm is rated 3.5/5 based on 7 reviews. The company lacks reviews on both Trustlink and Trustpilot.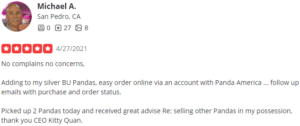 Is Panda America Legit?
Our in-depth research has established that Panda America is not a scam but a legit coin dealer. The company has a verifiable address and have been in business for nearly half a century. Their only downside is the lack of customer reviews and ratings.
Panda America Alternatives
Looking for Panda America alternatives? Here are a few from our previous reviews:
Important Pages on Panda America Website
Panda America Reviews- Summary
Panda America is a coin dealer based in Torrance, California. Founded in 1982, the firm offers a wide selection of bullion, rare coins and collectibles. They boast an informative website that also acts as an ordering platform.
In spite of the great products and services Panda America scores dismally when it comes to online reviews and ratings. For instance they lack reviews on the Better Business Bureau, Trustlink, Trustpilot and other review sites.