Summit Trust Company review: One of the leading self-directed IRA custodians in the US, but is it the right option for you? What do customers say about them? This review will cover everything you need to know about Summit Trust Company.
Attention: Summit Trust Company is currently out of business. Click the link below to check out our alternative self-directed IRA custodian instead.
Click here to check out our alternative self-directed IRA provider
What Is Summit Trust Company?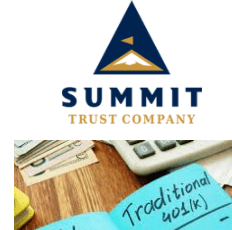 Summit Trust Company is one of the largest self-directed IRA custodians in Nevada, and the aim of its establishment was to offer clients an opportunity to invest in alternative assets. The company was founded in 2003 and is known to offer up to 6 different account types and many alternative assets.
Summit Trust Company Review Summary
Location:
Las Vegas, Nevada
Address:
8861 W Sahara Ave STE 215
Las Vegas, NV 89117-4807
Year Founded:
2003
Management:
Kevin Brown (President)
Website:
www.summittrust.com
Rating:
[usr 1]
Learn about our #1 recommended gold & silver IRA custodian here>>
Summit Trust Company Services
Self-directed IRA accounts offered at Summit Trust Company include SEP IRA, Roth IRA, Traditional IRA, Defined Contribution Plan, Individual 401 (k) and Trust Account. These accounts allow you to invest your retirement money in various alternative assets including real estate, precious metals, private lending and a lot more.
How It Works
You can access Summit Trust Company's services through their website, or by visiting their office in Las Vegas. The company has listed a phone number to help you contact customer support for inquiries or to set up your account.
Summit Trust Company Fees
Summit Trust Company provides limited information on fees. We were unable to find information regarding annual fees on their website. However, our intensive research revealed they charge $100 account setup fee and up to $175 account termination fee.
Pros of Summit Trust Company
They offer up to six different account types and a unique opportunity for you to invest in multiple alternative assets.
They've been in business for nearly two decades, hence have built immense trust over the years.
Cons of Summit Trust Company
Limited Information On Fees
They provide scanty information in regards to their fee schedule. We always advice our fans to choose custodians who are absolutely transparent on fees. You can check out our #1 recommended self-directed IRA custodian on this page.
There are no customer reviews of Summit Trust Company on most online platforms. They even lack accreditation from the Better Business Bureau.
Summit Trust Company has an old-fashioned website with no navigation or detailed information about their products and services. Moreover, they only have a phone number as means of communication with clients, which can be inconveniencing and slow compared to live chat support offered by modern companies.
We've learnt that Summit Trust Company is currently in receivership and no longer accepting new clients. This is a huge blow to prospective clients hoping to invest with the firm.
Accreditation, Customer Reviews & Ratings

Unfortunately, Summit Trust Company lacks reviews on almost every review website. To begin with, they lack a BBB accreditation which is crucial for gauging a company's credibility. Most investors turn to the BBB accreditation and rating to find out whether a company is worth investing in.
In addition to the lack of BBB accreditation and reviews, Summit Trust Company also lacks reviews on other major third-party review websites including Trustlink, BCA, Trustpilot and Yelp.
Is there a Better Alternative?
Firstly, you need to keep note of the fact that Summit Trust Company lacks transparency and good ratings. Secondly and most importantly, you need to be aware of the fact that they are currently out of business. Our top recommended alternative to Summit Trust Company is Goldco Direct.  Goldco Direct is one of the few companies that offer a one-time flat rate fee and boast excellent customer ratings. Follow the link below to learn more about them.
Click here to learn about Goldco Direct, our #1 recommended custodian
Is Summit Trust Company Legit or Scam?
Summit Trust Company is a legit company with a physical address in Las Vegas. It has been in business since 2003 and therefore it's definitely not a scam.
Related: Horizon Trust Company Reviews
Summit Trust Company Reviews Summary
Summit Trust Company is a self-directed IRA custodian based in Las Vegas. The company boasts almost two decades in business and brides itself on offering many different account types.
On the bad side, Summit Trust Company lacks a BBB accreditation as well as reviews on most third-part review websites. They also provide limited information on fees and are currently in receivership.