Have you been thinking of preserving your wealth through investing in precious metals such as gold and silver? Matterhorn Asset Management may just be the right company to help you do that, but first, let's have a quick review to determine whether this company is actually legit or pure scam.
Who is Matterhorn Asset Management?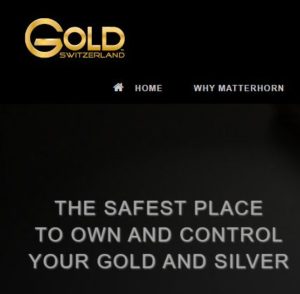 As the name suggests Matterhorn Asset Management is a company that helps investors manage and preserve their wealth by investing in precious metals, mainly gold and silver. MAM is located it Switzerland, and has other precious metals storage vaults in Hong Kong and Singapore for safe storage of their international client's investment assets.
One unique feature of Matterhorn Asset Management is that they offer gold and silver bullion bars only, as opposed to other companies who offer both the bars and coins. There's also a minimum purchase amount which makes their products even more expensive, hence Matterhorn is a preserve for high net worth investors.
Find out our Our Top-Rated Gold IRA Company Here. 
Matterhorn Asset Management Products
Matterhorn's products include gold and silver bullion (bars only). The company does not offer gold and silver in small quantities, however, they partner with GoldBroker.com for smaller transactions. MAM buys their products from world's largest and trusted bullion refiners. This means that their products are of high quality.
Company Info
Location:
Switzerland
Address:
Bahnhofstrasse 28A-CH 8001 ZURICH-Switzerland
Year Founded:
2005
Managers:
Egon Von Greyerz, Edward Maas, Johny Beck
Website:
www.goldswitzerland.com
Overall Rating
[usr 2.5]
Recommended?
Not recommended
==> Learn about our Top-rated Gold and Silver IRA Custodian on this page<==
Is It a Legit Company or Scam?
Matterhorn Assets Management is a legit company and has helped hundreds of investors manage and enhance their wealth since its establishement in 2005. With Egon von Greyerz, a financial investment expert at the helm for nearly 20 years, Matterhorn has grown to be the reputable company we know today. Having said that, it's also worth mentioning that MAM is not without blemish. Below, we list both the pros and cons of choosing Matterhorn Assets Management Company for your precious metals investment.
Advantages of Choosing Matterhorn Asset Management
Matterhorn Asset Management has some of the most secure storage vaults outside the banking system. Moreover, they offer insurance for your bullion-and this, coupled with the fact that Switzerland is always an economically and politically stable country, you can rest assured that your investment assets are in safe hands.
MAM provides a certificate of ownership complete with serial numbers for your metals. Thus, you receive your own personal bars that you can inspect or collect from the vaults whenever you want.
You can sell your precious metal possessions to Matterhorn Asset Management whenever you wish.  You can buy from and sell to the company whenever you want to.
With experts such as Egon von Greyerz, Edward Mass and Johny Beck managing the company, you are guaranteed of the best advice regarding investments, particularly precious metals investment. The company is dedicated to offering investment advice to investors on a daily basis as they are part of an asset management company.
Disadvantages of Choosing Matterhorn Asset Management
They only offer gold and silver bars, unlike other companies who offer an extensive selection of products ranging from rare coins to gold bullion bars and gold bullion coins. Their limited selection of products locks out investors who are interested in other types of precious metal other than gold and silver bullion bars.
Does not favor small investors
By small investors, we mean investors with a low investment budget. MAM deal in bars only, which as you might know are more expensive. They also have a minimum purchase amount which locks out low net worth investors.
Unlike some of our top-rated companies, Matterhorn Asset Management offer extremely high annual storage fees.
If you are looking into investing in a Gold IRA and are searching for a company that favors all types of investors, has extensive selection of products and charges low storage and administration fees, it's worth checking out this page.
Accreditation and Customer Reviews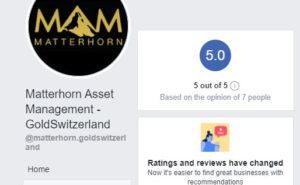 It's important to check out Matterhorn Asset Management reviews on platforms such as the BBB, BCA, Trustlink and Facebook, as these reviews give us the true picture of the company. At the time of writing this review, Matterhorn Asset Management had 5 stars on Facebook from 7 reviews. We were not able to find more reviews on other online platforms.
Should You Consider Matterhorn For Your IRA Rollover?
Despite the fact that Matterhorn is a highly reputable company, we still believe that its storage fees are higher than those of other companies. They also offer products intended for high net worth investors, thereby disadvantaging the small investors. Find out what are the best Gold IRA investment companies in the US here.
Related: IRA Financial Group Reviews
Matterhorn Asset management Alternatives
Conclusion
Matterhorn Assets Management is a wealth management company that serves both local and global clients. The company is regarded as one of the most secure companies to store your precious metals. They also have the best brains in the investment niche, led by Egon von Greyerz.
However, we have noted that this company is notorious for charging exorbitant storage fees (when compared to other companies). They also offer a limited selection of products (bullion bars) which also happen to be extremely expensive and a nightmare for low income investors.