Prepared to establish a self-directed IRA and invest in precious metals and other alternative assets? Need a trustworthy self-directed IRA trustee? Read our Liberty Trust Company Review to learn about their services and what they can offer you.
Note:  Liberty Trust Company is now defunct. Read about our recommended precious metals IRA firm on this page instead.
What Is Liberty Trust Company?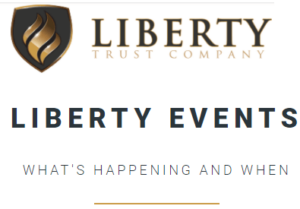 Liberty Trust Company Ltd is a custodian for self-directed IRAs that offers administrative services for self-directed IRAs and qualified retirement plans. The firm is managed by qualified staff who boast more than 25 years of experience designing, implementing, and administering self-directed retirement plans.
Liberty Trust Company Review Summary
Location:
Dallas, Texas
Address:
2001 Bryan St STE 1800, Dallas, TX 75201-3070
Year Founded:
2012
Management:
Glen Martin (CEO)
Website:
www.libertytrustco.com
Rating:
[usr 1]
Learn About Our #1 Rated Precious Metals IRA Company on This Page>
Liberty Trust Company Products & Services
Other than precious metals, Liberty Trust Company's website does not list any alternative assets. The company provides at least seven self-directed accounts, including Roth IRA, SEP IRA, Traditional IRA, SIMPLE IRA, Individual 401(k), Education Savings Account, and Health Savings Account.
How Does It Work?

Liberty Trust Company has made opening an account with them incredibly simple. They have made available application packages and all the necessary forms for opening an account or transferring funds from your current custodian to your new one.
All of their forms are available as fillable Adobe Acrobat files, allowing you to easily complete, print, sign, and return them to the company. There is a protocol in place to ensure that you enter the correct information.
Liberty Trust Company Fees
The following is Liberty Trust Company's standard fee schedule:
Account Setup Fee: $50
Annual Account Maintenance Fee: $125
Annual Asset Holding Fees: $125-$150
Account Termination Fee: $250
Note: The fees listed above do not include transaction and processing fees, which vary based on the type of transaction you conduct.
Advantages of Choosing Liberty Trust Company
Provides Client Education
To facilitate retirement planning, Liberty Trust Company offers clients complimentary education. As a prospective client, you will learn everything there is to know about self-direction and alternative investments, as well as Traditional and Roth IRAs.
The use of Adobe Acrobat files and a checklist that allows you to quickly fill out, print, and sign the forms has made it simple to establish an account.
The personnel at Liberty Trust Company has a combined experience level of more than 25 years.
Disadvantages of Choosing Liberty Trust Company
Liberty Trust Company is neither listed in any online directory nor reviewed on any reputable third-party consumer protection website, such as the Better Business Bureau.
Compared to our top-rated IRA custodians, Liberty Trust Company clearly charges some of the highest fees in the industry. In addition to extortionate transaction and processing fees, the company is infamous for charging exorbitant annual and account termination fees.
We were shocked to discover that Liberty Trust Company has ceased operations.
Liberty Trust Company Reviews & Ratings
Liberty Trust Company is not BBB-accredited and does not have consumer reviews or ratings on the platform. In addition, the company lacks reviews on the majority of major online review sites, including Yelp, Trustpilot, Trustlink, Business Consumer Alliance, and Ripoff Report.
Is Liberty Trust Company Legit Or Scam?
Is this a scam? The response is no. Liberty Trust Company is a legitimate IRA administrator and custodian with a verifiable street address.
Liberty Trust Company Alternatives
Conclusion
Liberty Trust Company is a company whose primary mission is to provide administrative and custodial services for self-directed IRAs and qualified retirement plans. It is well-known that the company's management provides comprehensive client education.
Despite its advantages, Liberty Trust Company has disadvantages, including a lack of reviews, and exorbitant fees.