Can't make up your mind if you should invest with Perfect Portfolio LLC? In this short review of Perfect Portfolio LLC, we give you all the facts, to help you make a rational investment decision. Read on to find out whether they are legit or scam, and whether there are better alternatives out there.
What Is Perfect Portfolio LLC?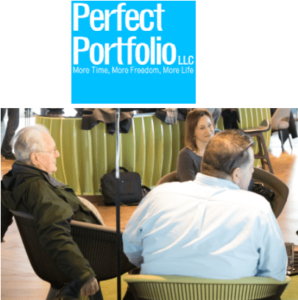 Perfect Portfolio LLC was founded in March 2019 by Minesh Bhiindi, an expert investor in real estate, stocks, gold and bitcoin. He claims to be one of the most successful investors in the world, promising to impart you with the same knowledge and strategies that brought him immense success. Perfect Portfolio LLC also claims to serve clients in 46 nations.
Perfect Portfolio LLC Products and Services
The company mainly focuses on only three asset classes, believed to be the best assets for wealth creation as proven by history. They include real estate, precious metals and stocks. The bottom line is to help you choose the most ideal investment portfolio capable of giving you financial freedom, security and legacy.
Minesh Bhiindi relies on 'The Wealth Triangle Philosophy' he was taught be his father to make informed investment decisions that have seen his profits grow. This philosophy involves the following 3 steps:
Purchasing Assets At or Below Market Value
The aim here is to buy assets in the real estate, precious metals or stocks markets at the best prices possible. According to Minesh, buying assets at the best prices is the first step to making money.
Creating Cash Flow
The second step is letting your assets generate cash flow. Perfect Portfolio LLC believes that holding assets that are not generating cash flow will certainly cost you money instead of making you profit.
Compounding
Perfect Portfolio LLC only buys assets with proven track record of price increase, cash flow them, and continue purchasing more of that asset.
Does Perfect Portfolio LLC Offer Precious Metals IRAs?
No, Perfect Portfolio LLC does not offer precious metals IRAs. If you are looking to open a Gold or Silver IRA, you can check out our #1 recommended precious metals IRA provider on this page.
Company Info
Location:
San Diego, California
Address:
302 Washington St 3150-6913, San Diego, CA 92103
Year Founded:
2019
Managers:
Minesh Bhiindi, Deep Jethwa
Website:
www.perfectportfoliollc.com
Overall Rating:
[usr 3]
Click here to learn about our #1 rated Gold & Silver IRA Company
How It Works
To get started with Perfect Portfolio LLC, you first need to join their training programs which involve three steps as outlined below:
Just-In-Time Education
The first program teaches you whatever you need to know to get onto the next step.
1-on-1 Coaching
The second program entails two 1-on-1 coaching sessions spearheaded by the company's head coach, Deep Jethwa.
Lifetime Support
The third and final step involves weekly coaching that you will receive at no extra charge, for life.
Pros of Choosing Perfect Portfolio LLC
Run and Managed By an Investment Guru
Perfect Portfolio LLC is run and managed by one of the most successful investors in the world. Minesh Bhiindi prides himself in being a self-made multi-millionaire who started from a humble background. Thus, you are more than likely to benefit from his proven strategies by joining his program.
Their awesome three-step training program equips you with the requisite knowledge to make wise investments that rake in amazing profits.
They Have a Telegram Group for Investors
Perfect Portfolio LLC has a telegram group managed by Minesh Bhiindi himself.  By joining his telegram group, you will definitely benefit from his proven strategies. You will also get an opportunity to interact and share ideas with like-minded investors.
Cons of Choosing Perfect Portfolio LLC
No Reviews On Online Platforms
Perfect Portfolio LLC lacks reviews on top online consumer protection platforms including the Better Business Bureau, Business Consumer Alliance and Trustpilot, which is quite shocking since most trustworthy firms are known to have several reviews on these platforms.
Few Assets Classes to Choose From
They only focus on real estate, stocks and precious metals. Therefore, their asset selection is limited as compared to other investment firms offering multiple options to choose from.
Scanty Information on Website
Their website is not much detailed making it difficult for newbies to understand how their programs actually work. Fortunately, they have a live chat that you can use to contact support and have all your questions addressed.
Has Only Recently Been Founded
Perfect Portfolio LLC was only founded in 2019, hence are new to the industry. Normally, we recommend a company with a proven track record and at least 10 years in business.
Accreditation, Customer Reviews & Ratings

Sadly, there are no reviews of Perfect Portfolio LLC online, except on their own website. They have no accreditation, rating or reviews on the Better Business Bureau, the most trusted consumer protection platform. Moreover, they lack reviews on Trustpilot, Trustlink, Business consumer Alliance, and many other online review platforms.
Should You Consider Perfect Portfolio LLC For Your Precious Metals IRA?
Even though Perfect Portfolio LLC offers investment strategies and advice on investing in gold and silver, they do not offer precious metals IRAs. If you wish to invest in a precious metals IRA, you can check out our Top-rated Gold and Silver IRA provider by clicking the link below.
Click Here To Learn About Our Top-rated Gold & Silver IRA Provider
Is Perfect Portfolio LLC Legit or Scam?
Perfect Portfolio LLC is owned by a famous entrepreneur and investor, Minesh. Thus, it is obviously a legit firm and not a scam. What is more, PPLLC has physical addresses and offices in three countries- the USA, United Kingdom and Belize.
Conclusion
Perfect Portfolio LLC is a company that aims to help investors make safe and exciting investments. The company was founded in 2019 by Minesh Bhiindi, a self-made multi-millionaire investor who employs his father's philosophy to make successful, profit generating investments in the stocks, precious metals and real estate sectors. Minesh promises to teach you his strategies so you can replicate his success and enjoy financial freedom.
On the downside, Perfect Portfolio LLC has no reviews online other than the ones on their own website. Also, their website provides scanty information about their products, and the company focuses on only 3 asset classes which limits investment options you can choose.