What is Sense Financial? Is it a legit company or scam? Can you trust them with your hard-earned money? These are the questions this short review will seek to answer. Please keep reading to find out everything you need to know about Sense Financial, their products and services.
What Is Sense Financial?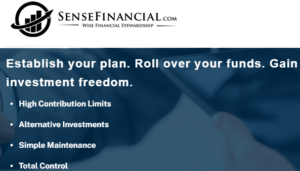 Sense Financial is a financial consulting firm based in Anaheim, California. The main reason for its establishment over a decade ago was to guide clients to financial freedom through Biblically proven investment and financial planning principles. To achieve this, Sense Financial decided to offer retirement plans to help you take full control of your investments.
With a self-directed IRA, you can invest in almost any asset, be it real estate, precious metals, private lending etc. You also gain what is known as 'checkbook control' over your retirement accounts which allows you to avert exorbitant custodial fees.
Sense Financial Products and Services
The two main products offered by Sense Financial are Solo 401k and Checkbook IRA accounts. Unlike conventional IRAs that limit you to stocks, these two allows you to invest in assets of your choice, and take full control of your retirement funds. Essentially, it enables you to plan your own financial future and eventually walk into financial freedom.
Also offered on their official website are free educational materials. Lots of free resources, including educational videos, webinars, infographics and newsletters are available on the 'resources' section of Sense Financial's official website.
Company Profile
Location:
Anaheim, California
Address:
55 N Riverview Dr #100, Anaheim, CA 92808, United
Year Founded:
2010
Managers:
Dmitriy Fomichenko
Website:
www.sensefinancial.com
Rating:
[usr 4] Not Recommended
Learn about our #1 recommended Gold and Silver IRA provider here
How Sense Financial Works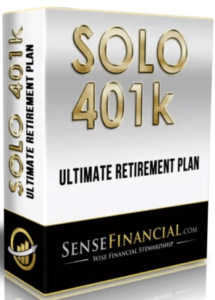 To get started with Sense Financial, you first need to decide what plan best suits your investment expectations.  And keep in mind that there are requirements for you to qualify for a Solo 401k. For instance, you must be self-employed, and your business must not hire full-time employees except yourself and your spouse.
Once you've made a decision on your ideal plan and made sure you meet all the requirements, you can now contact Sense Financial's staff who will assist you to open your account, rollover funds and start investing in alternative assets whilst having absolute control over your investments.
Pros of Choosing Sense Financial
Offers Great Retirement Plans
Sense Financial offers great plans in the form of Solo 401k and self-directed Checkbook IRA accounts. These plans give you total control over your retirement funds and allows you to make more money through investment on alternative assets.
Free Educational Resources
On their website, you will find that they have dedicated a whole section to free educational resources to help you learn more about their services. You can access videos, infographics, presentations and much more directly from your Sense Financial Client Portal.
Excellent Ratings and Reviews
Sense Financial averages 4 out of 5 star ratings on almost all the online review platforms we reviewed, which is quite impressive and means customers are happy with the services rendered by this firm.
Based on reviews posted by customers on the Better Business Bureau, it's quite clear that Sense Financial are blessed with knowledgeable staff who know what they are doing.
S.F is known to offer one of the best customer service in the industry. Customer emails are responded to promptly and any concerns are always addressed swiftly and in a professional manner.
Cons of Choosing Sense Financial
Not Accredited With the BBB
In spite of all the excellent reviews on the BBB, Sense Financial lacks accreditation from the platform, which is not something we are taking lightly. We do know that most legitimate and trustworthy business are accredited with the BBB, which is hardly the case here.
Scanty Information On Fees
There's not much to be found regarding fees on their official website. However, they did reveal the setup fee as well as annual fees for a Solo 401k, which amounts to $1000 and $200 respectively. Well, in our view, such an amount is extremely high. We recommend you check out our #1 recommended precious metals IRA provider that charges $225 flat rate annual fees on this page.
Even though they have excellent ratings, Sense Financial averages no more than 20 customer reviews per online platform, which is quite low considering that most of its competitors boast hundreds of thousands of reviews on those platforms.
Accreditation, Customer Ratings & Reviews
Sense Financial has a total of 9 customer reviews and an overall rating of 5/5 stars on the Better Business Bureau despite not being accredited with the platform.




On Yelp.com, Sense Financial boasts an average rating of 5 out of 5 stars from 21 customer reviews and ratings. And sadly, the firm lacks reviews or ratings on Trustlink, Trustpilot, Business Consumer Alliance and many other reputable platforms.
Should You Consider Sense Financial for Your Precious Metals IRA?
Sense Financial is a great company run by professionals, but their lack of a BBB accreditation coupled with too much account set up fees made us to change our minds about recommending them to our readers. We have other alternatives that you can compare with Sense Financial. For example, our Top-rated precious metals IRA provider offers flat rate fees, is accredited with the BBB, has one of the best customer support and is highly rated on online review websites. You can read more about them via the link below.
Click Here to Read More About Our Top-rated Precious Metals IRA Provider.
Is Sense Financial Legit or Scam?
Sense Financial is undoubtedly a legit firm that has been operation for over a decade. The company is run by well-known professionals and all their services meet all of the IRS requirements.
Conclusion
Sense Financial is an Anaheim based financial consulting firm that offers retirement plans. Their aim is to help American investors achieve financial freedom by taking total control over their retirement accounts, in addition to investing in alternative assets such as real estate, precious metals, Trust deeds and much more. The firm is run by professionals and is known for unparalleled customer service.
However, Sense Financial is neither accredited with the BBB nor does it have sufficient customer reviews and ratings on various platforms. Also, their Solo 401k account set up as well as annual fees are too high compared to other similar firms.