What is Sense Financial? Is it a legitimate company or a scam? Can you put your hard-earned money in their hands? These inquiries will be addressed in our Sense Financial Reviews. Please continue reading to learn all the pertinent information about them.
What Is Sense Financial?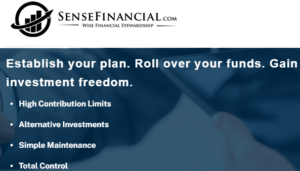 Sense Financial is a financial consulting firm based in Anaheim, California. It was founded more than a decade ago with the purpose of guiding clients to financial liberation using biblically-based investment and financial planning principles. In order to accomplish this, Sense Financial has decided to provide retirement plans that give you complete control over your investments.
You can invest in almost any asset with a self-directed IRA, including real estate, precious metals, private lending, etc. In addition, you obtain 'checkbook control' over your retirement accounts, allowing you to avoid exorbitant custodial fees.
Sense Financial Products and Services
Sense Financial's two primary products are Solo 401k and Checkbook IRA accounts. In contrast to traditional IRAs, which limit you to investing in stocks, these two enable you to invest in any asset of your choosing and exercise complete control over your retirement funds. It allows you to plan your own financial future and eventually achieve financial independence.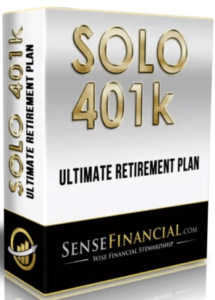 On their website, they also provide free educational materials. The 'resources' section of the official website of Sense Financial contains numerous free resources, including educational videos, webinars, infographics, and newsletters.
Company Profile
Location:
Anaheim, California
Address:
55 N Riverview Dr #100, Anaheim, CA 92808, United
Year Founded:
2010
Managers:
Dmitriy Fomichenko
Website:
www.sensefinancial.com
Rating:
[usr 4]
Learn About our #1 Recommended Gold and Silver IRA provider Here>
How Sense Financial Works
To get started with Sense Financial, you must first determine which plan best meets your investment objectives. And remember that there are eligibility requirements for a Solo 401k. For example, you must be self-employed and your business may only employ you and your spouse as full-time employees.
After deciding on your ideal plan and ensuring that you meet all of the requirements, you can contact Sense Financial's staff who will assist you in opening your account, rolling over your funds, and investing in alternative assets while maintaining complete control over your investments.
Pros of Sense Financial
Offers Excellent Retirement Plans
Sense Financial provides excellent plans in the form of Solo 401k and Checkbook IRA accounts. These plans give you complete control over your retirement funds and enable you to increase your wealth through alternative asset investments.
Free Educational Resources
They have devoted an entire section of their website to free educational resources to help you learn more about their services. The Sense Financial Client Portal provides direct access to videos, infographics, presentations, and much more.
Excellent Ratings and Reviews
On almost all of the online review sites we researched, Sense Financial received an average of four out of five stars, which is quite impressive and indicates that customers are pleased with the services provided by this company.
According to customer reviews posted on the Better Business Bureau, it is abundantly obvious that Sense Financial's staff is knowledgeable and competent.
They are renowned for providing industry-leading consumer service. Emails from customers are promptly responded to, and any concerns are always addressed quickly and professionally.
Cons of  Sense Financial
Not Accredited By the BBB
Despite the numerous positive reviews on the BBB, Sense Financial is not accredited by the organization, which is not something we take lightly. We are aware that the vast majority of legitimate and trustworthy businesses hold BBB accreditation, which is not the case here.
Scarce Details Regarding Fees
Their official website contains little information about fees. The Solo 401k establishment fee is $1000, and the annual fee is $200. Our opinion is that such a sum is excessively exorbitant.
Accreditation, Customer Ratings & Reviews
Despite not being accredited by the platform, Sense Financial has 26 customer reviews and an aggregate rating of 5/5 stars on the Better Business Bureau website. The average rating for Sense Financial on Yelp.com is 5 out of 5 stars, based on 24 consumer reviews and ratings. And on Trustpilot, the business has a rating of 3.7 out of 5 stars based on a solitary review. The company lacks reviews and complaints on the Business Consumer Alliance and numerous other credible websites.




Should You Consider Sense Financial for the Establishment of Your Precious Metals IRA?
Sense Financial is a wonderful company managed by professionals, but their lack of BBB accreditation and excessive account setup fees prevented us from recommending them to our readers. We offer additional alternatives to Sense Financial for your consideration. For instance, our top-rated precious metals IRA provider offers flat-rate fees, is BBB-accredited, has the finest customer service, and is highly rated on online review sites. You can learn more about them at the following link.
Click Here To Learn More About Our Top-Rated Precious Metals IRA Provider
Is Sense Financial Legit or a Scam?
Sense Financial is a legitimate business that has been in operation for over a decade. The company is managed by renowned professionals, and all of its services comply with all IRS requirements.
More Alternatives to Sense Financial 
Sense Financial Reviews Conclusion
Sense Financial is an Anaheim-based financial consulting firm that offers retirement plans. In addition to investing in alternative assets such as real estate, precious metals, Trust deeds, and much more, their mission is to assist American investors in achieving financial independence by regaining full control over their retirement accounts. Professionals manage the company, which is renowned for its exceptional customer service.
However, Sense Financial is not BBB-accredited and lacks sufficient consumer reviews and ratings across multiple platforms. In addition, their Solo 401k account setup and annual fees are excessive in comparison to other firms in the same industry.