Are you an investor seeking to take charge of your retirement by purchasing alternative assets? Directedira.com, also known as Directed Trust Company, promises to provide unmatched products and services. However, you must read our DirectedIRA.com reviews to determine whether or not they are legitimate.
What Is Directedira.com?

Directedira.com is a company based in Arizona that provides self-directed IRA accounts to individuals who desire to invest in alternative assets such as real estate and cryptocurrencies. The company's mission is to become the industry leader in self-directed IRAs. To accomplish this, the firm is managed by some of the most skilled tax attorneys, including Mat Sorensen and Mark Kohler.
A member of the American Bankers Association, Directedira.com strives for integrity and professionalism by periodically retraining its staff and adhering to the stringent capital requirements prescribed by licensed financial institutions.
Do They Offer Precious Metal IRAs?
Unfortunately, Directedira.com does not offer Gold and Silver IRAs because they are not affiliated with precious metals dealers. Check out our top-rated Gold IRA Company on this page.
Directedira.com Products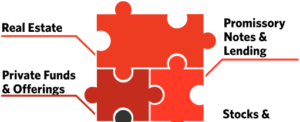 Directedira's products include various forms of self-directed IRA accounts that allow you to invest in a wide range of assets. Available IRA accounts include Roth IRA, Checkbook IRA/LLC, Backdoor Roth IRA, HAS, Inherited IRA, Solo 401K, SEP IRA, Coverdell, Traditional IRA, and Crypto IRAs. By possessing a self-directed IRA, it is possible to invest in and profit from alternative assets such as real estate, cryptocurrency, precious metals, etc.
In addition, Directedira.com provides free educational resources to assist you in getting started swiftly. This includes webinars, articles, podcasts, videos, and a great deal more.
How It Works
Getting started with this company is extremely easy. Simply select the type of account you wish to establish, and then fill out their online application. You can always schedule a call with their support staff, who will walk you through the process step by step if you get lost. After establishing your self-directed IRA, you can fund it and invest in the assets of your choice. Additionally, they provide an excellent platform for managing your account and investments.
Directedira.com Fees
Below is a breakdown of the costs associated with establishing a self-directed IRA at Directedira.com:
Account set-up fee: $50
Annual admin fee: $295
Asset processing fees: $30-$100
Total: $375-$445
Company Info
Location:
Phoenix, Arizona
Address:
Directed Trust Company
3033 N. Central Ave,
Suite 400
Phoenix, AZ 85012
Managers:
Mark Kohler, Mat Sorensen, Aaron Halderman
Website:
www.directedira.com
Overall Rating
[3.5/5]
Find Out Our Top Gold & Silver IRA Firm Now>
Advantages of Directedira.com
Free Educational Materials
Directedira.com provides an abundance of educational resources to help you not only establish an IRA account but also invest in alternative assets. They provide extensive videos, podcasts, blog posts, and other resources to help you get started immediately.
High Level of Professionalism
This company takes pride in having some of the most experienced administrators in the industry, as we have previously mentioned. Tax attorneys such as Mat Sorensen and Mark Kohler are well-respected experts in the self-directed IRA niche and can offer you invaluable advice.
At least ten distinct self-directed IRA accounts are available. This provides flexibility, as you can open an account that best suits your requirements.
You can easily schedule a call on their website. Their customer service representatives are highly responsive and will direct you appropriately. Additionally, you can contact customer service via the email address listed on their website.
Disadvantages of Directedira.com
In comparison to our top precious metals IRA companies, Directedira.com has extremely high fees. Some clients, particularly those on a limited budget, may be uncomfortable with such excessive fees.
Lack of Information on How to Fund Your IRA Account
There is a lack of clarity regarding permissible methods for funding an IRA, which can cause confusion. In addition to providing multiple payment options, the company should make this information plain.
Not Accredited By the BBB ❗
Directedira.com lacks BBB accreditation. Moreover, there are no reviews on reputable sites, which is quite odd.
Accreditation and Customer Reviews

Let's now have a look at DirectedIRA.com reviews on online directories.
Unfortunately, Directedira.com is not accredited by the Better Business Bureau and does not have any client reviews. Additionally, there are no reviews on platforms like Trustlink, Trustpilot, Yelp, and Business Consumer Alliance.
Should You Consider Directedira.com for Your Precious Metals IRA Rollover?
While Directedira.com claims to provide professional services, their lack of BBB accreditation and insufficient customer reviews disprove some of their claims; as a result, we cannot endorse them. In addition, their annual fees are greater than those of our leading precious metals company. Click the link to learn more about our recommended precious metals IRA company.
Click Here To Find Out Our Top-Rated Precious Metals IRA Company In 2023
Is Directedira.com Legit or Scam?
Directedira.com is legitimately registered and adheres to a strict code of conduct. In addition, the Arizona Department of Insurance and Financial Institutions regulates the company. Therefore, Directedira.com (Directed Trust Company) is a legitimate organization and most certainly not a scam.
Directedira.com Alternatives
Conclusion
Directedira.com is a self-directed IRA provider offering multiple IRA accounts to clients. This company can assist you in diversifying your portfolio by investing in alternative assets such as cryptocurrency. They are known for their excellent administration and customer service.
However, like any other company, Directedira.com has flaws. Their fees, for instance, are higher than those of our top-rated self-directed IRA companies. In addition, there are no reviews on reputable online platforms such as the BBB, BCA, and Trustlink.