Do you intend to invest your retirement funds in alternative assets like precious metals, real estate, or cryptocurrencies? You can accomplish this with a self-directed IRA. AltoIRA is one of the companies that offer this service, but we want to make sure you don't fall victim to a scam before you use them. Find out in this detailed AltoIRA reviews whether they are genuine or a scam and whether we recommend them for investing in alternative assets.
What Is AltoIRA?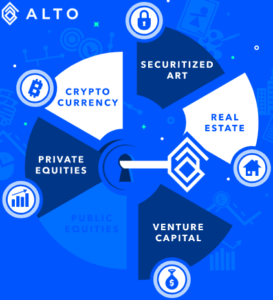 AltoIRA is a brokerage firm that provides self-directed IRAs to enable investors like you to invest in alternative assets such as real estate or cryptocurrencies. Eric Satz founded the corporation in 2018 with headquarters in Nashville, Tennessee. His objective was to provide investors with a robust digital platform that permits them to exercise greater control over their retirement funds. The name of their self-directed IRA program is The Alternative IRA.
Do They Offer Precious Metals IRAs?
Since AltoIRA is not a real IRA custodian, they do not offer precious metals IRAs. If you are searching for Gold IRAs, we advise you to visit the number one-rated precious metals IRA firm here.
AltoIRA Products and Services

Traditional IRAs, SEP-IRAs, and Roth IRAs are offered by Altoira, but inherited IRAs and 401(k)s are not. The company's investment options are limited to crypto, real estate, and startups, despite its partnerships with other organizations. Through their platform, you cannot invest in stocks, ETFs, bonds, futures, or even mutual funds. The majority of their alternative investments are restricted to accredited investors, indicating that the majority of their services are geared toward affluent individuals. Essentially, the AltoIRA platform can severely restrict your investment options for alternative assets.
AltoIRA Fees
The fee structure of AltoIRA is the most distinctive of all IRA providers. You incur fees proportional to the quantity you invest. The fee will increase proportionally to the sum invested. For example, investments up to $50,000 incur a $99 charge, while investments over $50,000 incur a maximum fee of $199.Depending on the number of investments you hold, this amount can reach $499 annually. In addition, they charge a $49 account setup fee and a $49 annual reporting fee.
Company Info
Location:
Nashville, Tennessee
Address:
1033 Demonbreun St
# 300
Nashville, TN 37203
Year Founded:
2018
Managers:
Eric Satz, Gary Hirsch
Website:
www.altoira.com
Overall Rating:
[3/5]
Learn About Our Top-Rated Gold & Silver IRA Company Now>
Advantages of AltoIRA
Their digital platform is user-friendly and novice investors can simply navigate it. Their user-friendly website allows you to invest your retirement funds in alternative assets such as cryptocurrency and diversify your portfolio.
AltoIRA provides a contact form on its website for contacting customer support. Their support staff is renowned for responding promptly to consumer inquiries.
Allows Private Deals Investments
You can invest in your own private deals through their platform.
Disadvantages of AltoIRA
Limited Investment Options
As previously stated, AltoIRA's limited investment options can be extremely disheartening. In spite of partnerships with third parties such as AngelList, AltoIRA restricts investments to cryptocurrencies, startups, and real estate. To trade ETFs, bonds, mutual funds, stocks, etc., you will need a distinct account.
We discovered that their IRA fees are higher than those of our top gold IRA companies. In addition to the exorbitant fees, their fee structure is complex and unclear.
AltoIRA is not Better Business Bureau-accredited. Not only does a high BBB rating indicate that a business is legitimate, but it also indicates that it provides high-quality services.
Find Out Our Top-Rated Gold & Silver IRA Provider On This Page>
Customer Reviews and Ratings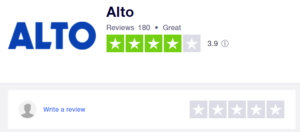 Let's now have a look at AtoIRA reviews on online platforms. The company has a current Better Business Bureau rating of 1 out of 5 stars based on 11 customer complaints and 5 reviews. Trustpilot awards AltoIRA 4.4 stars based on 1,153 reviews and ratings, whereas Yelp awards 1 star based on a single review. They have no ratings or reviews on Trustlink or the Business Consumer Alliance.
Should You Consider AltoIRA for Your Precious Metals IRA Rollover?
Given the paucity of online reviews for AltoIRA, it is evident that they are a relatively new player in the self-directed IRA industry. In addition, their fee structure is too complex for the average investor, and their investment options are restricted. If you are searching for a great precious metals IRA provider in 2023, the link below will take you to our top recommendation.
Check Out Our Top Precious Metals IRA Company Now>
Is AltoIRA Legit or Scam?
Since they are lawfully registered and have a physical address, AltoIRA is a legitimate company and not a scam.
Alternatives to AltoIRA
AltoIRA Reviews Conclusion
AltoIRA is a brokerage that provides a fantastic digital platform for retirees who wish to diversify their investment portfolios using retirement funds. The organization simplifies the process of investing in alternative assets such as cryptocurrencies and real estate.
However, the company's limited investment options may restrict your ability to invest in particular assets. They lack positive online reviews, and their fees appear to be higher than those of other IRA providers.