If you are planning to buy gold online, Regal Assets is one of the places to go to- but first, let's have a quick look at what they have to offer and the pitfalls associated with regal gold investment to determine whether or not you should buy gold from Regal Assets.
Buy Gold From Regal Assets-Is It Worth It?
Is it worth it buying gold or other precious metals from Regal Assets, or is it a waste of time and resources? Do they even offer the best deals on the market or they are just scammers? Let's find out the truth by answering the following questions:
Is Regal Assets Legit?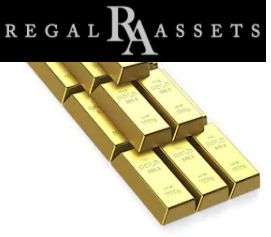 Before buying gold online, you need to check whether the platform you are transacting with is legit, as there are many scams out there waiting to devour your hard-earned money. Regal Assets is one of the most popular Gold Companies in the precious metals investing niche, and it also happens to be one that most newbie investors prefer and are ready to dig every nook and cranny to find out whether it's legit or scam. So is this company legit or scam?
The short answer is…Regal Assets Ltd is a legit company. They are registered since 2009 and happen to be among the best precious metals companies to buy gold from in 2020. The company is open about their operations unlike most scams that hide crucial information such as IRA fees or types and quality of products on offer. The company also has numerous positive reviews on reputable online platforms such as the Business Consumer Alliance and Trustlink, which shows that they are actually legit.
Read more about Regal Assets Gold IRA in this article
What Type of Gold Is Sold Buy Regal Assets?
Regal Assets is not really a gold retailer as many people tend to think, but a dealer in ira services. If you are not buying gold to be put in an ira then Regal Assets may not be a suitable option for you. The company mainly offers Gold IRA (and Silver IRA) services to retirees. They make it easy to roll over an IRA or 401k into gold. Products sold by Regal Assets for IRA purposes include IRS-approved Gold, silver, palladium and platinum bullion bars and coins. Now, let's have a look at the price you have to pay to invest with Regal Assets…
What Is the Price of Regal Gold?
The price you will pay for IRA-worthy gold bars or coins will depend on the current price of gold, but keep in mind that you have to pay IRA fees-these include administrative and storage fees for your investment assets. Regal has a flat fee structure, and offer some of the lowest IRA fees in the industry. Here is the breakdown:
Startup fee: $0
Annual administration fee: $100
Annual storage fee: $150
Minimum purchase amount: $10,000
Compared to other companies who offer expensive scaled IRA fees, Regal Assets is clearly the better option.
What Are the Pros and Cons of Buying Gold From Regal Assets?
Let's now have a look at the pros and cons of buying gold from Regal Assets—starting with the pros.
Pros of Buying Gold from Regal Assets
Lower fees-as we've mentioned, they offer some of the lowest fees in the industry owing to their flat fee structure.
Secure Storage-they offer a segregated storage for your gold. A segregated storage is known to be the best form of storage for expensive investment assets such as gold.
Expert staff-they have been in business for long so they know how to handle IRA matters.
High Ratings-Regal Assets is highly rated on BCA, Trustlink and Facebook.
Cons of Buying Gold from Regal Assets
Products tailored to high net worth investors- if you look at the $10, 000 minimum investment amount, it is clear that Regal Assets is for people with huge amounts of money to invest. The company mainly targets retirees with substantial amounts to transfer.
To learn more about Regal Assets, you may want to read this review.
Conclusion
Whether you are a novice or veteran investor, finding out the credibility of a gold company such as Regal Assets is extremely important. Many people have ignored this crucial step and ended up being ripped off of their hard-earned money.
Therefore you've made the right decision, and now your worries of losing your money or having some other issue while buying gold from Regal Assets have been quashed. Go forth and invest with Regal Assets as they have some of the best deals in the precious metals industry today.