Today's review is about Midatlantic IRA. How does Midatlantic IRA compare to other IRA administrators in the industry? Is it a legit company or scam? Let's find out in this short review.
What Is Midatlantic IRA?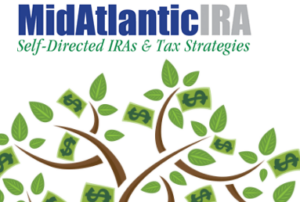 MidAtlantic IRA, LLC is a self-directed IRA administration company based in Frederick, Maryland. The firm was founded in 2004 and is one of the fastest growing IRA administrators in the country. Thanks to their wide array of self-directed IRA accounts, Midatlantic IRA offers you a great opportunity to protect and increase your retirement savings by investing in a wide range of alternative assets.
Company Info
Location:
Frederick, Maryland
Address:
118 W Church St, Frederick, MD 21701, United States
Year Founded:
2004
Management:
Teddie Barnhart (Owner)
Website:
www.midatlanticira.com
Rating:
[usr 3]
==>Learn about our top-rated gold & silver IRA custodian here<==
Midatlantic IRA Products & Services
Midatlantic IRA's self-directed retirement plans are designed for both individual investors and small businesses. Self-directed IRA accounts available for individuals include Traditional IRA and Roth IRA, while self-directed retirement accounts for small businesses include SEP IRA and SIMPLE IRA. Allowable custodial assets include Limited Partnerships, Real Estate, Precious Metals, Hedge Funds, Tax Liens, Trust Deeds, Annuities, Private Placement, etc.
How It Works
Self-directed IRA account set up forms are available on Midatlantic IRA's official website. The first step is for you to make up your mind on the type of self-directed retirement plan you wish to open. Once you're decided, proceed to open your account through 4 steps as outlined below.
Download Account Set Up Forms From Midatlantic IRA's official Website
Fill out the forms appropriately and print out the document to enable you to append your signature by hand.
Send copies via email to Midatlantic IRA for approval. Should there be any rectifications that need to be made, Midatlantic IRA's staff will let you know at this point.
The fourth and final step involves sending your original copies plus a copy of your driver's license to the company via mail. From there, Midatlantic IRA account executives will expedite the account set up and you'll be investing in alternative assets of your choice in no time.
Attention: Looking for a reliable gold and silver IRA custodian? Read about our top-rated Precious Metals IRA Company on this page.
Midatlantic IRA Annual Fees
Information on Midatlantic IRA's fee structure as wells as actual payable yearly administration fees is not availed on their website. Thus, you need to contact the company to get this information. However, after much digging around their website, we did find out that they charge $50 account set up fee and account termination fee ranging from $150-$475.
Here is our #1 recommended precious metals IRA custodian that has got the lowest fees
Pros of Choosing Midatlantic IRA
Offers a Full Range of Self-directed IRA Accounts
Midatlantic IRA offers a full range of self-directed accounts for both individuals and small business. These accounts allow you to invest in a wide range of alternative assets.
Provides Free Educational Resources
Their website is filled with free educational resources including a blog and a FAQ's section. These resources enhance your knowledge of self-directing your retirement and outlines important steps you need to take before investing.
Friendly and Knowledgeable Staff
Midatlantic IRA is known to have friendly and responsive staff who are not only easy to get hold of but also highly knowledgeable in property investment matters.
Cons of Choosing Midatlantic IRA
Midatlantic IRA is not accredited with the Better Business Bureau, despite having an A+ rating on the platform.
No Customer Reviews Online
Other than a single review on Yelp, Midatlantic IRA doesn't have reviews on almost all third party consumer protection and review websites.
While most firms readily avail fee information on their websites, Midatlantic IRA has chosen not to publicly avail this crucial information. They do have a documentation with all the fee information but you will only get this through contacting the company.
Midatlantic IRA Accreditation, Ratings and Reviews

Midatlantic IRA is not accredited with the BBB and have zero customer reviews on the platform. On Yelp, the company has a 3 out of 5 stars rating based on 1 customer review. There are no reviews of Midatlantic IRA on the BCA, Trustlink, Trustpilot and many other review websites.
Should You Invest In Midatlantic IRA?
It's upon you to do your due diligence and make your own decision in respect to investing in a self-directed IRA. However, our view in regards to Midatlantic IRA's customer ratings and transparency is that they are not among the best rated custodians. Click the link below to read about our #1 recommended self-directed IRA custodian.
Click here to read about our #1 recommended self-directed IRA custodian
Related: Regal assets Reviews
Conclusion
Midatlantic IRA is a self-directed IRA administrator that offers a wide range of self-directed retirement plans. Through their accounts, investors can invest their IRA money in a diverse range of alternative assets. The company is known to offer free educational materials as well as professional customer care service.
But on the downside, Midatlantic IRA does not have customer reviews and ratings online, and lacks accreditation from one of the largest consumer protection websites- the BBB. They also lack transparency as they do not avail their fee structure on their official website.