Are you wondering whether CheckbookIRA.com (Checkbook IRA LLC) is a legit company? Are there any complaints against them out there? Well, before you try this company, you should read this detailed review carefully to avoid losing your hard-earned money.
What Is CheckbookIRA.com?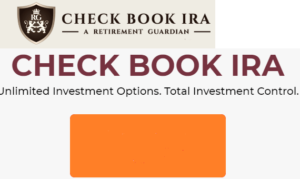 CheckbookIRA.com, as the name implies, is a Self-directed IRA provider based in Redmond, Oregon. The company began in 2004 and has grown rapidly over the years. They currently manage thousands of accounts for clients both in the USA and abroad.
Checkbook IRA is one of those companies that value customer education and have dedicated an entire section of their website to offering educational materials to new clients.
Do They Offer IRAs?
Yes, they do offer IRAs. And as we've noted, CheckbookIRA.com was primarily created to offer IRAs to clients wishing to invest their retirement money in alternative assets. However, we do not recommend them as they charge exorbitant admin fees, up to 10 times what other IRA providers charge. Also, the company has no reviews on the BBB and other trust sites, which is a red flag.
Click Here to Check out Our Top Recommendation for IRAs
Company Info
Location:
Redmond, Oregon
Address:
915 SW Rimrock Way, Redmond, OR 97756
Year Founded:
2004
Managers:
Jordan Shepherd
Website:
www.checkbookira.com
Overall Rating
3.0 ⭐⭐⭐
Recommended?
Not recommended
==>Learn about our Top-rated Gold & Silver IRA Company on this page<==
How It Works
CheckbookIRA.com operates just like any other self-directed IRA provider. They provide all the resources you need to get started on their official website. All you have to do is choose the service you want and submit a simple online form, or call their customer service representatives if you need additional help.
If you are a total newbie, their website is laden with useful information about IRA rollovers and retirement planning in general. You can refer to their 'University' section and take advantage of their free educational resources.
CheckbookIRA.com Products
CheckbookIRA.com mainly offers IRA and 401k rollovers. Essentially, they help you to open a self-directed IRA that allows you to invest in various alternative assets such as crypto or precious metals. The company will painstakingly take you step by step throughout the rollover process. Their excellent customer education program is designed to bring newbie and potential investors on board.
Additionally, Checkbook IRA offers storage for your assets, but you will have to part with a huge amount for this. Currently, they charge $1500 annually for storage, which is way too expensive compared to other similar firms that charge $200 or lower. We, recommend that you read about our top IRA provider that charges $100 yearly storage fee via the link below.
Click here read about our top IRA Provider in 2021
CheckbookIRA.com Complaints
CheckbookIRA.com have 0 complaints on the Better Business Bureau and a single customer review on the platform.

Likewise, they have a single review and zero complaints on Trustlink.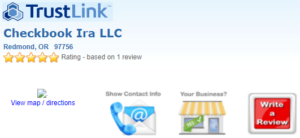 And shockingly, they have no reviews or complaints on Business Consumer Alliance and the Ripoff Report.
Advantages of Choosing CheckbookIRA.com
Checkbook IRA has a great customer support. They have a live chat feature on their site which makes contacting support extremely easy. Additionally, they have a phone number and an email address, and their customer support representatives are always available and ready to help.
The company prides itself in being one of the companies that offer unmatched client education. As a matter of fact, they have dedicated a whole section of their website to webinars, articles, podcasts, videos and other educational materials to help clients learn how IRA rollovers work.
Checkbook IRA has been in business for over a decade, which goes to show how reliable and credible they are.  If they were a shady firm, they would have gone under long ago.
CheckbookIRA.com offers secure storage facilities for your investment, albeit at an extremely high fee of $1500 per year which most investors frown upon.
Disadvantages of Choosing CheckbookIRA.com
No Reviews On Major Consumer Review Sites
While most reputable companies have numerous reviews on most online consumer review sites, this is not the case with Checkbook IRA. They not only lack reviews on the BBB but also on other trusted platforms such as Trustlink and Business Consumer Alliance.
CheckbookIRA.com charges a storage fee of $1500 yearly compared to similar IRA providers that charge $200 and below.
Pushy Sales Representatives
There have been many complaints by investors over the years about their pushy sales representatives who 'hard sell' the company's products. Most potential investors cannot tolerate such behavior and may opt for another firms.
Should You Consider Checkbook IRA for Your IRA Investments?
Checkbook IRA may be a reliable company that has been in business for a long time, but we do not recommend them for two reasons;
They have no customer reviews, which is a red flag and should not be taken lightly.
Their storage fees are extremely high.
Thus, we recommend our top-rated self-directed IRA provider that charges as low as $100 yearly for storage.
Click this link to learn about our top-rated IRA provider.
Conclusion
CheckbookIRA.com is a self-directed IRA provider with a proven track record and many years in business. The company values client education and does everything within their power to enlighten new investors on the ins and outs of IRA rollovers.
However, Checkbook IRA has its downside which makes us not to recommend them. Firstly, they charge exorbitant yearly fees to store your investment assets. Secondly, they lack customer reviews on online platforms such as the BBB. And finally, there have been many complaints about the firm's pushy sales people which as adversely damaged their reputation.