Thinking of acquiring precious metals from Acre Gold? Is this company legit or yet another scam out to savage your hard-earned money? If you are seriously considering buying gold in 2023 (which of course is a wise decision) you need to read this review extra carefully.
Does Acre Gold Offer Gold IRAs?
No, Acre Gold does not offer Gold or Silver IRAs. If you are interested in Precious Metals IRAs, we recommend you get our FREE Gold IRA Guide On This Page.
What is Acre Gold?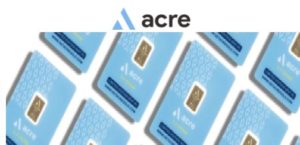 Founded by fintech veterans and goldbugs, Acre Gold is a gold retailing company based in Santa Monica, California and Boise, Idaho. The company claims to have developed a great model to help investors acquire gold at more affordable prices. They also claim to make the gold-buying process hassle-free through great customer care and speedy delivery. Keep reading this detailed review to find out the truth.
TIP: Avoid Scams! Find Out Our Top-Rated Precious Metals IRA Company Here>>.
Is Acre Gold Legit?
Acre Gold has a handful reviews on customer review sites such as the Better Business Bureau and Business Consumer Alliance. However, this is by no means an indication that they are a scam. It might be due to the fact that they are only 4 years into business, hence have not gained enough popularity and trust. Also, they have a physical location and address, which proves that they are actually legit and not a scam. The only huge red flag is that its founder is unknown, which is quite strange since most legit companies have a known owner.
Company Info
Company Name:
Acre Gold
Founder:
Unknown
Official Website:
www.getacregold.com
Location:
Santa Monica, CA and Boise, ID.
Overall Rating:
[usr 3]
To avoid scams, check out our Most Reliable Gold IRA Company Here
How Does Acre Gold Work?

Unlike other precious metals companies that deliver gold only upon full payment, Acre Gold allows you to pay a monthly subscription. Thus, if you do not have the full amount right away, you can choose their $30 or $50 monthly subscription and start your contribution. What basically happens here is that your monthly contribution will accumulate till it is enough to purchase a gold bar, then they ship the bar to you. They mainly sell 2.5 gram bars which are mostly affordable.
Acre Gold Pricing
To join their program, you first need to pay a $12 non-refundable membership fee upfront. You will then proceed to select your preferred subscription option.  Currently, they have both the $30 and the $50 monthly subscription options to choose from. As aforementioned, you will be contributing towards buying 2.5 gram gold bars, which are mainly sold at a premium above the spot price. To give you a hypothetical example, let's assume the price of a 2.5 gram bar to be $600. This means you will have to contribute $30 for 20 months or $50 for 12 months to buy it. However, bear in mind that this company will charge you additional shipping and fulfillment fees to ship the product to your door.
Acre Gold Referral Program
Acre Gold has a referral program akin to that of 7k Metals, whereby you get paid to bring in new customers. You are only paid when your referrals subscribe. If you like this kind of business, you can actually make extra money and afford more gold bars through referring new customers.
Acre Gold Support
Acre Gold only relies on email and social media channels to communicate with clients, which in our view is extremely ineffective and unreliable due to the fact that not everyone is on social media. Research has also shown that not many people open their email inboxes as compared to text messages that are likely to be read 99% of the time. Thus, it would have been a wise idea to have a phone number in place or a live chat feature for instant communication with clients.
Advantages of Choosing Acre Gold
They offer an affordable means to purchase gold bars
Their referral program can help you make more money
Fairly good customer support
Ability to cancel your subscription any time you wish
Disadvantages of Choosing Acre Gold
Several complaints and negative reviews online
Scanty information about precious metals on their website
No known owner or founder
New to the industry, hence little experience in matters precious metals
Find out our Most Reliable Precious Metals IRA Company Here
Acre Gold Customer Reviews and Ratings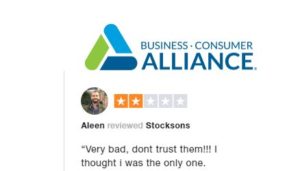 Based on reviews posted on the BBB, Acre Gold has a poor rating of B- . Also, they have a total of 32 customer complaints on the platform. Bearing in mind that the highest rating on BBB is A+, a B- rating indicates an extremely poor performance. The company is neither accredited nor rated by the BCA. Likewise, Acre Gold does not have reviews on Consumer Affairs, Trustlink, Trustpilot and the Ripoff Report. The below screenshot shows some of the complaints we came across.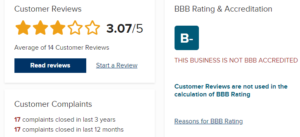 TIP: Avoid Scams and get your gold from our top-rated dealer. Click Here!
Acre Gold Alternatives
Conclusion
We've seen that Acre Gold goes out of its way to bring affordable gold deals close to customers. However, the downside is that there are numerous complaints against them. Acre Gold can improve their communication channels by adding a live chat feature or phone number to their website.
And while Acre Gold is a legit company that delivers, it's worth mentioning that there are more reliable gold companies out there that have a long history of honesty and reliability. You may want to check out our top gold IRA companies here.