Need a simple way to open a self-directed IRA and invest in alternative assets such as precious metals, private placements or real estate? Read our review of American IRA to find out if it's the right self-directed IRA provider for you.
What Is American IRA?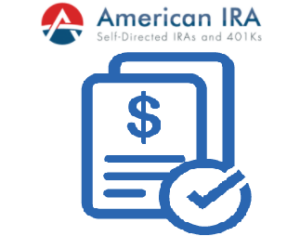 Based in Asheville, North Carolina, American IRA is a self-directed IRA provider/administrator and a former franchisee of the Entrust Group. It claims to be the leader in self-directed IRA/401k education, offering weekly webinars to enlighten their current and prospective clients. The company avails numerous alternative assets to investors.
American IRA Review Summary
Location:
Asheville, North Carolina
Address:
135 Broad St, Asheville, NC 28801, United States
Year Founded:
2004
Management:
Jim Hitt (CEO)
Website:
www.americanira.com
Rating:
[usr 4]
Find Out Our Top-rated Gold & Silver IRA Provider Here>>
American IRA Services
American IRA provides many different self-directed IRA account types. These include Traditional IRA, Roth IRA, SEP IRA, Solo 401k, Simple IRA, Health Savings Account and Coverdell Education Savings Account. Alternative assets provided by American IRA include real estate, tax liens, private lending, private placements, single-member LLC's, precious metals and private stock.
How Does American IRA Work?
American IRA provides all the information you need to open a self-directed IRA, as well as IRA application forms on their website. The best part is that they provide all the education, tools and support for free. Once you are ready to set up a self-directed IRA, simply create a client account by clicking 'Register' link. Once you are logged in, proceed and click the 'Open a New Account' tab to access account set up forms. Regardless of the type of account you wish to open, the following 3 steps apply:
Open Account
Complete your preferred IRA form and submit it online. American IRA staff will assist you to set up your new self-directed IRA account.
Fund Your Account
Next step is to fund your account by rolling over or transferring funds from your current IRA.
Purchase Your Investment
Once the roll over is successful, proceed to purchase alternative assets of choice to be held in your self-directed IRA.
American IRA Fees
Below is the basic fee schedule for American IRA:
Account Setup Fee: $50
Basic Account Fee: $285
Unlimited Account Fee: $450
Minimum Account Balance: $750
For more detailed information about American IRA fees, check out this comprehensive American IRA Fee Schedule.
Or,
Find Out Our #1 Recommended Precious Metals IRA Provider Charging the Lowest IRA Fees
Pros of American IRA
Multiple Account Types and Investment Vehicles
They offer many different self-directed IRA accounts and multiple alternative investment vehicles, thereby giving you unlimited investment options.
Excellent Customer Reviews
The company boasts a 5/5 stars rating on the BBB, as well as an A+ overall rating on the platform.
American IRA claims to be industry leaders in self-directed IRA education. This is demonstrated by their weekly online events featuring numerous informative webinars.
Cons of American IRA
While our top recommended gold and silver custodian charges a one-time flat rate fee of $225, American IRA charges $285 for a basic account a lone, not to mention numerous other fees you'll pay along the way.
Even with their excellent BBB rating and accreditation, we found that American IRA has a considerable amount of customer complaints across various review platforms. For instance, there are multiple negative reviews on Yelp and Trustpilot accusing American IRA of poor customer support.
American IRA Ratings, Complaints and Customer Reviews
American IRA is accredited with the BBB since 2009, and boast a 5 out of 5 stars rating on the platform based on 11 customer reviews and 1 customer complaint.

On Yelp, American IRA is rated 3/5 based on 4 reviews, while on Trustpilot, it is rated 3.6/5 based on 15 customer reviews. The company lacks reviews and ratings on both the BCA and Trustlink.


Is there a Better Alternative?
In the end, it is up to you to decide whether to invest with American IRA. But looking at their yearly fees, it is clear that this firm is not one of the cheapest to invest with. Fortunately, our top-rated custodian offers the lowest one time, flat-rate fee which can save you a lot on fees. You can click the link below to read about them.
Click Here To Learn About Our Top-rated IRA Custodian Now!
Is American IRA Legit?
Yes, American IRA is certainly a legit firm, as they've got over 2 decades in business. They are also managed by well-known individuals and their BBB rating is superb.
Related: IRAServices.com Reviews
American IRA Reviews Conclusion
American IRA is a self-directed IRA administrator located in Asheville, North Carolina. The company provides free education to clients, in addition to many different account types and multiple investment vehicles. Moreover, American IRA boasts excellent ratings on the BBB and other major reviews platforms.
In spite of the positives, American IRA has its cons as well. For example, they charge highly exorbitant fees compared to some of our top-rated self-directed IRA companies. Also, the company has been accused of poor customer support.