Need an easy method to establish a self-directed IRA and invest in alternative assets like precious metals, private placements, and real estate? Find out if American IRA is the correct self-directed IRA provider for you by reading our review.
What Is American IRA?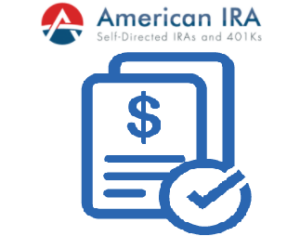 Based in Asheville, North Carolina, American IRA is a self-directed IRA provider/administrator and a former franchisee of the Entrust Group. It claims to be the industry leader in self-directed IRA/401k education and offers weekly webinars to its current and prospective clients. The corporation offers investors a variety of alternative assets.
American IRA Review Summary
Location:
Asheville, North Carolina
Address:
135 Broad St, Asheville, NC 28801, United States
Year Founded:
2004
Management:
Jim Hitt (CEO)
Website:
www.americanira.com
Rating:
[usr 4]
Find Out Our Top-rated Gold & Silver IRA Provider Here>
American IRA Products & Services
American IRA offers numerous varieties of self-directed IRA accounts. These include the Traditional IRA, the Roth IRA, the SEP IRA, the Solo 401k, the Simple IRA, the Health Savings Account, and the Coverdell Education Savings Account. Real estate, tax liens, private lending, private placements, single-member LLCs, precious metals, and private stock are alternative assets offered by American IRA.
How Does American IRA Work?
On its website, American IRA provides all the information necessary to open a self-directed IRA, as well as IRA application forms. The best aspect is that they provide free instruction, resources, and assistance. When you are ready to establish a self-directed IRA, merely click the 'Register' link to create a client account. Click the 'Open a New Account' tab to access account registration forms once you have logged in. Regardless of the type of account you wish to establish, you must complete the following three steps:
Open Account
Complete and submit your preferred IRA form online. The American IRA staff will assist you in establishing your new self-directed IRA.
Fund Your Account
The next stage is to fund your account by transferring or rolling over funds from your existing IRA.
Purchase Your Investment
Upon effective completion of the rollover, proceed to acquire alternative assets for your self-directed IRA.
American IRA Fees
The American IRA charge schedule is detailed below:
Account Setup Fee: $50
Basic Account Fee: $285
Unlimited Account Fee: $450
Minimum Account Balance: $750
Pros of American IRA
Multiple Account Types and Investment Vehicles
They provide a multitude of self-directed IRA accounts and alternative investment vehicles, thereby providing you with limitless investment options.
Excellent Customer Reviews
The company's BBB rating is 4.97 out of 5 stars, with an overall A+ rating on the platform.
American IRA asserts to be the industry champion in IRA education. This is evidenced by their weekly online events, which include numerous educational webinars.
Cons of American IRA
American IRA charges $285 for a basic account, in addition to a variety of other fees.
Despite their outstanding BBB rating and accreditation, American IRA has a significant number of customer complaints across multiple review platforms. Multiple negative reviews on Yelp and Trustpilot, for instance, accuse American IRA of providing inadequate customer service.
American IRA Reviews, Ratings, and Complaints
American IRA has been BBB-accredited since 2009 and holds a 4.97-star rating based on 38 customer reviews and 0 customer complaints.

The firm is rated 3.5/5 on Yelp based on 5 reviews, but 3.6/5 on Trustpilot based on 15 customer reviews. Both the BCA and Trustlink lack reviews and evaluations for the company.


Is there a Better Alternative?
It is ultimately your choice whether to invest with American IRA. However, based on their annual fees, it is evident that this is not one of the least expensive investment firms. Our top-rated gold IRA company offers the lowest one-time, flat-rate fee, allowing you to save a substantial amount on fees. Click the link below to learn more about them.
Click Here To Learn About Our Top-rated  Gold IRA Company Now>
Is American IRA Legit?
Yes, American IRA is a legitimate business, having been in operation for over two decades. Additionally, they are managed by well-known individuals and have an excellent BBB rating.
American IRA Alternatives
Conclusion
American IRA is a self-directed IRA administrator located in Asheville, North Carolina. In addition to numerous account categories and multiple investment vehicles, the company provides clients with free education. Furthermore, American IRA has received high marks from the Better Business Bureau and other significant review sites.
Despite its advantages, the American IRA also has disadvantages. Compared to some of our top-rated self-directed IRA companies, for instance, their fees are astronomically high. Additionally, the company has been accused of providing inadequate customer service.