Are you considering entrusting Nevada Trust Company with the management of your investments but unsure of their quality? Read our review of Nevada Trust Company to make an informed investment decision.
What Is Nevada Trust Company?

Nevada Trust Company is, as its name suggests, a Trust and Investment Management Company based in Las Vegas, Nevada. Peter Kingman founded the company in 1995 with the intention of providing clients with trustworthy trust, wealth management, and IRA administration services. The company provides a multitude of self-directed accounts and investment vehicles.
Does It Offer Precious Metals IRAs?
Note that Nevada Trust Company is not a precious metals firm. Thus, you will still require the services of a precious metals dealer as it only provides custody services. We advise you to collaborate with a company that offers both precious metals and custody services. Goldco is our top-recommended precious metals IRA company.
Nevada Trust Company Review Summary
Location:
Las Vegas, Nevada
Address:
9130 W Russell Rd Suite 310, Las Vegas, NV 89148, United States
Year Founded:
1995
Management:
Peter Kingman (President)
Website:
www.nevadatrust.com
Rating:
[usr 3] 
Click Here To See Our #1 Recommendation for Precious Metals IRAs
Nevada Trust Company Products & Services
The company provides the three categories of services listed below.
Trust Solutions
These include Trustee Services, Asset Protection Trusts, Dynasty Trusts, Life Insurance Trusts, Business Trusts, Charitable Trusts, and Special Needs Trusts.
Wealth Management
Wealth management services offered include Investment Management, Estate Administration, and management of complex assets such as Real Estate and rare collections.
Custodial services
They also provide self-directed IRA custodial services. Accounts offered include Traditional IRA, Roth IRA, SEP, SIMPLE IRA, Individual 401(k), and a lot more. Allowable alternative investments include Real Estate, Private Placement, Precious Metals, Limited Partnerships, REITs, Tax Liens, Trust Deeds, and more.
How It Works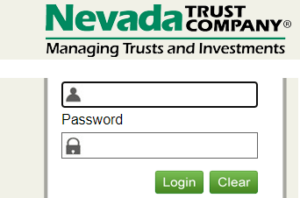 Nevada Trust Company primarily provides its services via its official website. In order to access the services, view your reports, and manage your account, you will need to establish an online account.
Nevada Trust Company Fee Schedule
Nevada Trust Company charges $250 for account establishment and $250 for account closure. Strangely, the company's website lacks an exhaustive fee schedule, so we were unable to determine their annual account administration and storage fees.
Pros of Nevada Trust Company
The company's managers have extensive knowledge and experience in a variety of industries and geographies and hail from diverse origins. This enables them to resolve a wide variety of problems, including legal disputes, complex property issues, and many others.
They provide one of the finest customer support services in the industry, in which management communicates directly with customers. In contrast to the majority of its competitors, they lack call centers and salespeople.
Nevada Trust Company is one of the country's oldest trust organizations, having been in business for nearly three decades. Over the years, they've built relationships with clients and earned their trust.
Cons of Nevada Trust Company
There is no fee schedule on Nevada Trust Company's website, which is quite disappointing for those who wish to know the fees beforehand. Typically, we recommend businesses whose fees are completely transparent.
Lacks Reviews and Ratings
Despite more than 25 years in business, Nevada Trust Company has no reviews on the BBB, Trustlink, Trustpilot, and numerous other third-party consumer protection websites.
Nevada Trust Company Reviews & Ratings

Nevada Trust Company is BBB-accredited and carries an A+ rating, despite the absence of consumer reviews on the platform. In addition, they have a 5-star rating on Yelp despite having only one customer review. The company lacks reviews, ratings, and accreditation from Trustpilot, Trustlink, BCA, and numerous other leading consumer protection websites.

Is There a Better Alternative to Nevada Trust Company?
Yes, Goldco, our top-recommended precious metals IRA provider, is one of the companies that provides complete fee transparency. In fact, Goldco has the lowest flat-rate fees, and they also have outstanding online ratings and reviews.
Nevada Trust Company Alternatives
Conclusion
Nevada Trust Company is an investment management firm based in Las Vegas, Nevada. Since its founding in 1995, the company has grown to become one of the foremost providers of investment solutions. They provide Trust services, Wealth Management services, and custodial services.
Negatively, Nevada Trust Company lacks transparency because they do not publish its fee schedule. In addition, they lack reviews and evaluations despite having been in business for many years.