Are you thinking of managing your investments through Nevada Trust Company but can't decide whether they are good or not? Read our review of Nevada Trust Company and we will help you make an informed investment decision.
What Is Nevada Trust Company?

As its name implies, Nevada Trust Company is a Trust and Investment Management Company based in Las Vegas, Nevada. NTC was founded in 1995 by Peter Kingman with the aim of offering clients reliable trust, wealth management as well as IRA administration services. The company offers many different self-directed accounts and multiple investment vehicles.
Does It Offer Precious Metals IRAs?
Keep in mind that Nevada Trust Company is not a precious metals company. It only offers custodial services and thus, you will still need the services of a precious metals dealer. We recommend you work with a firm that provides both the precious metals and custodial services. Our #1 recommended Precious Metals IRA Company is Goldco Direct, click the link below to learn more about them.
Click Here To Learn More About Goldco, Our Top-rated Precious Metals IRA Provider
Nevada Trust Company Review Summary
Location:
Las Vegas, Nevada
Address:
9130 W Russell Rd Suite 310, Las Vegas, NV 89148, United States
Year Founded:
1995
Management:
Peter Kingman (President)
Website:
www.nevadatrust.com
Rating:
[usr 3] Not Recommended
Click Here To See Our #1 Recommendation for Precious Metals IRAs
Nevada Trust Company Products & Services
The firm offers 3 categories of services as outlined below.
Trust Solutions
These include Trustee Services, Asset Protection Trusts, Dynasty Trusts, Life Insurance Trusts, Business Trusts, Charitable Trusts and Special Needs Trusts.
Wealth Management
Wealth management services offered include Investment Management, Estate Administration and management of complex assets such as Real Estate and rare collections.
Custodial services
They also provide self-directed IRA custodial services. Accounts offered include Traditional IRA, Roth IRA, SEP, SIMPLE IRA, Individual 401(k) and a lot more. Allowable alternative investments include Real Estate, Private Placement, Precious Metals, Limited Partnerships, REITs, Tax Liens, Trust Deeds and much more.
How It Works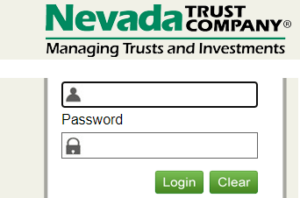 Nevada Trust Company offers their services mainly through their official website. You will need to create an online account to be able to access the services, view your reports and manage your account.
Nevada Trust Company Fee Schedule
NTC charges $250 account setup fee and another $250 account termination fee. Strangely, the company does not provide a comprehensive fee schedule on their website, and therefore we could not establish their annual account administration and storage fees.
Pros of Nevada Trust Company
The company's managers come from a wide range of backgrounds with extensive knowledge and experience across various industries and geographies.  This allows them to solve a diverse range of issues such as legal disputes, complex property issues and a lot more.
They have one of the best customer support service in the industry whereby management get into direct contact with clients. Unlike most of its competitors, they do not have call centers or sales people.
With nearly 3 decades in business, Nevada Trust Company is undoubtedly one of the oldest trust companies in the country. They've managed to build relationships over the years whilst gaining clients' trust.
Cons of Nevada Trust Company
There's no fee schedule availed on Nevada Trust Company's website, which is quite disappointing for those seeking to know the fees beforehand. Normally, we recommend companies who are absolutely transparent about their fees.
Nevada Trust Company does not have reviews on the BBB, Trustlink, Trustpilot and many other third-party consumer protection websites, despite more than 25 years in business.
Accreditation, Customer Reviews & Rating

Nevada Trust Company is accredited with the BBB and rated A+ despite not having any customer reviews on the platform. Moreover, they are rated 5/5 stars on Yelp after only 1 customer review.

The company lacks reviews, ratings and accreditation from Trustpilot, Trustlink, BCA and many other top consumer protection websites.
Is There a Better Alternative to Nevada Trust Company?
Yes, our top-recommended precious metals IRA provider, Goldco, is one of the companies that provide absolute transparency in respect to fees. In fact, Goldco offers lowest, flat rate fees, and they've got excellent ratings and reviews online as well. Click the link below to learn more about Goldco.
Click Here To Learn More About Goldco>>
Nevada Trust Company Reviews- Summary
Nevada Trust Company is an investment management firm based in Las Vegas, Nevada. Founded in 1995, the company has grown to be one of the leading investment solutions providers. They offer Trust solutions, Wealth Management solutions as well as custodial services.
On the downside, Nevada Trust Company lacks transparency since they don't avail their fee schedule publicly. Also, they lack reviews and ratings despite many years in business.