Wondering if Specialized IRA Services is a reputable retirement solutions provider? Are there complaints about them? Read our review carefully to find out if it's the right company for you.
What Is Specialized IRA Services?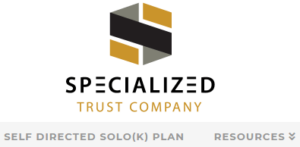 Specialized IRA Services is a financial services company that provides clients with retirement solutions so that they can enjoy their retirement without the need to jump back into the job market. The company offers self-directed IRAs and several investment options.
Specialized IRA Services Review Summary
Location:
Albuquerque, New Mexico
Address:
6100 Indian School Rd NE Ste 215
Albuquerque, NM 87110-4137
Year Founded:
2014
Management:
Edwin Kelly (CEO)
Website:
www.specializedtrustcompany.com
Rating:
[usr 2] Not Recommended
Click Here To See Our #1 Rated Precious Metals IRA Provider
Specialized IRA Services Complaints
Specialized IRA Services has 1 customer complaint and 2 customer reviews on the Better Business Bureau.

Furthermore, they have 9 customer reviews on Yelp, most of which are complaints from disgruntled clients.

Unexpectedly, the company lacks reviews, complaints or ratings from the Business Consumer Alliance, Trustlink, Trustpilot and many other consumer protection websites.
Learn about the top-rated Precious Metals IRA firm on this page>>
Specialized IRA Services Products & Services
As we've already noted, Specialized IRA Services offers both investing accounts and various investment options. Accounts offered include Traditional IRA, Roth IRA, SEP IRA, SIMPLE IRA, Individual 401 (k) and Education Savings Account. Available investment options include Real Estate, Private Placement, Precious Metals, Managed Futures, Forex, Hedge Funds, Limited Partnerships, Multi-member LLC, REITs, Trust Deeds and Tax Liens.
How Does Specialized IRA Services Work?
Specialized IRA Services provides all their services via their official website. They have a 'resources' section where you can access information about fees, investment resources and other crucial information. Account application as well as investment and account maintenance forms are also available for download. Should you face any issues during the application process, Specialized IRA Services' dedicated support staff are on standby to assist you.
Specialized IRA Services Fee Schedule
Like most companies, Specialized IRA Services charges sliding scale fees whereby annual fees depend on the value of your investment. Their Basic Fee Structure is as follows:
Standard Account Activation Fees: $95
Concierge Account Activation Fee: $225
Account Termination Fee: $200
For a more detailed fee schedule, visit their official website.
Pros of Specialized IRA Services
Excellent Customer Service
Their customer service is one of the best in the industry. Through their live chat support, a customer representative is always available to answer your questions, respond to your complaints and offer crucial information.
Multiple Investment Options

IRA Services offers numerous self-directed accounts and investment options. This gives your freedom to select the assets that best fit your investment style and goals.
In spite of the negative reviews and complaints, Specialized IRA Services are not only accredited with the BBB but also rated A+ by the platform, hence they've gained clients' trust.
Cons of Specialized IRA Services
They charge sliding scale fees- known to be quite expensive. We recommend that you go with a company that charge low flat rate fees instead. You can read about our #1 recommended firm that charges one time flat rate fee on this page.
Other than a couple reviews on the Better Business Bureau and Yelp, Specialized IRA Services lacks reviews on many third party review sites. We always recommend firms that have reviews across all major review websites.
Specialized IRA Services does not offer Bitcoin IRAs thereby limiting the range of investments available for their clients.
Is there a Better Alternative to Specialized IRA Services?
Yes, Goldco Direct is our #1 recommended alternative self-directed IRA provider. They've got a perfect 5/5 stars rating across multiple online platforms and their IRA fees are among the lowest in the industry. Click the link below to learn more about Goldco Direct.
Click here to learn more about Goldco Direct>>
Is Specialized IRA Services Legit?
Yes, Specialized IRA Services is a legit firm registered and regulated by the government. What is more, they have a verifiable physical address and is managed by qualified personnel.
Specialized IRA Services Reviews- Conclusion
Specialized IRA Services is a self-directed IRA custodian that offers clients an opportunity to invest in various non-traditional assets. Their aim is to help retirees achieve financial freedom and avoid financial hardship upon retirement.
The downside of Specialized IRA Services is that they charge expensive sliding scale fees. In addition, they do not offer crypto IRAs and have no reviews and many online review websites.