Are you uncertain as to whether Specialized IRA Services is a reputable retirement services provider? Do they have complaints online? Carefully peruse our review of Specialized IRA Services to determine if this is the correct firm for you.
What Is Specialized IRA Services?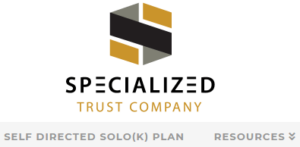 Specialized IRA Services is a financial services company that offers retirement solutions to clients so that they can enjoy their retirement years without having to return to the workforce. The company offers self-directed IRAs in addition to a variety of investment options.
Specialized IRA Services Review Summary
Location:
Albuquerque, New Mexico
Address:
6100 Indian School Rd NE Ste 215
Albuquerque, NM 87110-4137
Year Founded:
2014
Management:
Edwin Kelly (CEO)
Website:
www.specializedtrustcompany.com
Rating:
[usr 2]
Click Here To See Our #1 Rated Precious Metals IRA Provider
Specialized IRA Services Complaints
The Better Business Bureau lists 8 customer complaints and 11 customer reviews for Specialized IRA Services. They have been BBB-accredited since 2017.

In addition, they have a 2-star rating and 16 customer reviews on Yelp, the majority of which are complaints from dissatisfied customers.

Surprisingly, the company lacks reviews, complaints, or ratings from the Business Consumer Alliance, Trustlink, Trustpilot, and numerous other consumer protection websites.
Specialized IRA Services Products 
As previously stated, Specialized IRA Services provides both investment accounts and a variety of investment options. Available accounts include Traditional IRA, Roth IRA, SEP IRA, SIMPLE IRA, Individual 401 (k), and Education Savings Account. Real Estate, Private Placement, Precious Metals, Managed Futures, Forex, Hedge Funds, Limited Partnerships, Multi-member LLCs, REITs, Trust Deeds, and Tax Liens are among the available investment options.
How Do Specialized IRA Services Work?
Specialized IRA Services offers all of its services on its website. They have a 'resources' section where you can access information regarding fees, investment resources, and other pertinent data. Downloadable forms for account applications, investments, and account maintenance are also available. If you encounter any problems during the application process, Specialized IRA Services' devoted support staff is available to assist you.
Specialized IRA Services Fee Schedule
Similar to the majority of businesses, Specialized IRA Services charges annual fees based on the value of your investment. Their fundamental pricing structure is as follows:
Standard Account Activation Fees: $95
Concierge Account Activation Fee: $225
Account Termination Fee: $200
Pros of Specialized IRA Services
Excellent Customer Service
Their customer service ranks among the finest in the field. A customer service representative is always available through their live chat support to answer your inquiries, address your concerns, and provide you with vital information.
Multiple Investment Options
IRA Services provides a variety of self-directed accounts and investment choices. This allows you to select the assets that best align with your investment strategy and objectives.
Despite the negative reviews and complaints, Specialized IRA Services are not only BBB-accredited but also have an A+ rating on the platform; consequently, they've earned their customers' trust.
Cons of Specialized IRA Services
They charge fees based on a sliding scale, which are notoriously costly. We recommend that you instead choose a company with low flat-rate fees.
Specialized IRA Services lacks reviews on many third-party review platforms, with the exception of a few on the Better Business Bureau and Yelp. We always recommend businesses with reviews on all of the main review websites.
Specialized IRA Services does not offer Bitcoin IRAs, thereby restricting their clients' investment options.
Is there a Better Alternative to Specialized IRA Services?
Yes, Goldco is our number one alternative self-directed IRA provider recommendation. Multiple online platforms have awarded them a spotless five-star rating, and their IRA fees are among the lowest in the industry.
Is Specialized IRA Services Legit?
Yes, Specialized IRA Services is a legitimate government-registered business. In addition, they have a physical address that can be verified and are managed by qualified personnel.
Specialized IRA Services Alternatives
Conclusion
Specialized IRA Services is a custodian for self-directed IRAs that allow customers to invest in non-traditional assets. Their objective is to help retirees achieve financial independence and avoid financial hardship.
The disadvantage of Specialized IRA Services is their costly sliding scale fees. In addition, they do not offer crypto IRAs and lack reviews on numerous online review websites.