If you are looking to invest in precious metals, Advantage  Gold might be one of companies you are currently considering.  However, you should read this detailed review first to find out whether you are dealing with a legit company or scam.
Who Is Advantage Gold?

Based in Los Angeles, California, Advantage Gold is a precious metals firm founded in 2014 to help retirees roll over their IRAs/401ks to precious metals IRA. Despite being one of the newest companies in the precious metals industry, Advantage Gold has grown in popularity, thanks to their dedication to customer education as well as top-quality products and services. The company boasts a number of Gold IRA experts such as Kirill Zagalsky and Adam Baratta who are both specialized in Precious Metals IRA rollovers.
Company Info
Legal Name:
Advantage Gold LLC
Website:
Headquarters:
Los Angeles, CA
Address:
12100 Wilshire Blvd #1450, Los Angeles, CA 90025-7128
Management:
Chelsey Jenkins (Manager of Operations)
Advantage Gold Products and Services
The main job of Advantage Gold is to educate new investors on the ins and outs of investing in gold and other precious metals.

Also, their willingness to disclose Gold IRA fees sets them apart from most of their competitors who avoid giving clear answers regarding fees. Thus, if you are a newbie investor, Advantage Gold is definitely the best company for learning the basics of gold investing.
Click the link below to claim your free IRS Loophole Report from Advantage Gold and learn how to protect your retirement with a Gold IRA.
Claim Your Free IRS Loophole Report Now!
 Pros of Choosing Advantage Gold
Numerous Educational Resources
Most Precious Metals IRA companies do not offer sufficient educational resources on their websites. However, Advantage Gold's website is laden with learning materials ranging from informational articles to detailed charts, infographics, videos and interviews. These resources help first-time investors to get started immediately.
Advantage Gold is one of the few companies that honor their promise to deliver products in at most 3 business days.
Expert Account Executives
Their account executives boast vast knowledge in precious metals investing, particularly IRA rollovers. Adam Baratta and Kirill Zagalsky are known to dedicate most of their time to serving clients despite their high rank in the company. The two are extremely knowledgeable in matters IRA/401k rollovers, having worked for US Mint listed dealers for quite some time.
As mentioned earlier, this company values investors, hence they will do everything in their power to see to it that  new investors feel welcome. For example, the First Time Delivery Discount is an incentive that waives the shipping and insurance fees for new investors who deposit at least $ 25000 in their new account. Moreover, new clients who invest $50,000+ will have their entire IRA fees waived for the first year.
The company is accredited by the US Mint as a precious metals dealer. Additionally, Advantage Gold is an accredited member of the American Numismatic Association, hence it's legit company.
Advantage Gold has achieved awesome ratings from the BBB, BCA  and Trustlink . For instance, they've been voted the most trusted Gold IRA company 5 years in a row by Trustlink. Such excellent ratings indicate great customer service and quality products by the company.
Click here to claim your Free IRS Loophole Report from Advantage Gold
Cons of Choosing Advantage Gold
Limited selection of coins from foreign mints
Advantage Gold Reviews  & Accreditation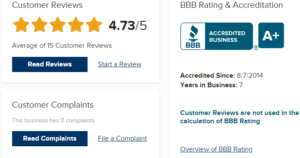 Advantage Gold is an accredited member of both the Better Business Bureau (BBB) and the Business Consumer Alliance (BCA). They boast an A+ rating on the BBB. Additionally, they have 24 customer reviews and an overall 4.9 out of 5 stars rating on the platform.



The company has an AAA rating on BCA based on 2 customer reviews.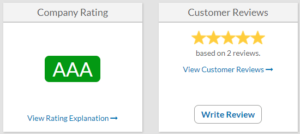 Based on the reviews of Advantage Gold posted on TrustLink, the company has a 5 out of 5 star rating based on 438 customer reviews, which is quite impressive. So generally, Advantage Gold is one of the best Gold IRA companies out there with the best ratings and almost zero customer complaints.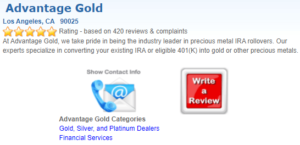 On Facebook, Advantage Gold has a 4.7 out of 5 stars rating from 58 reviews.
Should You Consider Advantage Gold for Your Gold IRA Rollover?
Advantage Gold is a great company as it offers education and guidance to new customers. The company also boasts excellent customer service. What is more, they have been voted the most trusted Gold IRA firm 5 years in a row by Trustlink, and have not received any negative reviews in the past 3 years. Thus, we wholeheartedly recommend Advantage Gold for your Gold IRA rollover. Request your free IRS loophole Report via the link below to get started.
Request Your Free IRS Loophole Report from Advantage Gold Now!
FAQs-Frequently Asked Questions
Is Advantage Gold Legit or Scam?
Advantage Gold is accredited by the US Mint hence it is a legit company and not a scam.
Does Advantage Gold Offer storage?
They don't have their own storage but have partnership with Brink's Global Services USA, Inc. to store your precious metals.
Related: Goldco Direct Reviews
Advantage Gold Alternatives
Conclusion
Advantage Gold is one of the most reputable precious metals dealers in the market, with numerous positives ranging from thorough education of new clients, excellent customer service and good ratings on online platforms such as BBB, BCA, Trustlink and Facebook.
Moreover, the company has had no negative reviews in the past 3 years and is the most trusted Gold IRA Company according to Trustlink. For more information, you can refer to their 'about us' page here: https://www.advantagegold.com/about-advantage-gold/ .