Are you considering purchasing gold or silver coins/bars from Goldeneaglecoin.com? Is it a legit precious metals company or a scam? In this short unbiased review, we look at their products, fees as well as customer ratings and reviews to determine whether they are a reputable firm.
Pay attention: Before we go any further with this review!
We always recommend conducting due diligence before settling on a precious metals company to invest in. with so many clients getting ripped off with the so called hidden fees, you need to research meticulously before purchasing metals or opening a precious metals IRA. We understand that picking the right company is the most important financial decision for you, and thus, we've compiled a list of our 3 best precious metals IRA companies for 2023.
See Our 3 best precious metals IRA providers here>>
Or get our free Gold investing kit from our top recommended firm on this page
What Is Goldeneaglecoin.com?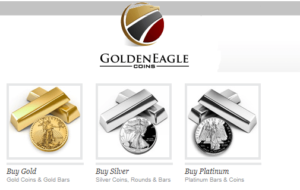 Goldeneaglecoin.com, commonly referred to as Golden Eagle Coins, is a precious metals company based in Laurel, Maryland. The firm mainly deals in a wide range of gold bullion, silver bullion and other precious metals. Being one of the oldest gold companies in the United States, Golden Eagle Coins prides itself for having one of the largest product inventories in the country. Their products are suitable for both bullion investors and collectors.
Goldeneaglecoin.com Products
As aforementioned, GoldenEagleCoin.com sells a wide variety of precious metals. Mostly, they are focused on coins, but they also offer bullion bars. GoldenEagleCoin.com's bullion products include gold coins and bars, silver coins and bars in addition to platinum, palladium, rhodium and copper products. Their collections section include pre-1933 coins, Commemoratives, dimes, nickels, cents and much more. GoldenEagleCoin.com operates both online and offline through their physical stores located in Laurel and Washington DC.
Company Info
Location:
 Laurel, Maryland
Address:
3386 Fort Meade Rd
Laurel, MD 20724-2002
Year Founded:
1974
Managers:
Clint Stelfox, Robert Mangels Jr.
Website:
www.goldeneaglecoin.com
Rating:
[usr 3.5]
Click Here To See Our Top-rated (5 out of 5 stars) Gold and Silver IRA Provider
How Goldeneaglecoin.com Works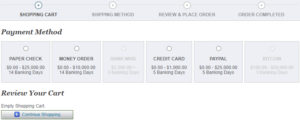 Buying bullion from Goldeneaglecoin.com is extremely simple. All you need to do is to visit their storefront if you live in Maryland or Washington and engage their customer care staff directly. Alternatively, you can access their products via their online web store which makes placing of orders very simple. Simply visit their official website and sign up, then select your preferred items, add them to the cart and add your shipping address. You can then proceed to review and place your order. The company accepts multiple payment options which include Paper Check, Money Order, Credit Card and Paypal. Goldeneaglecoins.com is also considering accepting Bank Wire and Bitcoin as payment options in the future.
Pricing and Fees
The price you are going to incur is mainly determined by the types and quantity of coins or bars you select. Bullion bars and coins are of varying weights and so is their pricing. Generally, Golden Eagle Coins offers competitive pricing. With a shipping fee of just $9.95, Goldeneaglecoin.com's shipping rates are among the lowest in the industry. Moreover, the company offers free shipping for orders above $99. And sadly, the company does not disclose its precious metals IRA fees.
Pros of Choosing Goldeneaglecoin.com
Wide Selection of Bullion
As we've already revealed, Goldeneaglecoin.com boasts a wide collection of bullion coins/bars as well as collectibles. They have one of the largest inventories in the precious metals industry, which means you can literally find whatever item you are searching for in their store.
The company offers free shipping on orders above $99. Their shipping rates are also not that much with a shipping fee of just $9.95.
GEC's website is easy to navigate and products are listed in a simple format. You can easily browse their store and select the items you want within a couple of minutes. Also, their checkout is simple and convenient, with multiple payment options for you to choose from.
They have retail showrooms in both Washington DC and Baltimore. Therefore, you can visit the showroom (s) and personally inspect the products, thereby reducing chances of getting scammed.
Numerous Years in Business
Golden Eagle Coins has over 40 years in business which means they've been offering great services and attracting new clients over the years. Thus, Goldeneaglecoin.com is a company you can trust.
Cons of Choosing Goldeneaglecoin.com
Unfortunately, Goldeneaglecoin.com's precious metals IRA fees are not disclosed on their website. This brings a lot of confusion as you don't know what you are expected to pay beforehand. Normally, a reputable company has nothing to hide and will usually disclose their IRA fees, which is not the case with Golden Eagle Coins.
Negative reviews and testimonials on the Better Business Bureau means Goldeneaglecoin.com may have dropped the ball and no longer offers great products and services as it used to.
Learn About Our Top Recommendation for Gold and Silver IRAs. Click Here.
Accreditation, Customer Reviews and Ratings
Goldeneaglecoin.com has a rating of 1 out of 5 stars on the Better Business Bureau, 2 negative customer reviews and a total of 8 customer complaints on the platform. Below screenshot shows some of their BBB reviews:


They have no reviews on both Trustlink and Business Consumer Alliance, while on Yelp, they boast a rating of 3 out of 5 stars after eight customer reviews. And on Trustpilot, they have over 5000 reviews and an overall rating of 4.5 out of 5 stars.


Should You Consider Goldeneaglecoin.com for Your Precious Metals IRA Investing?
Despite having the largest selection of bullion, Goldeneaglecoin.com does not disclose their IRA fees, which is a minus in our view. Also, their negative reviews and complaints on the BBB, as well as lack of reviews on some trust sites shows they are not currently the best in the industry. You can read about our Top Precious Metals IRA Provider with highest ratings and lowest IRA fees through the link below.
Read About Our Top Precious Metals IRA Provider Now
Is Goldeneaglecoin Legit?
Yes, Goldeneaglecoin is absolutely legit. They not only have physical showrooms where you can personally pay a visit, they also have real and known owners. Also, the firm has been around for over 4 decades which goes to show just how they are reputable. If it were a scam, its operations wouldn't have lasted that long.
Conclusion
Goldeneaglecoin.com is a precious metals firm dealing with a wide variety of bullion coins, bars and collectibles. The company's products are of remarkable quality hence reason for their being in business for more than 40 years.
On the negative side, Goldeneaglecoin.com does not disclose their IRA fees on their website. Additionally, they have negative review and ratings on the Better Business Bureau, and also lack reviews on other 3rd party consumer protection websites such as the Business Consumer Alliance and Trustlink.