Are you contemplating buying gold or silver coins or bars from Goldeneaglecoin.com? Is Golden Eagle Coins legit or a scam? In this Goldeneaglecoin.com review, we evaluate the company's products, fees, and customer ratings to determine if they are a reputable business. Let's get started.
What Is Goldeneaglecoin.com?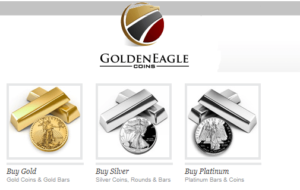 Goldeneaglecoin.com, commonly referred to as Golden Eagle Coins, is a precious metals company based in Laurel, Maryland. The company specializes in gold bullion, silver bullion, and various other precious metals. Golden Eagle Coins, as one of the earliest gold companies in the United States, takes pride in having one of the largest product selections in the country. Their products are suitable for investors in bullion as well as collectors. Keep reading this review for more information.
Goldeneaglecoin.com Products
As previously stated, GoldenEagleCoin.com sells an extensive selection of precious metals. They concentrate primarily on coins, but they also offer bullion bars. The bullion products offered by GoldenEagleCoin.com include gold coins and bars, silver coins and bars, platinum, palladium, rhodium, and copper products. Their collections section contains pre-1933 coins, Commemoratives, dimes, nickels, and cents, among other types of coins. GoldenEagleCoin.com operates both online and offline through their Laurel and Washington, DC-based physical locations.
Company Info
Location:
 Laurel, Maryland
Address:
3386 Fort Meade Rd
Laurel, MD 20724-2002
Year Founded:
1974
Managers:
Clint Stelfox, Robert Mangels Jr.
Website:
www.goldeneaglecoin.com
Rating:
[usr 3.5]
How It Works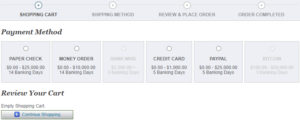 Purchasing bullion from GoldenEagleCoin.com is straightforward. If you reside in Maryland or Washington, all you have to do is visit their storefront and speak with their customer service personnel in person. You can also access their products through their online web store, which makes submitting orders very easy. Simply visit their website and register, then choose your desired items, add them to your cart, and enter your shipping address. The order can then be reviewed and submitted. The company accepts a variety of payment types, including paper checks, money orders, credit cards, and PayPal. In the future, Goldeneaglecoins.com may also accept Bank Wire and Bitcoin as payment methods.
Pricing and Fees
The price you will pay largely depends on the varieties and quantity of coins or bars you choose. Bullion bars and coins have varying weights, and their prices also vary. Golden Eagle Coins typically offers competitive pricing. Goldeneaglecoin.com's shipping rates are among the lowest in the industry, costing only $9.95. In addition, the company provides free shipping on orders over $99. Unfortunately, the company does not disclose its fees for precious metals IRAs.
Pros of Goldeneaglecoin.com
Wide Selection of Bullion
As previously said, Goldeneaglecoin.com has a large selection of bullion coins/bars as well as collectibles. They offer one of the greatest inventories in the precious metals market, so you can almost always find what you're looking for in their store.
Free shipping is provided for orders over $99. Their shipping rates are also quite reasonable, costing only $9.95.
The website is simple to traverse, and products are listed in a straightforward manner. Within a couple of minutes, you can quickly navigate their store and select the desired items. Additionally, their checkout is straightforward and convenient, with multiple payment options available.
Both Washington, DC, and Baltimore have retail showrooms. Consequently, you can visit the showroom(s) and inspect the products in person, reducing the likelihood of being duped.
Numerous Years in Business
Golden Eagle Coins has been in business for over 40 years, which indicates that they have consistently provided excellent services and attracted new customers. Thus, Goldeneaglecoin.com is a reputable organization.
Cons of Goldeneaglecoin.com
Unfortunately, Goldeneaglecoin.com does not disclose its precious metals IRA fees on its website. This creates a great deal of perplexity because you do not know in advance how much you are expected to pay.
Negative reviews and testimonials on the Better Business Bureau indicate that Goldeneaglecoin.com may no longer provide excellent products and services.
Customer Reviews and Ratings
In this section of our Goldeneaglecoin.com review, we will investigate customer feedback on websites devoted to consumer protection such as the Better Business Bureau (BBB). Goldeneaglecoin.com has a BBB rating of A+, 0 customer reviews, and a total of 10 customer complaints on the platform. The screenshot below displays some of their reviews on the BBB:


They have no reviews on both Trustlink and Business Consumer Alliance but maintain a 2.5-star rating after 21 customer reviews on Yelp. And on Trustpilot, they have more than 5223 reviews with an average rating of 3.8 out of 5.


Should You Consider Goldeneaglecoin.com for Your Precious Metals IRA Investing?
Despite having the largest selection of bullion, Goldeneaglecoin.com does not disclose its IRA fees, in our opinion a detriment. Additionally, their negative reviews and complaints on the BBB as well as their lack of reviews on certain trust sites indicate that they are not presently the best in their industry. Through the link provided below, you can read about our Top Precious Metals IRA Provider with the highest ratings and lowest IRA fees.
Read About Our Top Precious Metals IRA Provider Now
Is Goldeneaglecoin Legit?
Yes, Goldeneaglecoin is 100% legitimate. Not only do they have physical showrooms that you can visit in person, but they also have known proprietors. Also, the company's existence for over four decades demonstrates its credibility. Its operations would not have endured so long if it were a fraud.
Alternatives to Goldeneaglecoin.com 
Goldeneaglecoin.com Review Conclusion
We appreciate you taking the time to read our Goldeneaglecoin.com review. Goldeneaglecoin.com is a precious metals company that offers an extensive selection of bullion coins, bars, and collectibles. The extraordinary quality of the company's products is the reason they have been in business for over 40 years.
Negatively, Goldeneaglecoin.com's website lacks information about its IRA fees. In addition, they have negative reviews and ratings on the Better Business Bureau and no reviews on consumer protection websites such as Business Consumer Alliance and Trustlink.