Is Premier Trust Inc. the ideal trust company for your specific requirements? What do customer reviews say about them? Please peruse this detailed review of Premier Trust to gain insight.
What Is Premier Trust?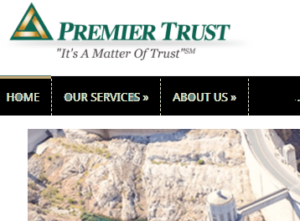 Premier Trust Inc. is one of Las Vegas, Nevada's largest independent trust organizations. The company is nationally recognized for providing trust administration services to individuals, financial professionals, and attorneys. Premier Trust is unique in that they only administer trusts; they do not provide investment management or legal services, allowing their clients to maintain their current relationships with financial professionals and attorneys.
Premier Trust Review Summary
Location:
Las Vegas, Nevada
Address:
4465 S Jones Blvd
Las Vegas, NV 89103-3307
Year Founded:
2001
Management:
Mark Dreschler (President)
Website:
www.premiertrust.com
Rating:
[usr 3]
Looking for a reputable gold & silver IRA company? Here is our #1 recommended firm
Premier Trust Products & Services
The administration services of Premier Trust are divided into three sections:
Personal Trusts
Life Insurance Trusts, Dynasty Trusts, Irrevocable Trusts as Replacement Trustee, Agent, Executor of a Will, Charitable Trusts, and Revocable Trusts as Successor Trustee are among the Personal Trusts available.
Nevada Trusts
Nevada Trusts include Beneficiary Defective Inheritor's Trusts (BDITs), Decanting, Nevada Incomplete Gift, Dynasty Trusts (IDGTs), Directed Trusts, and Nevada Self-Settled Spendthrift Trusts (DAPTs).
Self-directed IRAs
Premier Trust also offers administration services for self-directed IRAs. A self-directed IRA allows you to include alternative investments in your retirement portfolio, such as real estate and private placements. Premier Trust offers a variety of self-directed IRA accounts, including Traditional IRA, Roth IRA, SEP IRA, SIMPLE IRA, Individual 401(k), and many others.
How Does Premier Trust Work?
To get started with Premier Trust, you must call and speak directly with one of their trust officers, who will guide you through the account creation process in addition to discussing available options in depth.
Premier Trust Fees
The fees charged by Premier Trust differ based on the type of service. However, their fee structure is not well-detailed on their website; you must contact customer service via telephone for more information.
Pros of Investing With Premier Trust
Since 2001, Premier Trust has been in operation. Over the past two decades, the company has evolved to become the largest trust administration firm in Nevada, managing over 6000 trusts as of 2021. This demonstrates that they are a trustworthy company.
Since January 2002, the company has been accredited by the Better Business Bureau, indicating that it is a legitimate and reputable business.
Free Educational Resources
On their official website, they provide both free educational materials and free consulting services. You can request their Brochures and Estate Planning Toolkit in addition to reading their blog posts to learn more about their services.
Premier Trust is one of the companies that offer a comprehensive range of trust administration services, as previously mentioned. They provide numerous options from which to choose.
Cons of Investing With Premier Trust
Even though they are BBB-accredited and have an A+ rating, there are few reviews of Premier Trust on online review websites. This is a significant drawback of Premier Trust, as we would expect such an established company to have hundreds of online customer reviews and ratings.
There is no live conversation feature on the Premier Trust website. They have a phone number, an email address, and a contact form, but we prefer live chat because it enhances client communication.
Premier Trust Reviews and Ratings
Premier Trust has been accredited by the BBB since 2002, but the platform contains no reviews, ratings, or complaints. They have a 3/5 rating on Yelp based on 2 customer reviews. Premier Trust, however, lacks reviews, ratings, and complaints on Trustpilot, Trustlink, BCA, and numerous other credible review websites.


Is Premier Trust Legit Or a Scam?
Premier Trust has become one of the greatest companies in Nevada over time. It is undeniably a legitimate business and not a scam.
Premier Trust Alternatives
Conclusion
Premier Trust is an independent trust administration company based in Las Vegas, Nevada. The company has been in operation since 2001 and has grown to become one of the largest trust firms in Nevada, offering a comprehensive range of services and free educational materials to clients.
On the other hand, Premier Trust lacks consumer reviews, which is unusual for a company with such a lengthy history. In addition, they lack the essential live conversation feature for effective client communication.