Is Premier Trust Inc the perfect trust company for your needs? What do client reviews say about them? Please read this comprehensive review of Premier Trust to get the lowdown.
What Is Premier Trust?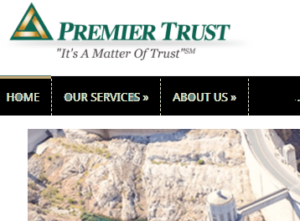 Premier Trust Inc is one of the largest independent trust companies in Las Vegas, Nevada. The company provides trust administration services countrywide, and are known to target individuals, financial professionals and attorneys. One unique thing about Premier Trust is that they only administer trusts—they are not involved in investment management or legal services hence allowing their clients to fully retain the relationships they have with their current financial professionals and attorneys.
Premier Trust Review Summary
Location:
Las Vegas, Nevada
Address:
4465 S Jones Blvd
Las Vegas, NV 89103-3307
Year Founded:
2001
Management:
Mark Dreschler (President)
Website:
www.premiertrust.com
Rating:
[usr 3]
Looking for a reputable gold & silver IRA custodian? Here is our #1 recommended firm!
Premier Trust Products & Services
Premier Trust administration services are organized into three sections:
Personal Trusts
Personal Trusts on offer include Life Insurance Trusts, Dynasty Trusts, Irrevocable Trusts as Replacement Trustee, Agent, Executor of a Will, Charitable Trusts and Revocable Trusts as Successor Trustee.
Nevada Trusts
Nevada Trusts include Beneficiary Defective Inheritor's Trusts (BDITs), Decanting, Nevada Incomplete Gift, Dynasty Trusts (IDGTs), Directed Trusts and Nevada Self-Settled Spendthrift Trusts (DAPTs).
Self-directed IRAs
Premier Trust also offers self-directed IRA administration services. A self-directed IRA allows you to include alternative investments such as real estate and private placements in your retirement portfolio. Self-directed IRA accounts available at Premier Trust include Traditional IRA, Roth IRA, SEP IRA, SIMPLE IRA, Individual 401 (k) and much more.
How Does Premier Trust Work?
To get started with Premier Trust, you need to call and speak directly to one of their trust officers who will discuss available options with you in detail, in addition to guiding you throughout account creation process.
Premier Trust Fees
Premier Trust fees vary depending on the type of service. However, their fee schedule is not well elaborated on their official website and you are required to contact customer support through phone for more information.
Pros of Investing With Premier Trust
Premier Trust has been in business since 2001. Over the two-decade period, the firm has grown to be the largest trust administration firm in Nevada, with over 6000 trusts under management as of 2021. This shows that they are a company you can trust.
The company is accredited with the Better Business Bureau since January 2002, which implies they are a legit and reputable firm.
Free Educational Resources
They provide free educational resources as well as free consultancy services through their official website. You can request their Brochures, Estate Planning Toolkit as well as read their blog articles to get enlightened about their services.
As we've noted, Premier Trust is one of the firms that provide a full range of trust administration services. They give you plenty of options to choose from.
Cons of Investing With Premier Trust
Though they are accredited and rated A+ by the BBB, Premier Trust lacks reviews on many only review websites. This is one notable downside of Premier Trust as we expect such a long-established firm to have hundreds of customer reviews and ratings online.
No live chat available on Premier Trust's official website. They do have a phone number, email address and contact form, but we prefer a live chat function as it improves communication with clients.
Click here to see our top-rated gold & silver IRA Custodian!
Accreditation, Customer Reviews and Ratings
Premier Trust is accredited with the BBB since 2002, and has a rating of 1/5 stars on the platform based on 1 customer review and zero customer complaints. They are rated 3.5/5 stars on Yelp based on 3 reviews. However, Premier Trust lacks reviews, ratings or complaints on Trustpilot, Trustlink, BCA and many other reputable review websites.


Is Premier Trust Legit Or Scam?
Over the years, Premier Trust has grown to be among the largest companies in Nevada. It is definitely a legit company, not a scam.
Related: DirectedIRA.com Reviews
Conclusion
Premier Trust is an independent trust administration company based in Las Vegas, Nevada. The company has been in business since 2001, and has grown to be one of the largest trust firms in Nevada, offering a full range of services and free educational resources to clients.
But on the negative side, Premier Trust lacks customer reviews, which is unusual for a company that has been in operation for this long. Also, they lack a live chat feature which is a crucial for effective communication with clients.