You may have discovered Beverly Hills Precious Metals Exchange while searching for a reputable company to purchase precious metals. Is the company legitimate or a scam? Before entrusting them with your money, we advise you to read our Beverly Hills Precious Metals reviews. This page contains information about the company's products, prices, and customer ratings and reviews.
What Is Beverly Hills Precious Metals Exchange?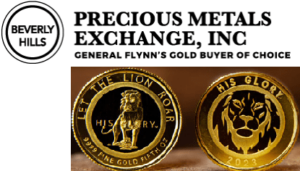 Beverly Hills Precious Metals Exchange is a precious metals dealer situated in California that facilitates the purchase and sale of gold, silver, and numerous other precious metals. Since founding the company in 2003, Andrew Sorchini has been instrumental in assisting investors to safeguard their hard-earned wealth against the economic risks posed by rampant inflation.
The company is proud to be the gold, silver, and precious metals buyer of choice for notable figures such as Michael Flynn, Clay Clark, and others. The clientele of Beverly Hills Precious Metals Exchange consist of novice investors, coin collectors, and seasoned investors seeking to diversify and safeguard their investment portfolios. They promise to assist clients in acquiring, liquidating, and storing metals in a straightforward manner.
Pay Attention: Before we go any further with this review!
Before deciding on a precious metals company to invest in, we always advise conducting adequate research. Before purchasing metals or opening a precious metals IRA, you must conduct exhaustive research because so many clients have been duped by so-called "hidden fees." We recognize that selecting the right company is the most essential financial decision you will make in 2023; therefore, we have compiled a list of the three best precious metals IRA companies.
See Our 3 Best Precious Metals IRA Providers Here>>
Does Beverly Hills Precious Metals Offer Gold and Silver IRAs?
Although Beverly Hills Precious Metals Exchange sells IRA-eligible bullion, it does not offer precious metals IRAs directly and instead refers customers to third-party IRA providers. This is due to the fact that they are not presently partnered with an IRA custodian to offer these services. If you want to set up a gold or silver IRA, you can learn more about our top-recommended company here.
Company Info
Location:
Beverly Hills, California
Address:
9663 S Santa Monica Blvd #811, Beverly Hills, CA 90210, United States
Year Founded:
2003
Management:
Andrew Sorchini, President
Website:
www.bh-pm.com
Rating:
3/5
Beverly Hills Precious Metals Products & Services

The company claims to offer a variety of precious metals, including gold, silver, and platinum, but its website lacks an exhaustive catalog where you can compare prices and product availability. Only a few recommendations, including Peace Dollar, Swiss 20 Franc, French 20 Rooster, and Saint Gaudens, were noted near the website's footer. Other than that, there is no additional product information available; you must contact their sales representatives for further assistance. This is, in our opinion, a significant drawback, as it prevents you from freely selecting the metals you prefer. Continue reading this review to discover more.
How It Works
Despite the absence of a catalog or an online transaction platform, you can still purchase gold, silver, and other precious metals from Beverly Hills Precious Metals Exchange by completing the three steps listed on its website, as explained below.
Select the Products You Wish To Purchase
The company states that you begin your purchase by selecting your preferable items, which makes no sense given the absence of a product catalog from which to select and purchase items. Consequently, you must contact the company to inquire about product availability and pricing, as well as to place an order.
Select Your Preferred Payment Method
In the second step of the buying process, Beverly Hills Precious Metals' website states that you must select your preferred payment method; however, there is no list of acceptable payment methods available. You must therefore contact them to inquire about these as well.
Inform the Company Where To Ship Your Items
The third and final stage is to inform the company where your metals will be shipped. You can request shipment of the products to any location of your choosing.
Pros of Beverly Hills Precious Metals
Offers a Comprehensive Guide for New Customers
On the website of Beverly Hills Precious Metals, an entire section is devoted to educating first-time clients on the advantages of investing in precious metals as a hedge against inflation. Customers are also instructed on how to choose the highest-quality metals for their respective investment portfolios.
The company asserts that it invests the time necessary to conduct quality control checks on each and every product prior to shipment to customers. This not only ensures that you are sold high-quality products but also enables the company to confirm the veracity of what it is sending you.
Experienced Account Executives
Edwin Sorchini, the firm's president, and his staff all have over thirty years of experience in the precious metals industry; therefore, they can guide you in selecting the most suitable metals for your portfolio. If you are new to investing in precious metals, you will certainly benefit from their vast knowledge.
Provides Insured Shipping
They claim to provide fully-insured shipping, which is fantastic given that your items may be damaged in transit.
Cons of Beverly Hills Precious Metals
Beverly Hills Precious Metals' website does not contain the precious metals it claims to sell. In addition, there is no information regarding shipping and storage costs; you must call to inquire, which may be time-consuming and inconvenient.
Despite nearly two decades in business, Beverly Hills Precious Metals Exchange is not yet accredited by the BBB for unknown reasons. It is well-known that the BBB accredits the majority of legitimate businesses; therefore, its lack of accreditation casts a negative light on its reputation.
Unfortunately, Beverly Hills Precious Metals does not have an online e-commerce store, so orders must be submitted via telephone. This makes the procedure of buying and selling extremely tedious.
Lacks Sufficient Reviews and Ratings
During our research for this Beverly Hills Precious Metals review, we discovered that the company lacks substantial online reviews and evaluations, which is quite concerning given that we rely on reviews to determine a company's overall credibility.
Accreditation and Customer Reviews

Based on the Beverly Hills Precious Metals reviews collected from the Better Business Bureau, the company has earned a rating of 3.5 out of 5 stars based on four customer reviews and zero complaints. Based on 13 reviews and complaints, they have a Google rating of 3.3 out of 5 stars.  The majority of complaints on the Google platform pertain to the company's inability to respond to phone calls and emails.
Surprisingly, Beverly Hills Precious Metals lacks reviews on Yelp, Trustpilot, Trustlink, and a multitude of other online review sites.
Frequently Asked Questions
Is Beverly Hills Precious Metals Appropriate for a Gold IRA Rollover?
Despite the company's claim to stock an extensive selection of IRA-eligible bullion, they do not offer IRAs directly and instead refer customers to third-party providers. Thus, you will not be able to anticipate the IRA fees and other costs associated with establishing a precious metals IRA.
Typically, we advise our readers to choose a company that offers IRAs directly and has complete transparency regarding IRA fees and associated expenses. Learn more about our top-rated gold and silver IRA providers by clicking the link below.
Click Here To View Our Top-Rated Gold & Silver IRA Providers>
Is Beverly Hills Precious Metals Legit?
Yes, it is evident that Beverly Hills Precious Metals is a legitimate business, as they have been in operation for nearly two decades. Government authorities would have shut them down long ago if they were a fraud.
Does Beverly Hills Precious Metals Offer Storage?
In addition to facilitating the procurement and sale of metals, the company's website mentions that it also provides storage. On their website, however, there is little evidence that they actually own a storage facility or that they store your metals in a third-party depository.
Can You Sell Back to Beverly Hills Precious Metals?
Yes, Beverly Hills Precious Metals offers a buyback program that enables you to liquidate your precious metals at any time.
Alternatives to Beverly Hills Precious Metals
Beverly Hills Precious Metals Reviews Conclusion
Beverly Hills Precious Metals Exchange is a California-based precious metals dealer. Since its inception in 2003, the company has been instrumental in assisting clients in protecting their wealth from the wealth-eroding inflation caused by government overspending. The company has highly experienced account executives, high-quality products, and a fantastic guide to help novices begin their precious metals investment journey correctly.
On the negative side, Beverly Hills Precious Metals Exchange is not accredited by the Better Business Bureau and lacks reviews and online review platforms. Additionally, they conceal product and pricing information, necessitating a phone call or email to inquire, which is not only time-consuming but also incredibly inconvenient.