Are you looking for a reputable precious metals dealer or self-directed IRA provider? AuSecure is one of the companies that offer these kind of services, but before you go with them, we recommend you read this short AuSecure review to find out whether they are legit or scam, and also find out our suggested alternatives.
What Is AuSecure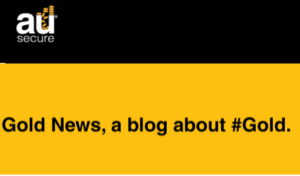 AuSecure, a Chicago Based precious metals firm, was founded in 2009 to offer investors a plat form to trade precious metals. Thus, the company is primarily a precious metals broker, though they offer Gold and Silver IRAs as well. AuSecure has invested in state of the art technology to offer adequate education to investors on matters precious metals investing. AuSecure has a great ecommerce store where you can visit and purchase products of your choice within minutes.
AuSecure Products & Services
On AuSecure's massive catalog, you will find a large selection of investment-grade bullion in form of gold, silver, platinum and palladium. You will also find that they cater for all investors and coin collectors are not left behind. All manner of collectible coins and pre-1933 gold is available. As we've also mentioned, this firm offers precious metals IRAs for those who want to diversify their portfolios with precious metals. Most of their coins are IRA eligible. IRAs are provided through partnership with third party custodians such as New Direction IRA. Storage is also provided through partnership with various renowned depositories.
Company Profile
Location:
Chicago, Illinois
Address:
910 W Van Buren St, Chicago, IL 60607, United States
Year Founded:
2009
Managers:
Jim O'Gara, Hadi Saeid
Website:
www.ausecure.com
Rating:
[usr 3.5] Not recommended
==>Learn about our Top-rated Gold/Silver IRA Provider Here<==
How it Works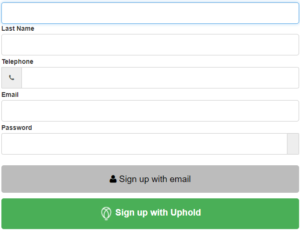 If you are only interested in purchasing precious metals and not setting up a self-directed IRA then the process is simplified by their high-tech ecommerce website. All you have to do is follow the usual procedure of creating a customer account, selecting the products of your choice and proceeding to check out. Since their catalog is well laid out, you can easily browse categories and sub-categories of all the products and easily discover the ones that interest you. You can then add them to the cart, add payment option (s) and proceed to complete your purchase. If you need your products shipped to your door step, the company can expedite this within 7 business days. However, you can also opt to store your assets in one of the company's secure storage vaults. This will attract storage fees but it's worth it since your investments will be more secured.
Now, if you wish to open a self-directed precious metals IRA, the process will be a little different. First, you need to call AuSecure's customer care staff and request to create an account. They will help you to create an IRA account with a reliable custodian and the best part is that most of the paper work is handled by AuSecure, which saves you the headache of having to go through multiple documents. Once you transfer funds to your new account, you can then select IRA-eligible metals to be shipped to one of the company's segregated storage vaults for secure storage.
Pros of Choosing AuSecure
AuSecure is accredited with the Better Business Bureau and have an A+ rating despite not having a single customer review on the platform.
As we've stated, AuSecure has invested in technology and their website is well designed and equipped with educational resources to benefit both experienced and new investors. Product selection and checkout process is so simplified that you can place your order without needing anyone's help. Only exception is when opening a self-directed IRA where you must call customer service representatives.
The company offers multiple payment options for your convenience. You can pay with credit cards, cashier's check, money order, cash, bank wire and much more.
AuSecure offers a buy back service where you can sell back you metals to the company. This can be of great help when you have an emergency.
Other than a phone number and an email address, AuSecure has a live chat which allows you to instantly communicate with support and get instant solutions. Without an iota of doubt, live chat has enabled AuSecure to offer unparalleled customer service to its clients.
Cons of Choosing AuSecure
Lack of Customer Reviews and Ratings
Customer reviews and ratings confirm a firm's reputability and reliability. Therefore, AuSecure's lack of customer reviews and ratings on consumer trust sites such as the Better Business Bureau despite having been in business for more than a decade raises a lot of questions. Normally, businesses that have been operational for this long have numerous reviews, ratings and even complaints. If you want to read about our #1 recommended precious metals IRA provider with excellent customer ratings and reviews, you can visit this page==>
Accreditation, Customer Ratings and Reviews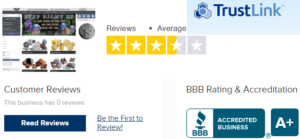 AuSecure is accredited with the Better Bureau, with an A+ rating even though they lack customer testimonials on the platform, with makes absolutely no sense.
Also, the company lacks reviews or complaints on all the other third party consumer protection websites including Trustlink, Trustpilot, Yelp and the Business Consumer Alliance.
Click Here to Learn About Our Top-rated Gold IRA Provider With Excellent Customer Ratings
Should You Consider AuSecure for Your Gold/Silver IRA Rollover?
AuSecure happens to be a great company offering great services, but their lack of sufficient reviews on reputable third party review website's such as the Better Business Bureau leaves many confused. Usually, we recommend a company that has a good number of online reviews and ratings. Our top-rated firm, Goldco, has hundreds of reviews on almost every online customer review website and boast a perfect overall rating of 5 out of 5 stars. You can learn more about Goldco via the link below.
Click here to learn more about Goldco
Is AuSecure Legit or Scam?
As we've noted on the company profile section above, AuSecure has a real physical address and its managers are known. Thus, AuSecure is absolutely legit and not a scam.
Conclusion
AuSecure is a precious metals brokerage based in Chicago. With over a decade in business, the company has managed to offer a variety of products and services including bullion, rare coins and US pre-1933 gold, not to mention precious metals IRAs.
Despite offering great products and great customer service for over 10 years, AuSecure lacks customer reviews on almost all reputable platforms such as the Better Business Bureau, which seems suspicious in our view. We recommend you conduct a thorough research and compare all the precious metals companies in terms of customer reviews and ratings before making any investment decision.