Are you looking to buy products from Alaska Mint? Is it a legit company or scam? Find out all you need to know about their products, services and ratings in this detailed review.
What Is Alaska Mint?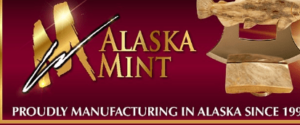 Alaska Mint is a family-owned jewelry dealer based in Anchorage, Alaska. The company began minting its own silver and gold medallions back in 1990 and has since expanded into a huge jewelry store producing all kinds of products including investment-grade coins and bars. Mike Robuck, the current owner and manager of Alaska Mint boasts extensive knowledge in the jewelry industry, dating back to early 1970s when he was a kid.
Does Alaska Mint Offer Precious Metals IRAs?
Alaska Mint only sells investment metals and jewelry but does not offer precious metals IRAs. The company is currently not in partnership with any IRA custodian or depository. If looking for a reliable Gold & Silver IRA Company, we recommend Augusta Precious Metals.
Alaska Mint Review Summary
Location:
Anchorage, Alaska
Address:
429 W 4th Ave
Anchorage, AK 99501-2302
Year Founded:
1970
Management:
Mike Robuck (Owner)
Website:
www.alaskamint.com
Rating:
[usr 4]
Looking for IRAs? Here's Our Top Rated Gold & Silver IRA Provider
Alaska Mint Products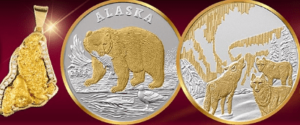 Alaska Mint manufactures and sells a wide range of medallions, estate jewelry, investment metals and many other products. Below is a list of some of the products available on their catalog.
Medallions
Coin Jewelry
Gold Nugget Jewelry
Gold Quartz Jewelry
Men's Jewelry
Women's Jewelry
Pendants
Earrings
Money Clips
Estate Jewelry
Ornaments
Alaskan Gifts
Knives and Ulus
How Does It Work?
Other than paying a visit to their storefront in Anchorage, you can place your orders right on Alaska Mint's website since they have an online shop. The first step is to visit their website and browse the products catalog to find products of your preference. Secondly, create your customer account to allow you to add products to the cart and complete payment.
Alaska Mint regularly updates product prices and details, therefore you won't have problems finding out the values of items. If you get stuck while ordering online, you can always reach Alaska Mint's support through phone or email. Primary payment methods are credit card and  Bitcoin.
Pros of Alaska Mint
They have been in business for nearly half a century hence they are a highly reliable company
Alaska Mint boasts great reviews and ratings across various online review platforms including Yelp.com.
The company offers a user-friendly ecommerce platform
Detailed pricing and descriptions are offered for each and every product
Extensive selection of products
Cons of Alaska Mint
They lack a BBB accreditation
Precious metals IRAs are not offered
Live chat support is not provided
Alaska Mint Complaints & Ratings
Alaska Mint is not BBB accredited, though they are rated A+ by the platform. On Yelp, the business is rated 4.5 out of 5 stars based on 13 customer reviews and complaints. Alaska Mint has no reviews, ratings or complaints on the Business Consumer Alliance (BCA), Trustlink and Trustpilot.
BBB: A+ rating, 0 reviews (view details)
Yelp: 4.5/5 rating, 13 reviews (view details)
BCA: N/A
Trustlink: N/A
Trustpilot: N/A
Is Alaska Mint Legit or Scam?
Based on available reviews and ratings, it is evident that Alaska Mint is not a scam. Alaska Mint is a legit precious metals company that has been in the jewelry industry for nearly 50 years. However, if you intend to open a precious metals IRA, you may need to look for a gold or silver IRA firm since Alaska Mint is currently not offering IRAs. Check out our top rated precious metals IRA provider below.
Alaska Mint Alternatives
Alaska Mint Reviews- Summary
Alaska Mint is a precious metals and jewelry company based in Anchorage, Alaska. The company has been in business since 1970, but started manufacturing its own products in 1990. A wide selection of medallions, jewelry and investment metals is offered through Alaska Mint's website. Also, detailed pricing and descriptions are provided for every product in stock.
On the downside, Alaska Mint lacks a BBB accreditation. They also lack a live chat support system and are currently not offering IRAs.