In the world of precious metals, where enthusiasts seek to collect, trade, and invest in rare and valuable coins, a trustworthy and reputable dealer is paramount. Witter Coins is one such dealer that has gained attention and curiosity among collectors and investors. In this review, we will delve deep into the world of Witter Coins, examining its history, offerings, reputation, and what customers have to say about their experiences.
What Is Witter Coins?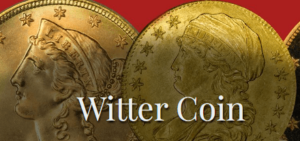 Witter Coins is a precious metals company based in San Francisco, California. The company was established in 1960 by Dean Witter, a rare coins enthusiast who steered the firm to greater heights. In 2016, Seth Chandler took over the management of the business and expanded it immensely. Currently, Witter Coins boasts a massive showroom and a diverse selection of rare coins and bullion. Every year, Seth and his team attend events all over the world to gain more knowledge on precious metals as well as find new suppliers.
Witter Coins Review Summary
Location:
San Francisco, California
Address:
2299 Lombard St, San Francisco, CA 94123, United States
Year Founded:
1960
Management:
Seth Chandler, Manager
Website and Rating
Witter Coins operates primarily through its website, www.wittercoin.com. The quality of a company's website can often reflect its professionalism and legitimacy. Furthermore, the website showcases a BBB (Better Business Bureau) accreditation with an A+ rating, which is generally a positive sign of trustworthiness and customer satisfaction.
Witter Coins Products

Witter Coins specializes in a wide range of rare coins and bullion products, catering to both collectors and investors. Their inventory includes but is not limited to:
Rare and collectible coins
Investment-grade bullion coins and bars
Numismatic accessories and supplies
Precious metal coins
Their diverse product offerings indicate a commitment to serving a broad spectrum of customers in the numismatic community. This variety allows collectors and investors to explore different avenues of the hobby or investment.
How It Works
To buy items, you can visit their website and browse through the extensive product catalog. The website is well-organized and user-friendly, making it easy to locate specific items or categories. Once you have made a selection is made, you can place an order online, and payment options include credit cards, bank wires, and personal checks.
This straightforward online purchase process aligns with modern consumer expectations and caters to both experienced collectors and newcomers.
Pros of Witter Coins
The A+ rating from the Better Business Bureau is a testament to Witter Coins' commitment to customer satisfaction and ethical business practices.
Witter Coins offers a diverse array of numismatic products, making it a one-stop shop for collectors and investors.
Their website is user-friendly, allowing customers to make purchases and payments with ease.
Many customers have praised the competitive pricing of their products, making it a cost-effective option for numismatists.
Cons of Witter Coins
If you are interested in opening a precious metals IRA, you may be disappointed to discover that Witter Coins does not offer IRAs at this time. Consequently, you may wish to review our recommended gold and silver IRA provider listed here.
While Witter Coins has a good BBB rating, it is essential to consider additional sources for customer feedback to get a more comprehensive view.
Customer Reviews and Ratings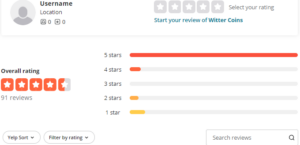 To gain a more holistic view, it's crucial to examine Witter Coins reviews and ratings on various platforms, including the Better Business Bureau (BBB), Trustlink, Yelp, and Trustpilot.
BBB Ratings
As previously mentioned, Witter Coins has an A+ rating from the BBB. The BBB is a reputable source for gauging a company's trustworthiness and customer service. An A+ rating signifies a high level of satisfaction and ethical business practices.
Trustlink Ratings
Trustlink is another platform where consumers can leave reviews and ratings. Unfortunately, Witter Coins is not listed on Trustlink, making it difficult to assess their overall performance on this platform.
Yelp Ratings
Yelp is a widely used platform for customer reviews. Witter Coins has a 4.5-star rating on Yelp based on 91 reviews, which is generally positive.
Trustpilot Ratings
Witter Coins has no reviews or ratings on Trustpilot.
Is Witter Coins Legit?
The legitimacy of Witter Coins appears to be well-supported by its BBB accreditation and A+ rating, as well as its generally positive ratings on platforms like Yelp. The fact that it has been in business since 1960 is also a positive indicator.
However, it's essential to note that like any business, Witter Coins is not without its share of criticisms and complaints. Some customers have reported issues with customer service as evidenced by Yelp reviews. These negative experiences, while not overwhelming, should be taken into consideration.
Witter Coins Reviews- Conclusion
In the world of numismatics, Witter Coins has emerged as a notable player, offering a broad range of numismatic products through a user-friendly website. Its BBB accreditation and A+ rating, along with generally positive Yelp ratings, suggest that it is a legitimate and trustworthy dealer. Their competitive pricing is also a point in their favor, making them an attractive option for collectors and investors.
However, the mixed reviews on platforms like Yelp indicate that while many customers are satisfied with their experiences, there is room for improvement in customer service and delivery times.
Ultimately, as with any investment, it is crucial for individuals to conduct their research, read customer reviews, and make an informed decision when choosing to do business with Witter Coins. The company's BBB accreditation and track record can offer peace of mind, but customer feedback from multiple sources should also be considered.