Are you looking to buy precious metals from AJPM? Are you wondering whether they are legit or scam? Please read this review carefully as we are going to unearth all you need to know about AJPM.
What Is AJPM?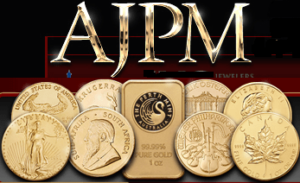 AJPM stands for Affordable Jewelry & Precious Metals. The company was founded in 1991 by Rodney and Vicki Scott and has multiple locations within Portland, Oregon.  Since its inception, AJPM has been offering a wide selection of silver, gold and platinum bullion. Moreover, the firm is known to specialize in collectibles. What sets AJPM apart from most precious metals companies is the fact that they do not charge sales tax, as there is no sales tax in Oregon.
Does AJPM Offer Precious Metals IRAs?
Regrettably, AJPM does not partner with any legit IRA custodian nor does it offer any storage services. If you need a gold or silver IRA, please check out our top recommendation on this page.
AJPM Review Summary
Location:
Portland, Oregon
Address:
10584 SE Washington St, Portland, OR 97216-2809
Year Founded:
1991
Management:
Rodney and Vicki Scott (Founders)
Website:
www.ajpm.com
Rating:
[usr 3]
AJPM Products & Services
AJPM mainly buys and sells gold, silver and platinum bullion coins and bars. However, they are also known to sell numismatic coins and jewelry. Recently, the firm started offering loans on gold, platinum and palladium coins and bars, as well as on select PCGS/NGC graded coins. Some of their top sellers include Gold Canadian Maple Leaf, Gold American Eagle, American Silver Eagle and Gold American Buffalo among others. AJPM does not offer precious metals IRAs as they don't partner with any IRA custodian.
How Do You Get Started?
Unlike other precious metals companies, AJPM does not have an ecommerce platform where you can comfortably order online. Instead, they only have a basic product catalog. Thus, you need to call them top place an order or make enquiries. Accepted payment methods include cashier checks, personal checks and money orders. Wire transfers are only acceptable for orders above $15000. For more detailed information on their ordering process, click here.
AJPM Costs & Fees
Metal prices depend on the spot price.  However, postage and shipping fees will vary depending on your investment as follows:
1-9oz– $25
10 or more—free
1-100oz– $30
101-200oz– $35
201-999oz– $50
1000+– free
Pros of AJPM
Wide Range of Precious Metals & Services
AJPM offers a wide range of IRA eligible bullion coins and bars, as well as pre-1933 coins and fine jewelry. As of 2nd November 2020, AJPM added precious metals loans among their services.
They have multiple store fronts within Oregon which makes buying and selling extremely convenient for clients. The storefronts include Portland downtown, Portland Eastside, Washington, Vancouver and Tigard.
AJPM has been accredited with the BBB since 2012. Since the BBB is one of the top consumer protection sites, an accreditation by the platform confirms that a firm is trustable.
Cons of AJPM
Other than a basic webpage containing a basic product catalog, AJPM does not have a modern ecommerce platform like other firms in the industry, which makes trading extremely cumbersome. For instance, you are required to call their toll free number to place an order. This can be more hectic as compared to an automated checkout system.
Lacks Reviews and Ratings
The company lacks reviews on most popular online review sites. For instance, they have a single customer review and poor rating on the BBB.
Does Not Offer Precious Metals IRAs
If looking to open a precious metals IRA, you may need to look elsewhere. Despite selling IRA-eligible metals, AJPM does not partner with any IRA custodian to offer IRA services.
Click Here To See Our Top Gold IRA Company
Accreditation, Reviews & Ratings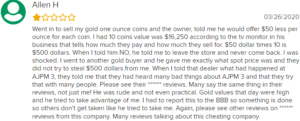 AJPM boast a poor rating of 1 out of 5 stars on the BBB after a single customer review. On the BCA, the have a 'B' rating and no customer reviews.

And on Yelp.com, they have a rating of 4.5 out of 5 stars. The company lacks ratings or reviews on both Trustlink and Trustpilot.
Is AJPM Actually Legit?
From our comprehensive review, we've confirmed that AJPM is a legit company and not a scam. However, they are poorly rated and it's a good idea to always deal with a company that boast excellent reviews and ratings. If looking to open a gold or silver IRA, find out our recommended firm here.
AJPM Reviews- Summary
AJPM is precious metals dealer that sells and buys a wide selection of gold, silver and platinum bullion as well as rare coins and jewelry. The company has been around since 1991 and is trusted by many investors and collectors.
Despite offering high quality products, the firm lacks good reviews as well as a modern ecommerce store which makes ordering hectic. In addition, AJPM has no capacity to offer IRAs as they are not in partnership with any IRA custodian.