Are you interested in purchasing precious metals from AJPM? Do you question whether they are legitimate or scam? Please read this AJPM review attentively, as it contains all the information you need about them.
What Is AJPM?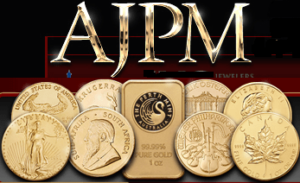 AJPM is the abbreviation for Affordable Jewelry & Precious Metals. Rodney and Vicki Scott founded the company in 1991 and it has multiple locations in Portland, Oregon. Since the company's inception, AJPM has provided a vast assortment of silver, gold, and platinum bullion. Additionally, the company is known for specializing in collectibles. AJPM distinguishes itself from the majority of precious metals companies by not charging sales tax, as Oregon has no sales tax.
Does AJPM Offer Precious Metals IRAs?
Unfortunately, AJPM neither partners with a legitimate IRA custodian nor provides storage services. If you are in the market for a gold or silver IRA, please review our top recommendation on this page.
AJPM Review Summary
Location:
Portland, Oregon
Address:
10584 SE Washington St, Portland, OR 97216-2809
Year Founded:
1991
Management:
Rodney and Vicki Scott (Founders)
Website:
www.ajpm.com
Rating:
[usr 3]
AJPM Products & Services
AJPM primarily deals in gold, silver, and platinum coins and bars. However, they are also renowned for selling jewelry and numismatic coins. Recently, the company began providing loans on gold, platinum, and palladium coins and bars, in addition to certain PCGS/NGC-graded coins. Gold Canadian Maple Leaf, Gold American Eagle, American Silver Eagle, and Gold American Buffalo are among their best-selling coins. AJPM does not offer precious metals IRAs because they have no partnerships with IRA trustees.
How To Get Started With AJPM
Unlike other precious metals companies, AJPM does not offer a convenient e-commerce platform for online purchases. They have only a minimal product catalog. Therefore, you must contact them to place an order or ask questions. The acceptable forms of payment are cashier checks, personal checks, and money orders. Only orders exceeding $15000 are eligible for wire transfers.
AJPM Costs & Fees
Metal prices depend on the spot prices.  However, postage and shipping fees will vary depending on your investment as follows:
1-9 oz– $25
10 oz or more—free
1-100 oz– $30
101-200 oz– $35
201-999 oz– $50
1000 oz+– free
Pros of AJPM
Wide Range of Precious Metals & Services
AJPM provides an extensive selection of IRA-eligible bullion coins and bars, as well as pre-1933 coins and fine jewelry. As of November 2, 2020, AJPM's services now include precious metals loans.
Multiple storefronts in Oregon make purchasing and selling extremely convenient for customers. Downtown Portland, Portland Eastside, Washington, Vancouver, and Tigard are among the storefronts.
Since 2012, AJPM has been accredited by the BBB. Given that the BBB is one of the leading consumer protection websites, accreditation by the platform demonstrates a company's reliability.
Cons of AJPM
Other than a simple website with a simple product catalog, AJPM lacks a modern e-commerce platform compared to other companies in the industry, which makes trading extremely cumbersome. To place an order, for instance, you must contact their toll-free number. This can be more cumbersome than a self-service registration system.
Lacks Reviews and Ratings
There are no reviews of the company on the most prominent online review sites. For example, they have a poor BBB rating due to a lack of substantial reviews.
Does Not Offer Precious Metals IRAs
If you are interested in opening a precious metals IRA, you may have to seek elsewhere. AJPM does not associate with any IRA custodian to provide IRA services, despite selling IRA-eligible metals.
Click Here To View Our Leading Gold IRA Provider>
AJPM Reviews, Accreditation & Ratings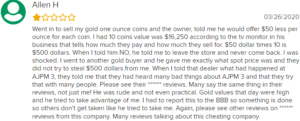 AJPM has no complaints or reviews on the BBB. On the BCA, they have a grade of 'B' and no customer reviews.

And their rating on Yelp.com is 4.5 out of 5 stars. The company lacks ratings or reviews on both Trustlink and Trustpilot.
Is AJPM Legit?
According to our thorough investigation, AJPM is a legitimate company and not a scam. However, they are inadequately rated, and you should always do business with a company that has outstanding reviews and ratings.
AJPM Alternatives
Conclusion
AJPM is a precious metals dealer that acquires and sells a vast array of gold, silver, and platinum bullion, as well as rare coins and jewelry. Since 1991, investors and collectors have placed their confidence in this company.
Despite offering high-quality products, the company lacks positive reviews and a modern e-commerce store, making ordering cumbersome. In addition, AJPM is unable to offer IRAs because it is not affiliated with any IRA custodian.