Are you considering purchasing precious metals from Red Rock Secured? Is the company legitimate or a scam? Read this unbiased Red Rock Secured review to determine if you can trust them or if you should look elsewhere.
What Is Red Rock Secured?

Red Rock Secured is a gold and silver IRA provider located in El Segundo, California. Founded in 2009, it primarily deals in IRA-approved gold, silver, platinum, and palladium bullion. The company's goal is to help you secure your retirement assets with gold and silver so you can enjoy a 'worry-free retirement.
If you are new to investing in precious metals, Red Rock Secured has a wealth of educational tools to get you started. They offer global gold news, gold IRA guides, real-time gold and silver charts, and other services.
Red Rock Secured Review Summary
Location:
El Segundo, California
Address:
400 Continental Blvd #200
El Segundo, CA 90245-5076
Year Founded:
2009
Management:
Sean Kelly (CEO)
Website:
www.redrocksecured.com/
Rating:
[usr 4.5]
Check Out Our #1 Recommended Gold/Silver IRA Company Here>
Red Rock Secured Products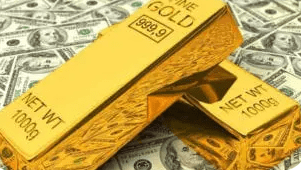 Red Rock Secured primarily sells gold, silver, platinum, and palladium bullion, as well as silver collectible coins. Because their primary goal is to provide precious metals IRAs, the majority of the company's inventory is IRA-approved bullion, which includes the following:
American Gold Eagles
American Silver Eagles
American Platinum Eagles
American Palladium Eagles
Unfortunately, Red Rock Secured does not have an e-commerce site, therefore you cannot order online. Furthermore, there is no pricing information on their website.
How Does It Work?
Because Red Rock Secured does not have an online store, purchasing coins from them is a bit difficult. As a result, you must contact them to inquire about rates or make a purchase. In terms of precious metals IRAs, Red Rock Secured offers the following step-by-step instructions:
The organization will assist you in transferring funds from your present custodian when you start your precious metals IRA account.
The money will subsequently be used by Red Rock Secured to acquire IRA-eligible precious metals of your choice.
The company will then pay for shipping to transport your assets to a secure storage facility where you can visit whenever you like.
Red Rock Secured IRA Custodian
Red Rock Secured partners with Kingdom Trust, a highly secure and qualified provider of custody services, to provide custody services. Kingdom Trust (KT) is a reputable IRA administrator for financial institutions, hedge funds, investment sponsors, registered investment advisors, and family offices.
Red Rock Secured Storage Facility
Red Rock Secured storage services are provided by the Delaware Depository, a highly secure storage facility provider with both local and international storage vaults.
Red Rock Secured Precious Metals IRA Fees
Pros of Red Rock Secured
Awesome reviews and ratings online. They average 4.5 out of 5 stars ratings on most review platforms
Offers top-quality, IRS-approved bullion
Helps you to quickly set up a precious metals IRA. Their professional staff will guide you through every step of the process
Provides comprehensive customer education through the "Resources" section of their website
They've been in business for over a decade
They're a BBB-accredited business
Cons of Red Rock Secured
Product pricing information is not availed on their website
Does not have an online shop
A limited selection of collectible coins
Open Your Gold or Silver IRA With this Top-Rated Company>
Red Rock Secured Lawsuit
According to our exhaustive research, Red Rock Secured has never been involved in a lawsuit since its founding.
Red Rock Secured Management & Contact Information
While Red Rock Secured does not disclose its management team, the Better Business Bureau and LinkedIn identify Sean Kelly as the company's chief executive officer.
According to his LinkedIn profile, Kelly has been CEO of the company since 2018. Additionally, he served as vice president of Augusta Precious Metals, a rival company, in the past.
Red Rock Secured Complaints, Reviews & Ratings
Red Rock Secured has been BBB-accredited since 2017 and holds a 4.75-star rating based on 95 customer reviews and 13 customer complaints. The BCA gives the company a "AAA" rating based on 143 customer reviews. In addition, Trust Pilot awards them 4.8 out of 5 stars based on 160 consumer reviews, ratings, and complaints.
On Trustlink, however, the company received a dismal 1 out of 5-star rating based on 1 customer review. On Yelp, Red Rock Secured has no reviews or ratings.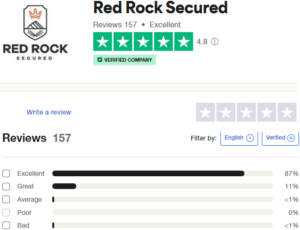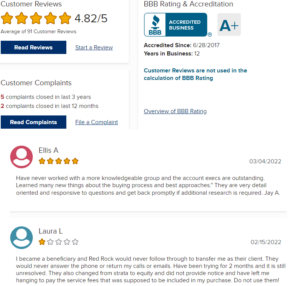 Is Red Rock Secured Legit or a Scam?
It is evident from our investigation that Red Rock Secured is not a scam. It is a legitimate business accredited by the Better Business Bureau and rated highly on numerous consumer protection websites.
Red Rock Secured Alternatives
Conclusion
Red Rock Secured is a precious metals company based in El Segundo, California. It was founded in 2009, and its mission is to provide retirees with peace of mind by providing them with a platform to protect their resources. RRS has received accreditation from the Better Business Bureau and has received high marks on multiple review sites. Negatively, Red Rock Secured does not have an online store. In addition, they lack transparency regarding product prices and fees.