Are you thinking of buying coins or bars from Govmint? Is Govmint a legit site or scam? Are there any customer complaints against them? Please read this short review about Govmint.com to get the lowdown.
What Is Govmint?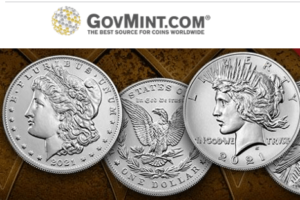 GovMint is a precious metals dealer which specializes in collectible coins and other products. The company was founded in 1984 by Bill Gale and is based in Burnsville, Minnesota. Govmint's mission is to be the leading marketer of collectible products across the United States and Asia.
Does Govmint Offer Gold and Silver IRAs?
No, Govmint only sells coins and bars and does not offer gold or silver IRAs. If you are looking for a credible precious metals IRA custodian, check out our top recommendation below.
Click here to see our top recommendation for Gold and Silver IRAs
Company Info
Location:
Burnsville, Minnesota
Address:
14101 Southcross Dr W
Burnsville, MN 55337-6904
Year Founded:
1984
Management:
Bill Gale (Founder and CEO)
Website:
www.govmint.com
Rating:
(2 / 5) Not Recommended
Is Govmint Owned By the Government?
There seems to be confusion with the company's name since it has been cleverly named in such a way that many will think it is part of the government. This might be a clever tactic to gain more trust from the public. However, Govmint is a privately owned coin dealer and is neither owned by, nor is it part of the government.
Govmint Reviews & Complaints
Govmint has a dismal rating of 2 out of 5 stars on the BBB based on 30 customer reviews and 4 customer complaints. Most of the complaints on the BBB are about poor product quality, overpricing and poor customer service.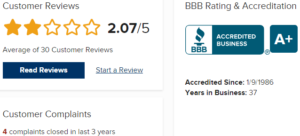 Strangely, Govmint has no reviews, ratings or complaints on other reputable third party review websites including the Business Consumer Alliance (BCA), Yelp.com, Trustlink.com and Trustpilot.com.
Looking for Gold IRAs? Learn about our #1 recommended Gold IRA firm on this page.
Is Govmint Legit?
And so, is Govmint legit or scam? Well, despite the poor ratings and numerous negative reviews and complaints, Govmint has got a real owner, a real physical address and over 30 years in business, which shows that they are a legit company and not a scam.
Govmint Products
Govmint primarily sells gold and silver bullion bars, coins, rounds and collectibles. Govmint gold coins include Gold Eagles, Gold Buffalos, pre-1933 coins, South African Kerugerrands, Gold Britannia's, Australian Gold Kangaroos and much more. Silver coins include Silver Eagle coins, Morgan Silver Dollars, Silver Commemoratives and much more. In addition, Govmint holds a large inventory of gold and silver bars of varying sizes including the PAMP Suisse gold bar, Valcambi Suisse gold bar, Morgan Design silver bar and Silver Buffalo bar among others.
How It Works
Govmint works just like any other ecommerce store. You simply need to create a user account and log in to select your desired products before proceed to check out. Govmint.com accepts payment via credit card or wire transfer.
Pros of Govmint
They Have Been Around for Long
Govmint.com has been around since 1984, which goes to show that they are actually legit. If it were a scam, authorities would have shut it down long ago.
Managed By Expert Numismatists
Govmint is managed and run by its founder, Bill Gales, together with other recognized numismatists. Thus, Govmint is in a position to offer expert advice as well as top quality collectible products to investors.
Large Selection of Coins, Bars and Rounds
Owing to their connection with other coin dealers and suppliers, Govmint has been able to maintain a large inventory of coins, bars and rounds.
They Are Accredited With the BBB
The firm is accredited with the BBB which further demonstrates their credibility.
Cons of Govmint
Negative Reviews and Complaints
The company has numerous negative reviews on the Better Business Bureau and other major third party consumer protection websites.
Govmint.com lacks live chat support. Consequently, customers have complained about failure by Govmint's customer care staff to respond to emails on time. Furthermore, the company has been accused of email spamming.
Should You Invest In Govmint?
It is up to you to decide whether or not you should invest with Govmint. However, we are of the opinion that this company has a lot of areas that need improvement. For instance, they need to improve on product quality as well as customer service. Also, keep note of the fact that they don't offer IRAs, therefore you need to consider other options if you are after gold and silver IRAs. You can click the link below to read about our top-rated precious metals IRA Company.
Click here to read about our top-rated precious metals IRA firm
Conclusion
Thank you for reading our 'Is Govmint Legit or Scam' review. Govmint is a privately owned coin dealer founded in 1984 by Bill Gale. The company specializes in gold and silver coins, and boasts a massive inventory of coins, bars and rounds. Govmint.com is managed by expert numismatists who oversee the sourcing of products to ensure collectors get the best quality.
On the negative side, Govmint has multiple complaints and negative reviews on most consumer protection websites including the BBB, whereby most customers have accused the company of poor customer service, unethical sales tactics as well as overpricing.