In the realm of rare coinage, one name has resonated for over 50 years – Tom Caldwell and his brainchild, Northeast Numismatics. Established decades ago, this numismatic institution has weathered the changes in the market, becoming a stalwart presence. Tom Caldwell, an ANA life member since 1972 and a respected member of various numismatic organizations, has not only witnessed but actively contributed to the evolution of the coin-collecting landscape.
What Is Northeast Numismatics?

Northeast Numismatics, under the expert guidance of Tom Caldwell, has become synonymous with expertise in US coinage. The scope of their offerings encompasses rare colonials, patterns, high-grade proof types, and precious metals like gold. Tom's affiliations with prominent numismatic organizations underscore his commitment to the field. His easy-going personality has endeared him to both dealers and collectors, contributing to the reputation of Northeast Numismatics as a reliable and personable player in the industry.
Northeast Numismatics Products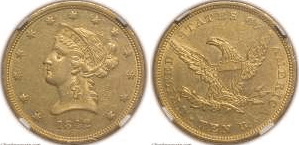 The breadth of Northeast Numismatics' inventory is a testament to its commitment to catering to diverse collector interests. They deal in a comprehensive range of numismatic items, including US Coins, World Coins, Currency, Medals, and Gold, Silver & Platinum Bullion. This extensive offering ensures that both novice collectors and seasoned enthusiasts find something of interest within Northeast Numismatics' catalog.
How It Works
Navigating the process of acquiring numismatic treasures from Northeast Numismatics is straightforward. Interested buyers can peruse and purchase items directly through their official website by creating an account and going through the ordering process. For those looking to sell coins, a simple phone call allows you to explain the coins you are interested in selling, and you can conveniently send coin images via text. Remarkably, if your collection is too cumbersome to transport, Northeast Numismatics offers the convenience of home appraisals.
Pros of Northeast Numismatics
The extensive range of products available caters to a wide array of collector preferences. Whether you're a novice or a seasoned numismatist, Northeast Numismatics likely has something that aligns with your interests.
Tom Caldwell's belief that an educated collector is essential to a robust and sustainable rare coin market is reflected in Northeast Numismatics' commitment to customer education. The company goes beyond mere transactions, aiming to enrich the numismatic knowledge of its clientele.
Over 40 Years in Business
The longevity of Northeast Numismatics in the industry is a testament to its resilience and adaptability. Many decades of operation speaks volumes about the establishment's stability and reputation.
Tom Caldwell's decades of experience and active involvement in numismatic organizations underscore the reliability of Northeast Numismatics. His expertise adds a layer of trust for customers engaging with the company.
Cons of Northeast Numismatics
The absence of accreditation from the Better Business Bureau (BBB) might raise eyebrows for some customers who rely on this organization for assessing the credibility of businesses.
Lacks Reviews Across Many Platforms
Despite its long-standing presence, Northeast Numismatics appears to have limited visibility on various review platforms. A scarcity of reviews may leave potential customers seeking more reassurance about the company's reputation.
Is Northeast Numismatics Legit?
The question of legitimacy often lingers when dealing with rare and valuable items. In the case of Northeast Numismatics, the decades-long presence in the market and the reputation of its founder, Tom Caldwell, contribute to its legitimacy. The vast product inventory and commitment to customer education further bolster its credibility.
Similar Reviews
Northeast Numismatics Reviews- Conclusion
Northeast Numismatics stands as a venerable institution in the world of rare coinage, with Tom Caldwell's over 50 years of expertise shaping its identity. The extensive product offerings, commitment to customer education, and the convenience of buying and selling processes are commendable aspects. However, the absence of BBB accreditation and limited reviews on various platforms may leave some potential customers seeking additional reassurance. In essence, Northeast Numismatics appears to be a legitimate and reputable player in the numismatic landscape, but prospective buyers are encouraged to conduct thorough research and possibly seek personal references for added peace of mind.