Looking for a reliable precious metals company to invest with? Is McAlvany ICA a legit company or scam? Does McAlvany ICA have any customer complaints? Let's find out in this unbiased review.
What Is McAlvany ICA?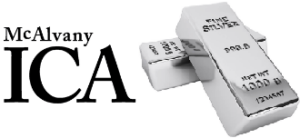 McAlvany ICA, also known as International Collectors Associates, is a family business founded in 1972 by Don S. McAlvany. Currently McAlvany ICA is managed by Don's son, David S. McAlvany.
McAlvany ICA is among the leading precious metals dealers in the industry and is headquartered in Durango, Colorado. The company is keen on providing free customer education, and their team of experts is on standby to help you out. On their official website, they offer free insightful information about precious metals and current market news.
Does McAlvany ICA Offer Gold & Silver IRAs?
The company does offer IRAs but are not transparent about the custodians or depositories they work with. This makes it difficult to know their IRA costs and fees. If you are looking for a transparent and highly reliable gold and silver IRA provider, we recommend Goldco Direct LLC.
McAlvany ICA Review Summary
Location:
Durango, Colorado
Address:
166 Turner Dr
Durango, CO 81303-7975
Year Founded:
1972
Management:
Don S. McAlvany (Founder), David S. McAlvany (President)
Website:
www.mcalvanyica.com
Rating:
[usr 3]
Click Here To Read about Our #1 Rated Precious Metals Dealer>>
McAlvany ICA Products & Services
McAlvany ICA mainly sells IRA-approved gold, silver and platinum coins and bars as well as numismatic coins for collectors. Presently, McAlvany ICA is not offering palladium products. Below are some of their products.
Gold
The following Gold bullion coins and bars are offered at McAlvany ICA.
1 Kilo Gold Bar
1-oz Gold Bar
1-oz gold Canadian Maple Leaf
1-oz Gold American Eagle
1-oz gold South African Krugerrand
$20 Saint-Gaudens Gold Double Eagle MS Series
Dutch 10 Guilder
MS60 British Sovereigns
Silver
Below is the full list of silver bars and coins currently availed by the company.
1-oz Silver Bar
1000-oz Silver Bar
100-oz Silver Bar
10-oz Silver Bar
1-oz Silver Round
1-oz Silver Canadian Maple Leaf
1-oz Silver American Eagle
Silver Peace Dollar
90% Junk Silver
Platinum
Currently, McAlvany ICA is only offering 1-oz platinum bars. For more information, you can have a look at their product catalog.
How to Get Started
To place your order, you will need to contact McAlvany ICA through phone or email and seek guidance from their advisors. Another option is to use their online ordering system whereby you select a list of your preferred products and submit a request. Upon receiving your request, a sales executive will contact you and help you with the transaction.
Pros of McAlvany ICA
Been In Business for Half a Century
McAlvany ICA has been in business since 1972. Thus, they are one of the few companies with a proven track record of success.
Their website has a resources section where you will find free guides and market news. Moreover, their team of highly experienced advisors are handy to guide you and help you build a strong investment portfolio.
David and his members of staff have a wealth of experience in matters precious metals. Most of their products are carefully selected to ensure they are of great quality.
Cons of McAlvany ICA
Lacks Customer Reviews and Ratings
McAlvany ICA lacks reviews on most online consumer protection and review websites. This is quite shocking as they have been in the industry for a long time.
There's no transparency regarding the IRA custodians or storage providers used by the company. Besides, there's no information about pricing and fees on their website.
Limited Selection of Products
McAlvany ICA does not offer palladium coins and bars. Also, they have fewer coins and bars in stock when compared to leading precious metals companies.
Accreditation, Reputation & Complaints

McAlvany ICA is accredited with the BBB and has an A+ rating despite having no customer reviews or ratings on the platform. Again, they have no reviews on the BCA, Trustlink, Trustpilot and Yelp.
BBB: A+ Rating, 0 reviews (View Details)
BCA: Not Listed
Trustlink: Not Listed
Trustpilot: Not Listed
Yelp: Not Listed
Click Here To See Out Top-rated (5/5 stars) Precious Metals Dealer
Is McAlvany ICA Legit?
McAlvany ICA is definitely a legit firm based on their long history and proven track record of success. They've been in business for half a century!
McAlvany ICA Alternatives
Below are 5 McAlvany ICA alternatives we've reviewed.
McAlvany ICA Reviews- Summary
McAlvany ICA is a family owned precious metals dealer based in Durango, Colorado. It is one of the oldest in the industry having been formed in 1982. McAlvany ICA offers free customer education and quality products, but they lack transparency as well as customer ratings and reviews. Also, their collection of coins and bars is limited compared to its competitors.