Need a trustworthy precious metals dealer to purchase bullion or establish a Gold/Silver IRA? Find out in this Cornerstone Bullion review whether they are legit or a scam, as well as whether they have received complaints on third-party review websites.
What Is Cornerstone Bullion?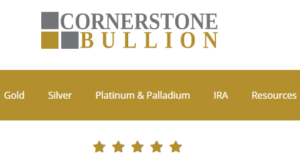 Cornerstone Bullion is a precious metals company based in Castle Rock, Colorado. Chad Roach founded the company in 2009 and serves as its current proprietor and chief executive officer. Chad founded Cornerstone Bullion more than a decade ago in order to provide superior products and services at competitive prices, which he discovered were not being provided by the majority of companies at the time. Chad Roach has expanded his business exponentially thanks to his experience and expertise in alternative asset investments.
Company Info
Location:
Castle Rock, Colorado
Address:
PO Box 1043
Castle Rock, CO 80104-1043
Year Founded:
2009
Managers:
Chad Roach (Founder and Owner)
Website:
www.cornerstonebullion.com
Rating:
[usr 3.5]
Click Here To See Our #1 Recommended Precious Metals IRA Company>
How It Works
Cornerstone Bullion provides a detailed guide on how to purchase precious metals. Purchasing gold, silver, or other precious metals from their website generally entails the following 5 steps:
Deciding What Products You Want to Purchase
The initial phase is to determine what to buy. If you are unable to determine on your own, the company provides a comprehensive Precious Metals 101 Guide. Additionally, you can contact the company for more information.
Set Up an Account and Lock Your Order
You must now contact Cornerstone Bullion and request that an online buyer account be created for you. Your legal name, shipping address, and contact information must be provided.
Paying for the Products
You may pay for your order by check or wire transfer.
Tracking Your Order
Cornerstone Bullion will send you a tracking number via email so that you can monitor your shipment.
Receive Your Order
Your order is delivered to your doorstep.
Cornerstone Bullion Products
In addition to numismatic coins, Cornerstone Bullion products include gold, silver, platinum, and palladium coins and bars. The vast majority of their gold and silver products are IRA-eligible, including American Gold Eagles, American Silver Eagles, Canadian Gold Maple Leafs, Canadian Silver Maple Leafs, and many others. Platinum and palladium products consist of American Platinum Eagles, Canadian Palladium Eagles, 1 oz Palladium Bars, 1 oz Platinum Bars, Australian Platypus Platinum Coins, and Platinum Maple Leafs.
Cornerstone Bullion Complaints & Customer Reviews
There are no reviews, ratings, or complaints about Cornerstone Bullion on the BBB, BCA, or Trustpilot. However, they have a five-star rating on Trustlink based on three customer reviews and complaints, and on Yelp based on a single customer review.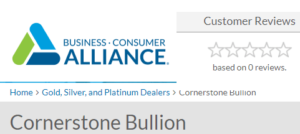 Pros of Cornerstone Bullion
They Value Customer Education
Cornerstone Bullion values customer education and has devoted a 'resources' section to its website, which includes a comprehensive Precious Metals 101 Guide, an informative blog, and some excellent investment advice for newcomers.
Their website is organized and user-friendly. The website's menu is not overly crowded, allowing you to readily locate the products you seek.
The majority of their bullion bars and coins are of the highest quality and can be held in a precious metals IRA.
Chad Roach, the proprietor of Cornerstone Bullion, is one of the most experienced investors in alternative assets. Therefore, you can greatly benefit from his expert advice and recommendations.
Cons of Cornerstone Bullion
Despite having some outstanding ratings on some platforms, it is important to note that Cornerstone Bullion has few online reviews. Given that the company has been in business for more than a decade, this is quite surprising.
Product Pricing Is Not Available
The catalog of Cornerstone Bullion contains a variety of coins and bars of investment quality. Unfortunately, there are no prices specified for any of the products on their platform. Instead, you must call them to obtain pricing information, which can be time-consuming.
Their website lacks a live chat feature to facilitate quick communication with consumers. There is a phone number and an email address, but neither is as efficient nor as fast as the live chat function, which can provide instant answers to your questions.
Should You Consider Cornerstone Bullion for Your Gold IRA Rollover?
Despite having a high rating on the BBB and a few other platforms, Cornerstone Bullion lacks sufficient reviews on the majority of review sites, making it difficult to determine its reputation and overall rating. Because of this, we will not recommend Cornerstone Bullion. Instead, we encourage you to click the link below to read about our top-rated precious metals IRA provider with the highest rating and fewest complaints.
Learn About Our Top-rated Precious Metals IRA Company Now>
 Can You Sell Back To Cornerstone Bullion?
Yes, Cornerstone Bullion has a buyback policy and you can call them whenever you want to sell your bullion or numismatics.
Is Cornerstone Bullion Legit or a Scam?
Cornerstone Bullion is a legitimate business founded by a renowned expert in alternative asset investing. In addition, they have a storefront and an address in Castle Rock, Colorado.
Cornerstone Bullion Alternatives
Cornerstone Bullion Complaints & Reviews Summary
Cornerstone Bullion is a precious metals company based in Castle Rock, Colorado. Chad Roach, the company's founder, has exponentially grown the business by expanding its product inventory and client base since 2009 when the company was founded.
Despite the quality of its products and customer service, Cornerstone Bullion has deficiencies. For example, they lack sufficient ratings and reviews from customers on the majority of review websites, making it difficult to calculate their overall rating and determine their credibility.