Need a reliable precious metals company to buy bullion or open a Gold/Silver IRA? Well, in this Cornerstone Bullion review, find out whether they are legit or scam, and whether there are any complaints against them on third party review websites.
What Is Cornerstone Bullion?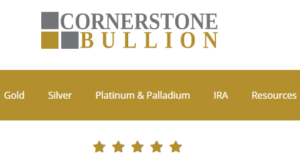 Cornerstone Bullion is a precious metals company based in Castle Rock, Colorado. The company was founded in 2009 by Chad Roach who is also the current owner and CEO of the company.
Chad created Cornerstone Bullion over a decade ago, primarily to offer top-notch products and services, as well as competitive pricing, which he discovered were not being offered by most companies at the time. With a background and specialization in alternative assets investments, Chad Roach has managed to grow his company exponentially.
Company Info
Location:
Castle Rock, Colorado
Address:
PO Box 1043
Castle Rock, CO 80104-1043
Year Founded:
2009
Managers:
Chad Roach (Founder and Owner)
Website:
www.cornerstonebullion.com
Rating:
[usr 3.5]
Click here to see our #1 recommended Precious Metals IRA Company boasting a 5-star rating
How It Works
Cornerstone Bullion has a comprehensive 101 guide detailing how to buy precious metals. Generally, buying gold, silver or other precious metals from their website involves the following 5 simple steps:
Deciding What Products You Want to Purchase
The first step is to decide what to purchase. The company has a complete Precious Metals 101 Guide to assist you if you are unable to decide on your own. Also, you can call the company for more guidance.
Set Up an Account and Lock Your Order
Here, you need to call Cornerstone Bullion and request to have your online buyer account created. You are required to supply your legal name, shipping address and contact information.
Paying for the Products
Pay for your order either via check or wire transfer.
Tracking Your Order
Cornerstone Bullion will email you a tracking number to help you track your shipment.
Receiving Your Order
Finally, your order is delivered to your door.
If you wish to open a gold or silver IRA instead, you need to call the company so that they can assist you with choosing a reputable custodian, transferring funds and purchasing of metals.
Cornerstone Bullion Products
Cornerstone Bullion products comprise gold, silver, platinum and palladium coins and bars, in addition to numismatic coins. Most of their Gold and silver products are eligible for IRA and include the American Gold Eagles, American Silver Eagles, Canadian Gold Maple Leafs, Canadian Silver Maple Leafs, Krugerrands and much more. Platinum and palladium products include American Platinum Eagles, Canadian Palladium Eagle, 1 Oz Palladium Bar, 1 Oz Platinum Bar, Australian Platypus Platinum Coin and Platinum Maple Leafs.
Cornerstone Bullion Complaints
Cornerstone Bullion have 0 customer complaints on the BBB, an A+ rating and 0 customer reviews on the platform.

Regrettably, the company has 0 reviews and 0 complaints on both Trustpilot and Business Consumer Alliance. Besides, the firm has 3 reviews and 0 complaints on Trustlink, and a single customer review on Yelp.com.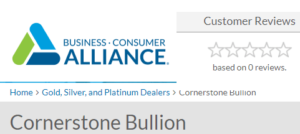 Advantages of Choosing Cornerstone Bullion
They Value Customer Education
Cornerstone Bullion values customer education and have dedicated a 'resources' section on their website which includes a complete Precious Metals 101 Guide, an informative blog and some great tips for new investors.
Their website is neat and easy to navigate. The website's menu is not too crowded and therefore you can easily locate the products you are searching for.
Most of their bullion bars and coins are of top-quality and can be put in a precious metals IRA.
Chad Roach, Cornerstone Bullion's owner is one of the most experienced alternative assets investors. Thus, you can benefit immensely from his expert guidance and tips.
Disadvantages of Choosing Cornerstone Bullion
Not that Many Reviews Online
Despite having some excellent ratings on some platforms, it's worth noting that Cornerstone Bullion doesn't have many reviews online. This is quite surprising since the company has been in business for more than a decade. Normally, we recommend a company that has numerous reviews, as well as excellent ratings. You can check out our top-rated precious metals IRA Company here.
Product Pricing not Available
Cornerstone B. has listed several investment-grade coins and bars on their catalog. Unfortunately, no pricing is indicated for each and every product listed on their platform. Instead, you are required to call them to get the prices which can be time-consuming.
There's no live chat feature on their website to facilitate quick communication with customers. They do have a phone number and an email address, but these are not as efficient or as quick as a live chat function which is capable of giving you instant answers to your queries.
Should You Consider Cornerstone Bullion for Your Gold IRA Rollover?
In spite of the fact that they have a high rating on the BBB and a few other platforms, Cornerstone Bullion lacks sufficient reviews on most review sites, which makes assessing their reputability and overall rating a daunting task. For this reason, we are not going to recommend Cornerstone Bullion. Instead, we urge you to read about our top-rated precious metals IRA provider with highest rating and 0 complaints, via the link below.
Read About Our Top-rated Precious Metals IRA Company Now.
 Can You Sell Back To Cornerstone Bullion?
Yes, Cornerstone Bullion have a buyback policy and you can call them whenever you want to sell your bullion or numismatics.
Is Cornerstone Bullion Legit or Scam?
Cornerstone Bullion is a legit company founded by a renowned alternative assets investing expert. They also have a physical address and storefront in Castle Rock, CO.
Conclusion
Cornerstone Bullion is a precious metals company based in Castle Rock, Colorado. The company has been in business since 2009, thanks to its founder, Chad Roach, who has managed to grow the firm exponentially by increasing its product inventory as well as customer base.
Regardless of the quality products and support offered, Cornerstone Bullion has shortcomings. For instance they lack enough customer ratings and reviews on most review websites, which makes it difficult to calculate their overall rating or determine their credibility.