Is Sandstorm Gold Ltd a legit company or scam? If you wish to know more about Sandstorm Gold Ltd and avoid scams, read this detailed review to the end.
What Is Sandstorm Gold Ltd?

Sandstorm Gold Ltd, also known as Sandstorm Gold Royalties, is one of the largest gold royalty companies in the world. Since its establishment in 2008, the company has witnessed exponential growth, thanks to its team of executives who put in hours of hard work to find great investment opportunities. To date, Sandstorm Gold Ltd has transacted over $3 billion in royalty transactions and has worked on over 100 mining projects around the world.
Sandstorm Gold Ltd Review Summary
Location:
Vancouver, Canada
Address:
Suite 1400, 400 Burrard Street
Vancouver, British Columbia
V6C 3A6 Canada
Year Founded:
2008
Management:
Nola Watson (President & CEO)
Website:
www.sandstormgold.com/
Rating:
[usr 4]
Click Here To See Our Top-rated Gold Company
Sandstorm Gold Ltd Products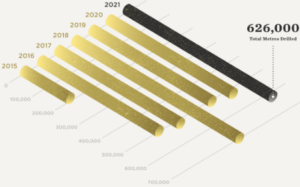 Sandstorm Gold Ltd takes a different approach to gold investing. Their aim is to avoid gold mining operational risks at all costs. To achieve this, Sandstorm Gold Ltd provides capital for gold mining firms, but does not get into the mining themselves. This type of financing, also known as volumetric production payment transaction, is common in the oil and gas industries.
How It Works
And so, how does Sandstorm Gold Ltd work? The company first seeks royalty rights by paying an upfront sum. A royalty simply means a contract that gives the company rights to a portion of gold or revenue from the mines. Upon obtaining the requisite contract, Sandstorm Gold Ltd looks out for gold mining companies that require financing. Their strict, due diligence process allows them to select the best gold mines around the world, thereby guaranteeing stable cash flow. Sandstorm Gold Ltd boasts a portfolio of 250 royalties on mines around the world.
Owing to Sandstorm Gold Ltd's impressive growth trajectory, the company offers mining stocks which are mainly based on how well their royalties are performing. Outlined below are their publicly traded stocks.
AMEX- traded under the ticker SAND
TSX- traded under the ticker SSL
Pros of Sandstorm Gold Ltd
Unique Approach To Business
They have a strategic approach to business which has seen them rise from 0 royalties in 2008 to 250 currently. Sandstorm Gold Ltd employs strict criteria when reviewing investment opportunities which means they are guaranteed of success in terms of stable cash flows and a progressive growth trajectory.
When it comes to reputation, Sandstorm Gold Ltd is one of the most trusted gold royalty firms in the world, and is a member of the World Gold Council.
Cons of Sandstorm Gold Ltd
Though it offers you an opportunity to invest in their stocks, it does not provide a means for clients to own physical gold. If you wish to own physical gold, you can do so through a gold company that offers tax-exempt precious metals IRAs. Here's Our #1 Recommended Gold IRA Company.
Despite its widely acknowledged reputation for developing unique and sustainable business practices, Sandstorm Gold Ltd lacks customer reviews and ratings on consumer protection websites such as the Better Business Bureau and Business Consumer Alliance.
Sandstorm Gold Ltd Rating & Reviews
Sandstorm Gold Ltd has no reviews, ratings or complaints on any online review website.
Is Sandstorm Gold Ltd a Scam?
Sandstorm Gold Ltd is a legit gold royalty firm operating from Vancouver since 2008. With many years of business as well as robust growth, Sandstorm Gold Ltd is certainly not a scam.
Sandstorm Gold Ltd Reviews- Summary
Sandstorm Gold Ltd is a gold royalty company based in Vancouver, Canada. It's been in operation since 2008 and has used a highly strategic business approach to rise from 0 royalties at its inception to the current 250 royalties. Despite its unquestionable reputability, the company lacks online reviews and ratings. Besides, it doesn't offer clients an opportunity to own physical gold.