If you are considering buying bullion (bars or coins) for investment, this comprehensive Bullion By Post review will reveal whether this company is ideal for you. We look at customer reviews, ratings and complaints to determine its credibility.
Bullion By Post Reviews-Who Are They?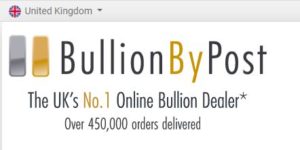 Bullion By Post is a precious metals dealer based in the UK, with its headquarters in Birmingham. The company, which is a subsidiary of Jewellery Quarter Bullion Limited (JQB), was founded in 2009 and mainly serves European Union Investors. If you live outside the EU, you can still buy from Bullion By Post but this may attract taxes and other levies, making the whole investment undertaking futile.
Are Precious Metals IRAs Offered?
No, Bullion By Post does not offer precious metals IRAs. Your can check out our top-rated Gold and Silver IRA company on this page if you are looking for IRAs.
Company Information
Location:
Birmingham, West Midlands
Website:
https://www.bullionbypost.co.uk
Address:
Floor 16, Centre City Tower, 7 Hill St, Birmingham B5 4UA, United Kingdom
Learn about our Top Gold IRA Custodian, Click Here==>
Products and Services Offered
What products and services are offered by Bullion By Post?
As the name suggests, BBP deals with bullion, mainly   gold and silver bullion bars and coins. They offer platinum and palladium products as well.
Moreover, Bullion By Post offers a wide array of educative materials to help you understand the precious metals market. These include metal price charts and investment guides.
How to Buy Metals from Bullion By Post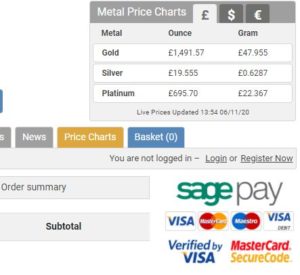 The process of purchasing bullion from BBP is extremely simple, just like it is with other precious metals dealers.  Their website allows customers to easily select metals based on weight and price and simply pay for them online. Once you make the purchase, you become the owner of the physical products, which you can sell back to the company in the future.
BBP mainly serves the EU and clients from EU member countries receive preferential treatment such as exclusion taxes and levies. People in Europe living in non-EU countries can still purchase from Bullion By Post but will not enjoy tax benefits. If you live outside Europe, you may want to consider a company like GoldBroker that offers services to all countries.
Pros of Choosing Bullion By Post
You will find that their website is designed for the best user experience.  They have easy-to navigate menus and informative articles on the site's widget area, which makes it easy for customers to find the information they are looking for. They have numerous resources designed to help novice investors understand how the bullion market operates.
Though they don't have a live chat feature (which in our opinion should have improved customer support further), they do have a phone number and an email address on their website. Customers can easily reach Bullion By Post Support team through phone or email should they need quick help.
Most investors purchase precious metals with the aim of reselling them in the future for profit. However, not all companies will accept to buy back metals they sold you. Bullion By Post is one of the bullion dealers who have a buyback program, therefore you can buy from them today and sell back to them whenever you want.
Quick Delivery of Bullion
Bullion By Post makes it easy for customers to request and receive metals. Bullion can be delivered to your home quickly by post after you place an order on their online store.
Their check out process is quite easy as you have the flexibility to choose metals by weight and price before paying for them. You have the opportunity to choose the size and type of metals that suit your budget.
Cons of Choosing Bullion By Post
Limited products and services
Bullion By Post only deals with precious metals while other companies have added digital products such as crypto currencies to their catalog. Thus, BPP lacks in terms of selection of products and services available on their store.
We came across several customer complaints on online platforms such as Sitejaberr which shows that Bullion By Post isn't all that rosy. Most customers complain of poor customer support, and this is extremely critical since customer service is the most important aspect that one considers before engaging a company.
Though they deliver to non EU countries, there are no tax advantages to customers outside the European Union. This means that buying metals from outside the EU can get quite expensive.
Accreditation and Customer Complaints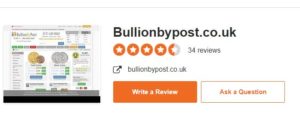 Bullion By Post has a rating of 4.7 stars on Trust Pilot from 571 customer reviews and complaints. On Sitejaberr.com, the company has a 4.7 star rating as well from 34 customer reviews and complaints. Despite the few complaints, a rating of 4.7 looks good.
Should You Consider Buying Bullion From BullionByPost?
Bullion By Post is not a bad company as they are highly rated and have a proven track record. Despite the fact that they offer an easy and secure way to buy metals at low prices, Bullion By Post may not be the best out there. We prefer a company that offers an extensive selection of services at the lowest prices possible. Goldbroker is our top recommendation for precious metal purchases as they operate internationally and offer some of the lowest metal prices on the market.
Bullion By Post Review FAQs
Is Bullion By Post a Scam?
Bullion By Post is not a scam but a trusted bullion dealer located in the heart of Birmingham, United Kingdom.
Does Bullion By Post Offer Precious Metals IRAs?
No, Bullion By Post do not offer precious metals IRA.
Can You Store You Metals with the Company?
Yes, you can store you metals with Bullion By Post. They have secure storage vaults and you only have to pay £10 extra per month for storage.
Is Their Shipping Insured?
Yes, Bullion By Post offers free, insured shipping.
Can You Store Metals at Home?
Yes, you can get your metals delivered to your home and store them yourself.
Bullion By Post Alternatives
Bullion By Post Review -Conclusion
We hope that you found this unbiased Bullion By Post review useful. While Bullion By Post offers an easy and secure way to invest in precious metals, it's worth noting that the company also has its shortcomings. It's recommended that you do due diligence before buying from a company to avoid getting scammed, and you've just made the right decision to read this detailed review.