Welcome to my detailed review of Swiss America. You might be considering acquiring gold or silver from Swiss America, and probably eager to know whether they are a legit company or scam. Well, to avoid losing your hard-earned money, you need to read this review carefully.
If you'd like to skip straight to our #1 rated Gold IRA Company, check out this page.
What Is Swiss America?

Swiss America is a family-owned precious metals retailing company dating back to 1982. The company was founded by Craig Smith with the aim of helping Americans diversify and crash-proof their investments through gold and silver coins. The company also promises to educate clients on the benefits of investing in precious metals. Some of the benefits you could achieve by investing in their gold and silver products include privacy of ownership, high profit potential and protection from economic downturns. Whilst the company operates from its headquarters in Phoenix, Arizona, it serves clients from all over the globe.
Pay attention: Before we go any further with this review!
We always recommend conducting due diligence before settling on a precious metals company to invest in. with so many clients getting ripped off with the so called hidden fees, you need to research meticulously before purchasing metals or opening a precious metals IRA. We understand that picking the right company is the most important financial decision for you, and thus, we've compiled a list of our 3 best precious metals IRA companies for 2023.
See Our 3 best precious metals IRA providers here>>
Or get our free Gold investing kit from our top recommended firm on this page
Swiss America Review Summary
Company Name:
Swiss America Trading Corporation
Founder:
Craig Smith
Address:
15018 N Tatum Blvd, Phoenix, AZ 85032, United States
Overall Rating:
3.0 ★★★
Click Here To Claim Your FREE Gold IRA Guide!
Products and Services offered By Swiss America
And so, what products does Swiss America offer to their local and international clients?
Well, Swiss America boast a variety of products and services. The main products on offer are gold, silver, platinum and palladium coins. They also have numismatic as well as rare coins in stock. The company provides investment-grade gold and silver coins, most of which qualify for gold and silver IRAs.
In addition to helping you set up a precious metals IRA, the company also aims to educate you on matters precious metals. Despite its basic design, their website is filled with crucial information such as market trends, customer reviews, weekly metal price charts and a secure checkout system. Below is a screenshot of the Swiss America Website home page displaying current metal spot prices and weekly charts.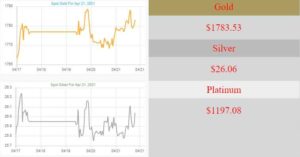 Also found on their website are knowledge base materials and current market news to enlighten you on both the opportunities and risks offered by precious metals investments. Swiss America also has an awesome Youtube Channel where they offer tutorials on precious metals.
Swiss America Prices
Now that you know the kind of products on offer, you might also want to know what those products will cost you. Well, while gathering data for this Swiss America review, we discovered that this company has no specific prices or fees. The cost you will incur will largely depend on the type of investment you choose, as well as the current market prices of metals.
Click Here To See Our Top Precious Metals Dealer in 2023
Swiss America Customer Support
The company claims to offer top-notch customer support and promises to correct any mistakes as soon as they occur. However, upon sampling online customer reviews and ratings, their overall customer support rating is 3.0, which is fair, but not the best. The reason for a low customer service rating might be due to the absence of a live chat feature on their website, which greatly impairs communication with clients. You can visit this page to see our top-rated precious metals firm with an overall rating of 5/5.
Customer Ratings and Reviews
Let's now move on to the customer ratings and reviews to find out how Swiss America Corporation compares to other precious metals firms.
We've compiled reviews from various online consumer protection directories and realized that this company has both positive and negative reviews. Like any company, Swiss America has its fair share of complaints. Most of the negative reviews decry rudeness and unreliability of certain customer support individuals within the firm. Here is an excerpt of such a complaint from the Yelp reviews platform:
I have been using Swiss America for 10 years. My mom used them for years. Her broker was Tom, who we were lucky enough to get too. We loved Tom. He was always so informative, took whatever time we needed, even took my husband and I to lunch when we were in town for work. Then he retired. Since then I feel like their customer service has gone down hill, and our new broker does not seem as interested in his job, or his clients, or whatever, but he lacks professionalism in my opinion.
I have called Swiss America 4-5 times over the last few weeks with no return call. I am wanting to buy, but I'll tell ya this makes me nervous to continue business with them. Tom ALWAYS got back with us within 24 hours. 14 days now and nothing. Makes me worry maybe business is suffering?? Maybe I'll try some other places?
Below is another negative review from the same platform, indicating the possibility of a fraud scheme within the company:
They're fine until you want to trade in your gold, then they try to keep the gold and the money. The rep Dustin Anderson forgot everything he said when I initially invested. He became a different person. He wanted to give me the price for the coins and not the numismatic value. The difference is around $1,000 per coin. Does Swiss America think I'm going to allow them to keep 40-50% of the value per coin? Apparently so.
Very disappointed in Swiss America. Reflects badly on Michael Savage too because he promotes them.
Despite the negative reviews, we also noted several positive reviews about the company. While no company can achieve a perfect rating, the nature of complaints and negative reviews helps us to determine whether a company is reputable or not. From the negative reviews, it's evident that Swiss America Corporation had the best customer support in the past, but this is not currently the case. The table below summarizes the reviews and ratings of Swiss America on online directories such as the Better Business Bureau, Business Consumer Alliance and others.
Pros
They have awesome educational materials to get you started
The have a wide range of precious metals to choose from
The offer a buyback program
Many years in business means a lot of experience on matters precious metals
Cons
No live chat support
Lack of sufficient reviews and ratings to determine their credibility
Several customer complaints
Is Swiss America a Scam?
No, Swiss America is not a scam. It is a legit company founded over 30 years ago and is accredited by the Better Business Bureau.
Conclusion
In this review, we've noted that Swiss America is one of the oldest precious metals companies in the industry. This company was started with only $50 yet it has grown to be a million dollar company, offering numerous high quality gold, silver, platinum and palladium coin products.
While it is known for great customer support, recent reviews reveal a downhill trend in regards to their customer service. It appears that the once professional and reliable support staff have retired and the new staff are extremely unreliable. However, it's worth mentioning that the company still has satisfied clients as revealed by higher ratings on the BBB. You can check out our top-rated precious metals company on this page.