Do you wish to sell CT Gold and Silver your precious metals or other valuable items? Is it a reputable business or a scam? Learn the facts by reading our CT Gold and Silver reviews.
What Is CT Gold and Silver?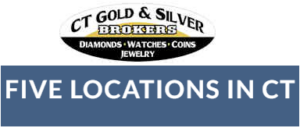 CT Gold and Silver, also known as CT Gold and Silver Brokers, is a Connecticut-based buyer of gold, silver, and diamonds with headquarters in New Milford. The company operates through both its website and physical location. CT Gold and Silver is a business with additional locations in Greenwich, Wilton, Monroe, and Washington Depot, Connecticut.
CT Gold and Silver Products
According to the official website, CT Gold and Silver is only a buyer and does not sell any products. They guarantee top dollar for gold and silver bullion, rare coins, diamonds, designer jewelry, watches, sports memorabilia, comic books, and trading cards, among other items. The company's website features a news section with the most recent precious metals trading news and market trends, as well as a frequently asked questions section to assist new sellers.
Do They Offer Gold or Silver IRAs?
No, CT Gold and Silver is not qualified to offer precious metals IRAs because it is not a precious metals IRA company. If you want to open a gold or silver IRA, we highly recommend this company.
Company Info
Location:
New Milford, Connecticut
Address:
441 Danbury Rd
New Milford, CT 06776-4359
Year Founded:
2005
Management:
Ms. Donna Dillulio, President
Website:
www.ctgoldandsilver.com/
Rating:
3/5
How Does It Work?
Despite its online presence, CT Gold and Silver only conducts appraisals in its physical stores. You must bring your items to their location, where they will be evaluated in a few minutes while you wait, and an offer will be made immediately. However, designer items will require additional time for evaluation.
Pros of CT Gold and Silver
Almost Two Decades of Experience
Due to their nearly two decades of expertise in the precious metals and jewelry industry, they possess a wealth of knowledge in these fields.
Professional Numismatists
CT Gold and Silver employs numismatists to appraise your items and provide the most competitive prices feasible.
The company expedites the selling process by offering multiple stores and a large number of professional numismatists, making it extremely simple to sell your items to them.
Since 2011, CT Gold and Silver has been accredited by the Better Business Bureau, proving its legitimacy.
Cons of CT Gold and Silver
Absence of Significant Reviews Online
Despite an outstanding BBB rating, the company lacks consumer reviews and ratings on numerous online review sites.
Accreditation, Customer Reviews & Ratings

CT Gold and Silver has a 5/5 stars rating on the BBB based on a single client review. Currently, the firm has 0 customer complaints on the BBB platform. On Yelp, CT Gold and Silver boasts a 2 out of 5 stars rating based on 4 customer reviews. They have no reviews or ratings on Trustpilot, Trustlink, or Business Consumer Alliance.
Is CT Gold and Silver Legit or a Scam?
CT Gold and Silver has been in business for nearly two decades, proving that it is not a scam. In addition, they have multiple physical locations and BBB accreditation, which lends them credibility.
CT Gold and Silver Reviews Conclusion
CT Gold and Silver is a purchaser of gold, silver, watches, diamonds, and numerous other valuables. The company was founded in 2005 and now has four additional store locations. If you are seeking to sell your items, the company guarantees a seamless transaction process and excellent prices.
In our opinion, the only disadvantage of CT Gold and Silver is the lack of substantial online reviews and evaluations on numerous online directories, making it difficult to determine the firm's service quality.
Do you wish to establish a precious metals IRA? Discover Our Top-Rated Firm Now>