What is The Happy Coin? Is it a legit precious metals or scam? If you are thinking of buying from The Happy Coin, you first need to read this detailed review to learn about their products, customer reviews, ratings and complaints. By so doing, you will be in a position to make an informed buying decision.
What Is The Happy Coin?

The Happy Coin is a Connecticut based rare coin and precious metals dealer founded by Chris Moran. The company boasts a large inventory of bullion, rare coins and currency. The Happy Coin is also a top buyer and appraiser of foreign and US coins, bullion and currency. Currently, they have membership with the Professional Numismatics Guild, The Industry Council for Tangible Assets and American Numismatic Association. Besides, they are authorized dealers of NGC, PCGS and CAC, and are therefore in a position to certify your rare coins.
The Happy Coin Review Summary
Location:
Greenwich, Connecticut
Address:
418 E Putnam Ave Suite 1, Cos Cob, CT 06807, United States
Year Founded:
2009
Management:
Chris Moran (Owner)
Website:
www.thehappycoin.com/
Rating:
[usr 3]
Here Is Our #1 Rated Precious Metals Company!
The Happy Coin Products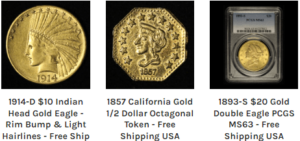 The Happy Coin sells a wide range of products at their rare coin gallery located at 418 E. Putnam Ave in Cos Cob. Also, they've set up an eBay store to reach more global customers. They offer rare gold, silver and copper coins, along with gold and silver American eagles. During our research, we also discovered that they have a huge selection of the Perth Mint and Royal Canadian Mint products in stock.
Apart from selling metals, The Happy Coin has a buyback program whereby they promise to pay the highest prices possible. They buy gold jewelry, platinum jewelry, silver jewelry, fine watches and much more. You can learn more about their products here.
Does The Happy Coin Offer Precious Metal IRAs?
No, they do not offer IRAs. Our #1 recommended precious metals IRA provider is Augusta Precious Metals.
How to Buy From The Happy Coin
One way to get started purchasing from The Happy Coin is through their online platforms. Though they have a products catalog, The Happy Coin does not allow you to order from their official website as they have no ordering system in place. Instead, you will be redirected to EBay to complete your purchase. If you do not like to order online, you can visit their storefront in Connecticut for a one-on-one deal.
Pros of The Happy Coin
Great Selection of Products
They boast a wide range of products including gold, silver, platinum, palladium and copper, as well as commemoratives and world coins.
The Happy Coin is NGC, PCGS and CAC authorized and is also a member of several organizations including the American Numismatic Association.
A buyback program is offered, through which you can sell your jewelry, fine watches and other assets to the company.
Cons of The Happy Coin
The Happy Coin is not accredited with the Better Business Bureau. Moreover, they lack reviews on various online platforms.
Precious Metals IRAs Are Not Offered
While many people are looking to open precious metals IRAs, The Happy Coin is far from offering such services on their website as there's no mention of them. If you are pondering about opening a precious metals IRA, we recommend Augusta Precious Metals, Our #1 Rated Gold & Silver IRA Company.
Complaints & Ratings
The Happy Coin has no ratings, reviews, complaints or accreditation from the BBB. The firm boasts a 4/5 stars rating on Yelp based on 4 customer reviews, and lacks reviews, ratings or complaints on the Business Consumer Alliance, Trustlink and Trustpilot.
Is The Happy Coin Legit or Scam?
Is The Happy Coin legit? Yes, The Happy Coin is a legit company, not a scam.  THC has a valid address and have been in business for a long time.
The Happy Coin Reviews- Summary
The Happy Coin is a coin dealer located in Connecticut. The company offers high quality precious metals, rare coins and currency. Also, they buy a wide range of jewelry and fine watches. The main downside of this company is their lack of customer reviews and BBB accreditation.