Do you ever stop and think how your life would be if you were able to invest and gain massive returns within a short span of time? Well, in this  Capitalist Exploits review, we look at a service offered by Chris MacIntosh, a revered stocks trading expert and the current manager of Capitalist Exploits.
Attention: before you read the rest of this article, click here to submit your email address and access free stock trading tips.
What Is Capitalist Exploits?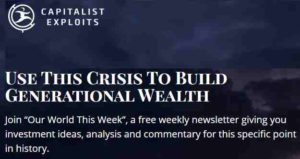 Capitalist Exploits is an investment advice program offered by a group of financial analysts, fund managers and expert investors. Headed by Chris McIntosh, the group offers a subscription-based service that promises to furnish you with expert trade ideas and alerts that will see you profit immensely and change your life forever.
Chris and is team of experts at Capitalist exploits have been working their tails off for many years with the aim of changing lives through their valued investment advice and ideas. To achieve this, the experts explore the global markets to find asymmetric trading opportunities with up to 600% return on investment potential.
Click here to sign up for FREE and get access
Capitalist Exploits Products and Services
Capitalist Exploits' findings, analytics and ideas are offered through the following 3 methods:
The CAPEX Insider
The Capitalist Exploits Insider is the main service offered by the company and goes for $1999 per year. With this service, you get weekly trade alerts, massive investment opportunities and other tips and tricks to help you gain massively from private placement deals and opportunities. With this resource, you also gain unlimited access to a members-only forum where you get to interact with other investors and share ideas. Learn More…
Resource Insider
This one is a recently launched service by Capitalist Exploits and goes for $3499 per annum. The Resource Insider is managed by Jamie Keech who is also an expert investor and co-founder of Capitalistexploits.at. Despite the hefty fee charged for this service, many investors prefer it over other similar services due to the many investment opportunities it offers, as well as the one on one mentoring you get from the gurus themselves. With the Resource Insider, you also benefit from step by step investing instructions from Jamie and team, which ensures that you are doing it correctly.
The Blog
The Capitalist Exploits blog offers free market analysis data, and general stock trading advice. The free offers on blog offer general information and does not present deep insight and opportunities like the Insiders. Thus, you need to part with money to get valuable information from these gurus through either their yearly Resource Insider or the weekly newsletter. Click the link below to Sign Up and get access as soon as possible.
Sign Up With Capitalist Exploits Now!
What Is Capitalist Exploits' Main Investment Niche?
Capitalist Exploits' primary investment niches are the energy and mining sectors. However, they recently added agriculture and several other niches hence they now have more opportunities than before. With the numerous investing opportunities and expert advice from Chris and his team, you are saved from the hardship of conducting research and technical analysis yourself. Once you are a subscribed member, you gain direct and unlimited access to highly-researched, low-risk investment opportunities.
How To Invest With Capitalist Exploits
Capitalist Exploits does not offer a trading platform or software that trades on your behalf. Therefore, for you to invest with them and maximize their asymmetric trading opportunities, you need to open a broker account. While you can use any broker of your choice, Capitalist Exploit's experts prefer global market brokers such as Interactive Brokers. As we've mention above, Capitalist Exploits will score the global market for low risk opportunities with high returns. All you have to do is open a broker account, subscribe to their insider and start enjoying massive investment returns.
People Behind Capitalist Exploits
Capitalist Exploits was founded by its current managers, Chris MacIntosh and Jamie Keech. Being experienced fund managers and investors, the two play a pivotal role in the success of the company. They have built a reputation and brand and have a huge following online. Not only do the Capitalist Exploit managers offer advice and ideas to investors, they also take action on those ideas by investing alongside their mentees. Thus it will be easy for you to 60X your capital like them by simply watching how they do it.
Is Capitalist Exploits a Scam or Legit Service?
While gathering data for this review, we've determined that Capitalist Exploits has real owners who have never been accused of fraud. They also have numerous happy clients as shown by online testimonials and reviews. Thus, Capitalist Exploits is a legitimate company and not a scam.
How To Get Capitalist Exploits Investment Insights
To get Capitalist Exploits investment insights, you first need to Sign Up For Free Here. This way, you get weekly or monthly emails with general trading information and news. You may also want to subscribe to their premium Insiders to get real advice and ideas that will take your investment to greater heights. Besides, you can also find general information on their blog, but this will not get you down to the nitty-gritty of asymmetric risk/ reward opportunities.
Click Here To Sign Up For Capitalist Exploits FREE Newsletter
Capitalist Exploits Reviews

Capitalist Exploits is rated "excellent" on Trustpilot from 123 customer reviews, and is awarded a stunning 4.8/5 rating by the platform. All reviews on the platform are positive, no complaints like in the case of other investment companies. This clearly shows that Chris and his team are actually offering an incredible service.
Should You Trust Capitalist Exploits?
Why not? As we've seen, Capitalist Exploits is one of the best companies and you stand to gain immense benefits by joining their insider. They have the highest rating on Trustpilot and boast the most experienced managers in the industry.
Pros & Cons
This Capitalist Exploits review would be incomplete without the mention of pros and cons. While Capitalist Exploits is known to offer pure gold, it does have its fair share of cons as discussed below.
Pros
They offer an unconditional 30-day money back guarantee, something rarely offered by similar companies. This will enable you to reclaim your subscription fee should you feel like their service is not worth your time and money.
They select investments with huge returns. According to Capitalist Exploits website you can expect 6X to 10X return on your capital by following their advice.
Their monthly webinars as well as weekly newsletters keep you motivated
You get direct one on one mentorship from financial managers/successful investors like Chris McIntosh and Jamie Keech.
Free valuable insights on their blog
Availability of a members-only forum to help you and other investors hold meaningful discussions and share ideas.
Cons
Hefty subscription fees that must be paid up front.
They do not offer free trial hence no opportunity to test their service before committing.
Lack of live chat feature on their website means contacting Capitalist Exploits support can be a little difficult.
Related: Palm Beach Research Group Reviews
Capitalist Exploits Review- Summary
Thank you for reading our Capitalist Exploits review. We've noted that Capitalist Exploits is an investment advice company run by Chris McIntosh and Jamie Keech. The company has managed to mentor thousands of newbie investors and guide them to excellence. By subscribing to their newsletters, you get a chance to learn from the most experienced fund managers and investors. You could easily 10X your returns simply by following their advice and implementing their ideas. The main downside of this company is the lack of a trial period, but the numerous positive customer reviews and ratings on online platforms is enough prove that Capitalist Exploits offer exceptional services.