What is Agora Financial? A scam or legitimate company? What products or services do they offer?  Are there any customer complaints against them?
Well, this detailed review of Agora Financial will answer all your questions.
What Is Agora Financial?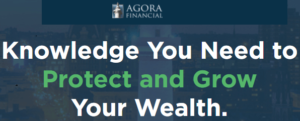 Agora Financial is a Baltimore-based publications firm that claims to offer investors independent economic commentary and education through various print and online media. Essentially, Agora Financial offers subscription programs whereby you get access to publications and newsletters upon making payment. With their publications and a panel of expert analysts, Agora Financial promises to furnish you with invaluable information that will enable you to protect and enhance your wealth.
Company Info
Location:
Baltimore, Maryland
Address:
808 Saint Paul St
Baltimore, MD 21202-2406
Year Founded:
1979
Management:
Bill Boner (Founder), Addison Wiggin (Executive publisher)
Website:
www.agorafinancial.com
Overall Rating:
[usr 1] Not Recommended
Click here to learn about our #1 recommended alternative with better ratings
Agora Financial Lawsuit
In a recent lawsuit, Agora Financial was sued by the FTC for tricking seniors into investing in their get-rich-quick schemes as well as selling them overpriced newsletters. The firm was also accused of falsely promising the seniors a cure for type 2 diabetes and slapped with a $2 million fine to settle the charges.
Agora Financial Complaints

While Agora Financial has stood the test of time and gained considerable trust from investors, their recent marketing and sales tactics have landed them in trouble for misleading consumers. For instance, their 'secret loopholes' that promise an insane ROI and instant riches has left many investors disappointed after losing their hard-earned money through the risky game of trading.
Now, let's have a quick look at the reviews and complaints on select independent review websites.
Agora Financial BBB [usr 1]


Puzzlingly, Agora Financial LLC is not accredited with the BBB. However the company is rated 1/5 on the platform based on 12 customer reviews and staggering 162 customer complaints. Most of the complainants decry dishonest sales tactics including email spamming and sneaky auto renewals.
Agora Financial Trustpilot [usr 2.4]

On Trustpilot, Agora Financial has a rating of 2.4 out of 5 stars based on 72 customer reviews and complaints.
Agora Financial Yelp [usr 1.5]
The company is rated 1.5 out of 5 stars on Yelp.com, based on 15 reviews and complaints.
Agora Financial Trustlink
They have no reviews, ratings or complaints on Trustlink.
Agora Financial BCA
They have no reviews or ratings on the Business Consumer Alliance.
How It Works
Agora Financial primarily offers subscription based services, and they can be purchased either by calling them directly or through their official website. For online purchases, you first need to create an account and then log in to view available subscriptions. Usually, they have a subscribe link which you can click to purchase and gain instant access to their products.
Agora Financial Products
Agora Financial's service packages include eBooks, reports, monthly newsletters and printed issues. These packages are organized into 3 categories namely Gold, Silver and Platinum. The Gold package goes for $89 while the Silver and Platinum packages go for $49 and $79 respectively.
Advantages of Choosing Agora Financial
They Offer Regular Insightful Publications
Their monthly newsletters and publications contain insightful information to help you unearth profitable investment opportunities and secure your financial freedom.
They Boast a Team of Experienced Financial Analysts
They've employed top financial analysts and experts who conduct intensive market research to find latest trends and compile useful publications.
It has Stood the Test of Time
Agora F. has been in business for over 40 years hence they are a company you can trust. However, keep note that trading is a risky undertaking and you need to be extra careful. Agora Financial will only provide you with insightful analysis and information but will never invest on your behalf.
Disadvantages of Choosing Agora Financial
Agora Financial has a bad reputation on every third party consumer protection website we reviewed. For example, they are not accredited with the BBB, and have more complaints than reviews on the platform. They also have poor reviews and ratings on Yelp, Trustpilot and many other review websites.
Agora Financial was recently sued by the FTC for engaging in deceptive and unfair practices. The company has also been adversely condemned for employing deceptive marketing tactics including email spamming and dubious subscriptions and auto renewals, mostly targeting seniors.
Click here to see our top-rated alternative with excellent ratings and a better reputation
Should You Invest In Agora Financial?
Of course, the decision on whether to invest with them or not is for you to make. But our opinion about Agora Financial is that they are currently not the best publication company owing to their deceptive marketing approach and numerous complaints. Our top-recommended alternative is Capitalist Exploits, which has got excellent customer reviews and nearly zero complaints on online platforms. Click the link below to read about Capitalist Exploits.
Click here to read about Capitalist Exploits
Is Agora Financial Legitimate?
Agora Financial is definitely a legitimate company, owing to their long history and expert publications. However, widespread marketing malpractices and dubious subscriptions have seen Agora Financial branded an outright scam.
Conclusion
Agora Financial is one of the leading publications companies based in Baltimore, Maryland. The company boasts over 40 years in business and are known to offer invaluable analysis, education and independent economic commentary, thanks to their panel of accomplished financial analysts.
But the company's reputation is currently marred with customer complaints, poor ratings and lawsuits because of their aggressive and deceptive marketing practices. For instance, the firm lacks a BBB accreditation and their overall rating is extremely poor.