Agora Financial: What is it? A trustworthy business or a fraud? Which goods and services do they provide? Do they face any complaints from clients?
All of your inquiries about Agora Financial will be addressed in this thorough review.
What Is Agora Financial?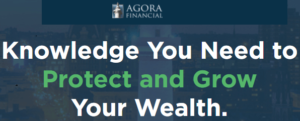 Agora Financial is a Baltimore-based publications firm that provides impartial economic analysis and education to investors through a variety of print and web media. Basically, Agora Finance offers subscription plans that allow you to pay for access to articles and newsletters. Agora Financial promises to provide you with vital information that will assist you to safeguard and grow your wealth through their publications and a team of knowledgeable analysts.
Company Info
Location:
Baltimore, Maryland
Address:
808 Saint Paul St
Baltimore, MD 21202-2406
Year Founded:
1979
Management:
Bill Boner (Founder), Addison Wiggin (Executive publisher)
Website:
www.agorafinancial.com
Overall Rating:
[usr 1] Not Recommended
Click here to learn about our #1 recommended alternative with better ratings
Agora Financial Lawsuit
The FTC recently filed a lawsuit against Agora Financial for deceiving seniors into participating in their get-rich-quick scams and for selling them exorbitantly priced newsletters. The company was also charged with misleading seniors about a type 2 diabetes cure and fined $2 million to resolve the allegations.
Agora Financial Complaints

Agora Financial has endured and won the trust of investors, but current marketing and sales strategies have put them in hot water for deceiving customers. For instance, many investors have been let down by their "secret loopholes" after losing their hard-earned money in the perilous game of trading and promising an amazing Return and rapid profits.
Let's now quickly analyze the reviews and complaints posted on a few reputable independent review websites.
Agora Financial BBB 


Strangely, Agora Financial LLC is not BBB-accredited. On the site, the business is rated 1/5 based on 4 customer reviews and 60 customer complaints made in the previous 4 years. The majority of complainants criticize dishonest sales practices including covert auto-renewals and email spamming.
Agora Financial Trustpilot 

Based on 74 customer reviews and complaints, Agora Financial has a Trustpilot rating of 1.9 out of 5 stars.
Agora Financial Yelp 
Based on 15 customer reviews and complaints, Yelp.com users have given the business a rating of 1.5 out of 5.
Agora Financial Trustlink
On TrustLink, they have no reviews, ratings, or complaints.
Agora Financial BCA
They have no reviews or ratings on the Business Consumer Alliance.
How It Works
The majority of the services Agora Financial provides are subscription-based, and you can either get them by phoning them directly or by visiting their official website. You must first establish an account before you can access the subscriptions that are available for purchase online. Often, you can buy their products and get immediate access to them by clicking a subscribe link that they provide on their website.
Agora Financial Products & Services
The service packages offered by Agora Financial include printed issues, reports, monthly newsletters, and eBooks. These packages are divided into the Gold, Silver, and Platinum categories. The price of the Gold package is $89, while the prices for the Silver and Platinum packages are $49 and $79, respectively.
Advantages of Choosing Agora Financial
They Offer Regular Insightful Publications
They provide insightful information in their monthly newsletters and publications to assist you in locating profitable investment possibilities and securing your financial independence.
They Boast a Team of Experienced Financial Analysts
They've hired top financial analysts and specialists who thoroughly investigate the market to identify the most recent trends and put together helpful publications.
It has Stood the Test of Time
As Agora Financial has been in operation for more than 40 years, you can trust them. But, keep in mind that trading is a risky endeavor, so you should use extra caution. Agora Financial will never make investments on your behalf and will only offer you analytical analyses and information.
Disadvantages of Choosing Agora Financial
Every independent website we checked for consumer protection has a negative evaluation of Agora Financial. For instance, they don't have a BBB accreditation and have more user complaints than ratings. Also, they have unfavorable ratings and reviews on Trustpilot, Yelp, and numerous other review websites.
The FTC recently filed a lawsuit against Agora Financial for engaging in unfair and deceptive business practices. The business has also received negative criticism for using deceptive marketing strategies, primarily aimed at seniors, such as email spamming, shady subscriptions, and auto-renewals.
Click here to see our top-rated alternative with excellent ratings and a better reputation
Should You Invest In Agora Financial?
Of course, it is up to you to decide whether or not to invest with them. But, in our opinion, Agora Financial is currently not the finest publishing house due to its misleading marketing strategy and numerous complaints. Capitalist Exploits, which has fantastic customer reviews and almost no complaints online, is our top-recommended substitute. To learn more about Capitalist Exploits, click the link below.
Click here to read about Capitalist Exploits
Is Agora Financial Legitimate?
A genuine business, Agora Financial has a lengthy history and has been published in reputable journals. Nonetheless, Agora Financial has been dubbed an outright fraud due to massive marketing malpractices and questionable subscriptions.
Conclusion
Agora Financial is one of the leading publishing companies based in Baltimore, Maryland. Thanks to its team of competent financial analysts, the company has been in operation for over 40 years and is renowned for providing vital research, education, and independent economic commentary.
However, as a result of its aggressive and dishonest marketing techniques, the company's reputation is currently tarnished by client complaints, subpar reviews, and legal actions.