Are you interested in buying coins or bullion from Seattle Coin Shop? Is it legitimate or a fraudulent scheme designed to steal your money? In our 2023 Seattle Coin Shop reviews, we'll examine the company's customer feedback, accreditation, customer service, prices, and alternatives, among other aspects. Find out if this precious metals company is the best fit for your investment needs.
What Is Seattle Coin Shop?

Seattle Coin Shop is a full-service coin and bullion dealer based in Seattle, Washington. The company was founded in 1943, and its current proprietor, John Drummey, acquired it in 1995. Mr. Drummey was born in Seattle and has been a numismatist professionally since 1984, according to the company's website. In addition, he is an authorized dealer for both the Numismatic Guaranty Corporation and the Professional Coin Grading Service and a member of both the American Numismatic Association and the Pacific Northwest Numismatic Association. Seattle Coin Shop is renowned for its excellent reputation and low prices. Continue reading this Seattle Coin Shop review for more information.
Are Precious Metals IRAs Offered?
Although Seattle Coin Shop sells IRA-approved bullion, it does not presently offer IRA services. Their website makes no mention of precious metals IRAs or any partnerships with third-party precious metals IRA providers. If you are interested in setting up a precious metals IRA, you can view our recommended gold and silver IRA providers here.
Seattle Coin Shop Review Summary
Location:
Seattle, Washington
Address:
7509 35th Ave NE
Seattle, WA 98115-4810
Year Founded:
1943
Management:
Mr. John Drummey, Owner
Website:
www.seattlecoinshop.com/
Rating:
3/5
Seattle Coin Shop Products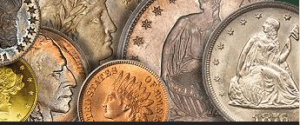 The Seattle Coin Shop buys and sells a wide variety of U.S. and foreign coins, specializing in gold and silver. They deal in highly liquid bullion products including American Gold Eagles, Canadian Gold Maple Leafs, South African Gold Krugerrands, and gold bars of various sizes and weights. In addition, they have an extensive selection of both certified and uncertified coins, the majority of which are pre-1933 coins.
Their silver offerings include American Silver Eagles, Silver Canadian Maple Leafs, silver rounds, silver bars, and junk silver. In addition, Seattle Coin Shop stocks PCGS and NGC-certified collector coins, including silver dollars. In addition to retailing products, this business also purchases old gold jewelry, sterling silver flatware, and hollowware.
How Does It Work?
Although Seattle Coin Shop has an online presence, you cannot purchase its products through its website because there is no product catalog or purchasing cart available. Consequently, the sole purpose of their website is to provide information about the company's history and current operations. To inquire about product availability, you must contact them by phone or through their contact form. You can submit orders over the phone or in person at their store.
Advantages of Seattle Coin Shop
An Extensive Selection of Bullion and Rare Coins
They offer an extensive variety of IRA-eligible bullion and rare coins. Their vast assortment of products serves collectors and all types of investors.
John Drummey, the current owner of the company, is an expert numismatist with nearly four decades of experience.  Consequently, he is a PCGS and NGC-authorized coin and bullion dealer and has led the business to greater heights.
Since 1943, Seattle Coin Shop has been in operation, a staggering eight decades. The company has withstood the test of time, which demonstrates that it is not only well-managed but also provides superior products and customer service.
Disadvantages of Seattle Coin Shop
Their website is obsolete and contains very little content. There is no product catalog from which to observe the prices of available products. In addition, there is a lack of information regarding shipping costs and other pertinent details, making it difficult to make an informed investment decision. Calling the company for assistance is not only time-consuming but also cumbersome.
Lacks Reviews and Ratings
Seattle Coin Shop lacks online customer reviews on numerous review websites, including the Better Business Bureau, despite operating for eight decades. We anticipated that such an established business would have thousands of client testimonials.
Not Accredited By the BBB
The absence of BBB accreditation is a red flag. The Better Business Bureau accredits the vast majority of reputable businesses, but Seattle Coin Shop, for reasons unknown to us, lacks accreditation. Typically, we recommend seeking out a BBB-accredited business to reduce the likelihood of becoming a victim of fraud.
Despite the growing demand for precious metals IRAs, Seattle Coin Shop does not offer them. They do sell IRA-approved bullion, but they do not have a partnership with an IRA custodian to facilitate the opening of precious metal IRAs. If you want to open a gold or silver IRA, you can peruse this page for our top-rated companies.
Accreditation, Client Reviews, and Ratings

This section analyzes Seattle Coin Shop reviews from reputable online directories. Although Seattle Coin Shop has been operating for many years, there are not many online reviews of the business. For example, they only appear on Yelp, where they have a 3.5-star rating based on 17 customer reviews and ratings. They are neither accredited nor rated by the Better Business Bureau, nor do they have any reviews or ratings on Trustpilot, Trustlink, Business Consumer Alliance, and numerous other reputable review sites.
Frequently Asked Questions
Is Seattle Coin Shop Legitimate or a Scam?
As one of the earliest precious metals businesses in the United States, Seattle Coin Shop is unquestionably one of the most reputable businesses. In addition, they are PGGS and NGC-approved, which adds to their legitimacy.
Does Seattle Coin Shop Provide Storage Services?
Their website makes no mention of storage services, leading us to conclude that they do not offer such services at this time. You may need to locate your own safe deposit box to store your valuables.
Can You Sell to Seattle Coin Shop?
Yes, Seattle Coin Shop's website indicates that they buy old gold jewelry, sterling silver flatware, and hollowware.
Alternatives to Seattle Coin Shop
Seattle Coin Shop Reviews Conclusion
Seattle Coin Shop, founded in 1943 and located in Seattle, Washington, is a coin and bullion dealer. Since acquiring the company in 1995, the current owner, John Drummey, has maintained the company's high standards and expanded its client base through the provision of superior products and services. They offer an extensive selection of IRA-eligible bullion in addition to rare coins.
Negatively, Seattle Coin Shop's website is out of date and lacks vital information, such as a product catalog, pricing information, and shipping costs. In addition, they lack BBB accreditation and reviews on the vast majority of consumer protection websites.
Do you wish to establish a gold or silver IRA? Seattle Coin Shop does not offer precious metals IRA services at this time. Learn more about our top-rated gold and silver IRA Company by clicking here.