Should you put your faith in Andrew Zatlin's financial predicting abilities? Are his tactics capable of safeguarding and growing your wealth in these difficult economic times? Let's get all the information in this comprehensive Andrew Zatlin review.
Who Is Andrew Zatlin?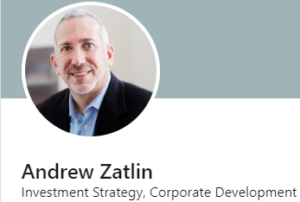 Andrew Zatlin is an economist and Moneyball Economics advocate. He is an excellent economist who began his career as a Research Fellow at the Kyoto University Economic Research Institute, where he mostly focused on consumer trends. He also earned his MBA in 1992 from the University of California, Berkeley.
With top-tier training and a wealth of business expertise, Zatlin also worked in Silicon Valley, where he held top management roles in large corporations such as NEC Electronics and Cisco.
Now that you know who Andrew Zatlin is, let's see if you can trust his financial forecasting tactics. Is it worthwhile to subscribe to his investment newsletter? Is Zatlin's objective to assist you or to separate you from your hard-earned money?
Are you seeking the greatest source for weekly stock picks? Here is our #1 recommended program.
Sector Alpha, Andrew Zatlin's Popular Investment Newsletter
Is Sector Alpha, Andrew Zatlin's investment newsletter, legitimate or a scam? In this review, we'll look at this investment service to see if it can, as Zatlin says, help you uncover the hottest sectors to invest in every month. In addition, we'll discuss the benefits and drawbacks of acquiring Sector Alpha to help you make an informed investment decision.
What Is Sector Alpha?
Sector Alpha is an investment newsletter that concentrates its analysis on areas with enormous upside potential. Sector Alpha will provide you with recommended ETFs to trade in each month. Despite its claim to make individuals wealthy, most online reviews we found during our study painted this newsletter in a bad light. Andrew and his crew, for example, have been accused of delivering deceptive and pushy sales presentations, as well as overhyping returns, in order to entice you to purchase their service.
How Does Sector Alpha Work?
Sector Alpha functions similarly to any other investment newsletter and provides the three subscription options listed below.
This option grants you access to the monthly newsletter, which provides market information as well as recommendations on the best ETFs and stocks to invest in.
The Model Portfolio gives you access to all of Andrew Zatlin's recommended stocks, as well as their purchase prices.
The Special Report is intended to help you invest in and profit from the digital economy.
Are you looking for stocks with a high return? I've reviewed over 30 stock-picking newsletters. Learn more about my top choice by clicking here.
Sector Alpha Cost
The first year of this investing newsletter will cost you $149. Following that, the price will be raised to $199 per year. Keep in mind, however, that Andrew and his staff are known for aggressive sales practices and costly upsells. As a result, you may find yourself parting with massive sums of money in the long term.
Pros of Sector Alpha
Offered by a trained economist
Cons of Sector Alpha
Misleading sales presentations and bogus claims
Exorbitant upsells
Since it is new to the market, there are no meaningful customer reviews or ratings.
Accreditation and Customer Reviews
As previously said, because it is a new entrant in the stock picks market, this newsletter lacks accreditation, customer reviews, and ratings on practically every online site.
Is there a Better Option?
Yes, Capitalist Exploits, our top-recommended investing newsletter, is a better choice with the highest customer reviews and on practically every consumer protection website. Despite its high price, Capitalist Exploits is offered by experts who have never been accused of exploiting their customers through aggressive marketing and costly upsells. Learn more about Capitalist Exploits by clicking here.
Andrew Zatlin Reviews- Summary
Thank you for taking the time to read our Andrew Zatlin reviews. Andrew Zatlin is a well-educated economist with extensive commercial expertise. He is most well-known for his exceptional financial predicting abilities.
In this review, we concentrated on one of his primary offerings, the Sector Alpha Investing Newsletter. Though it is significantly less expensive than comparable newsletters, its owners, led by Zatlin himself, have been accused of making deceptive sales presentations in order to persuade more people to sign up for their offers. Furthermore, Sector Alpha has been accused of defrauding clients through costly upsells.
Looking for the best investment newsletter? Here is our top recommendation for 2023.