Are you a potential investor interested in purchasing gold or silver coins on Wish? Are there fake coins on Wish.com, or do competitors simply wish to malign them? If you are new to Wish, please read this article thoroughly to avoid trouble.
Buying Off Of Wish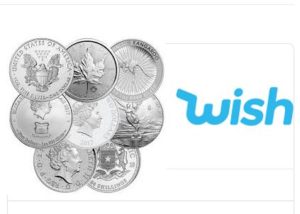 When buying silver coins for investment, most people are lured onto Wish.com's platform by low-priced silver coins that appear to be real but are NOT. This is extremely dangerous and can not only make you lose your hard-earned money, but you could end up serving a jail term as well.
The question you need to ask yourself is this: Why do they sell at a fraction of the regular price? What kind of magic or sorcery are they using here? Imagine a $25 American Silver Eagle coin retailing at $10 or even $2.
Unfortunately, most people turn a blind eye to this huge red flag. It is well known that fake silver and gold coins exist on Wish, and many people have been ripped off. Some have even been prosecuted for buying counterfeit coins on the platform.
Now, let's find out why Wish sells fake coins.
Why Wish Allows Fake Coins on their Platform
We've conducted extensive research to establish why Wish.com knowingly allows counterfeits on its platform. They continue to do this despite being aware that US laws do not allow forging and counterfeiting of bullion bars and coins. As a matter of fact, the Department of Homeland Security has clearly stated that anybody who counterfeits coins or bars with the intention to defraud is liable to a fine or imprisonment.
Sadly, Wish.com continues to perpetrate this offense without hindrance. We later discovered that they stock those fake coins and sell them to scammers who later resell them to unsuspecting investors on eBay, Craiglist, and AliExpress.
Are Gold and Silver IRAs Offered on Wish?
Wish.com does not offer Gold or Silver IRAs. You can learn about our top recommendations for Gold and silver IRAs on this page.
Why It Is Illegal to Buy Fake Coins on Wish
You may believe that you are not violating the law by purchasing fake coins from Wish.com, but the truth is that you are just as liable as they are. The Department of Home Security is crystal clear regarding the penalties associated with the purchase of counterfeit goods, and they state that the purchase of counterfeit goods supports criminal activity. Thus, by purchasing fake silver or gold coins from Wish, you are aiding and abetting their criminal activities, and you yourself are a criminal.
What Is the Better Alternative to Wish.com?
The safest way to purchase silver or gold bars and coins is through a reputable precious metals company. To learn more about the safest ways to invest in silver or gold, you need to request a copy of our Free Precious Metals Investing Guide Found Here. We'll ship it to your door free of charge.
Are Coins On Wish Real?
There may be a few real coins on Wish, but it is evident that more than 90 percent of their inventory consists of fake coins.
Fake Coins on Wish Summary
Fake coins on Wish are a matter of concern in the precious metals industry. And for you, the investor, understanding the consequences of engaging with con artists on Wish.com will not only prevent you from losing your hard-earned money, but it will also prevent you from breaking the law and receiving a fine or prison sentence.
In summary, Wish.com, sells counterfeit silver coins and bars, while totally disregarding government laws and regulations. To be safe, you must buy from a trusted precious metals dealer.